Thinking of popping the question? The next step is to find a genius proposal idea that is personal, emotional, and accurately reflects your #relationshipgoals (no pressure). With millions of cool wedding proposals floating around the internet, it's easy to get overwhelmed. But fear not, we have your back.
Sift through this list of unique proposal ideas, and put your spin on whatever resonates with you most. We promise your partner will be swept off their feet—stay calm, you've got this.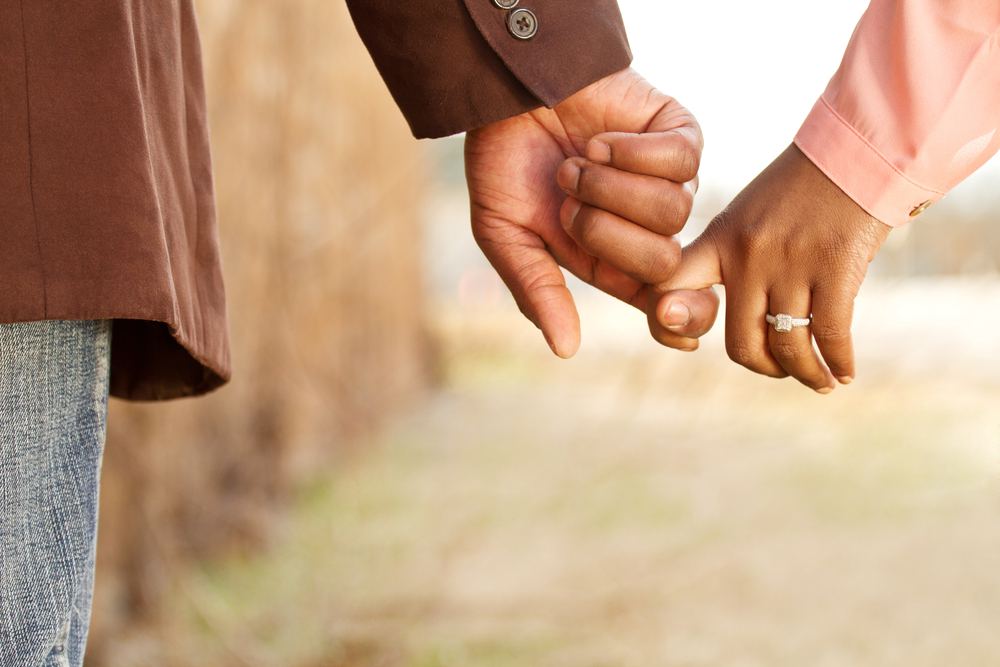 How to Plan a Unique Proposal
There's no set formula when it comes to popping the question. But there are a couple of tips and tricks to keep in mind that take a genius proposal idea to the next level.
Hire a photographer. This is one of the biggest moments in both of your lives. If the pictures don't end up reflecting your emotions, you'll forever regret not having the moment professionally photographed

Make sure the proposal reflects you as a couple. Mind the details that make your story unique and incorporate them in a way that personalizes the experience

Make sure you're both on the same page on the matter. If you plan a grand gesture when your partner prefers something private, you're going to face awkward complications

Have fun. Of course, the details are important, but try to cherish the moment as best as you can. After all, this is a once-in-a-lifetime experience
Genius Proposal Ideas
1. Throw it Back to Your College or University Days
Did you and your partner meet while studying at the same university? Plan a trip down memory lane and pop the question while visiting your college town. Bonus points if you get your college friends to participate in this unique proposal.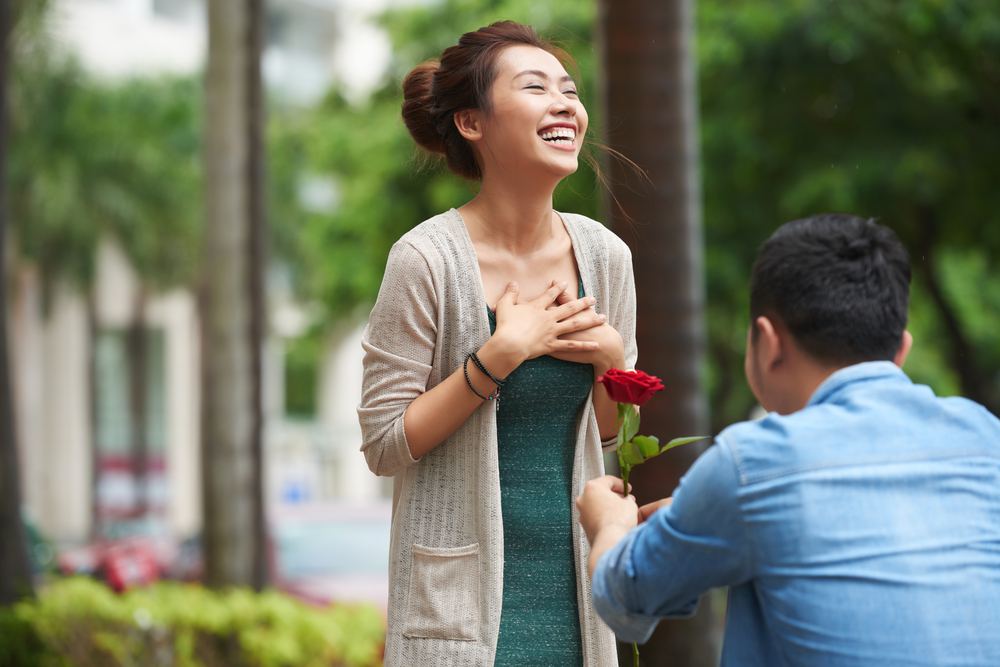 2. Say it in Song
Plan to sing your proposal with a public performer as you stroll through your favorite downtown district in California. Make sure to include your names and the words "will you marry me" in the song to avoid confusion on whether this creative marriage proposal idea is meant for the two of you.
3. Arrange a Sports Stadium Proposal
Are you and your partner sports fanatics? If the answer is yes, then pop the question at a game for a genius proposal idea. Whether it's at a basketball game or a baseball venue, this proposal will be one to remember.
4. Tie the Knot Under the Stars
This proposal idea can go two ways. Either get down on one knee at an observatory or go camping at an incredible stargazing spot. Whichever you decide to do, you'll always be able to say your marriage was written in the stars.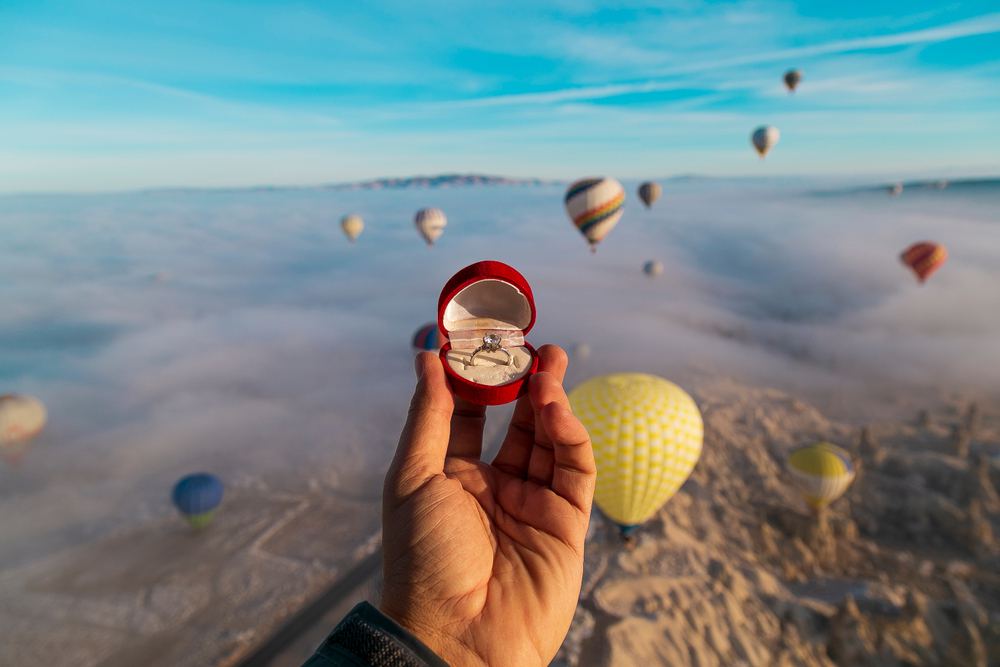 5. Go up in the Clouds in a Hot Air Balloon
Plenty of scenic California destinations offer hot air balloon rides. Gift this special experience to your partner and make it official while you're up in the air. This outdoor proposal idea will give you the most beautifully romantic pictures.
6. Pop the Question on a Romantic Train Ride
An old school train cabin and gorgeous SoCal views? Proposing on the Pacific Surfliner sounds like a dream come true. This unique romantic proposal idea takes the experience to a whole new level. We sure hope your partner says yes, or else the ride will get pretty awkward.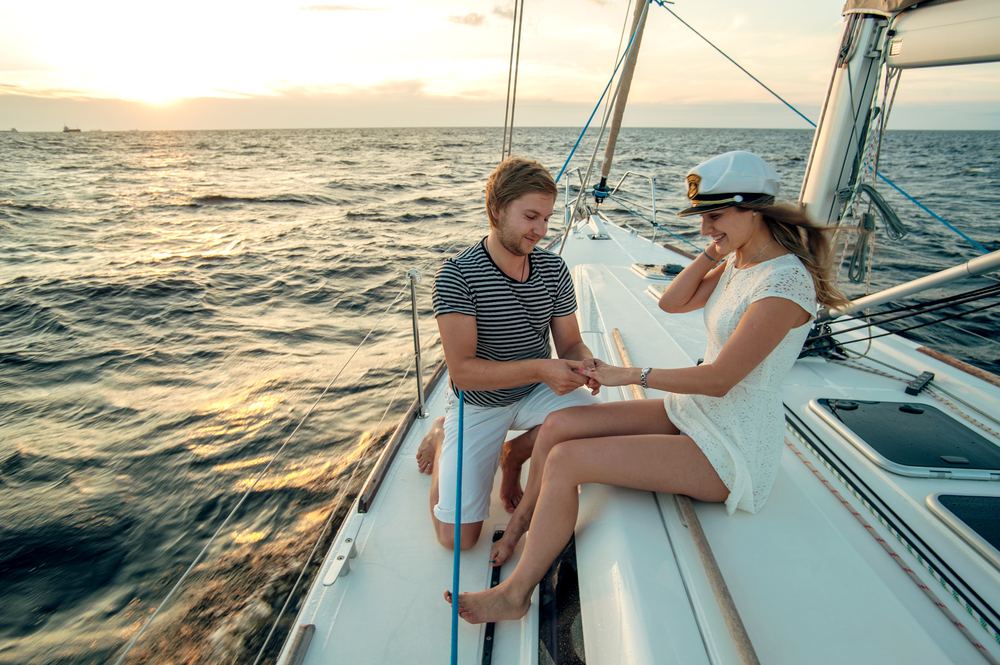 7. Sail Away on Your Most Romantic Day
Do you like the finer things in life but also prefer privacy on your special day? Book a private boating tour and make it all about you and your relationship. Many California tour companies would love to help you make this experience as dreamy as possible. Think rose petals, candles, sunsets, and a dinner. Need we say more?
8. Propose on a Private Aquarium Tour
California's best aquariums offer private tour packages which can be very romantic for a proposal. Plan for the words "will you marry me?" to be written underwater somewhere along the tour. Divers can hold up a sign for you. But, if your aquarium of choice can get the penguins or dolphins to do it, then your unique marriage proposal will be extra cute.
9. Plan a Scavenger Hunt of Significant Moments
Plan a scavenger hunt and make the clues all about significant moments in your relationship. Incorporate your first date, first "I love you," favorite dinner spot, and more into a lovely romantic getaway that'll set the sparks flying. The unique proposal should be the very last clue on the hunt. Make it even more special and get your family and friends to join you at the last stop.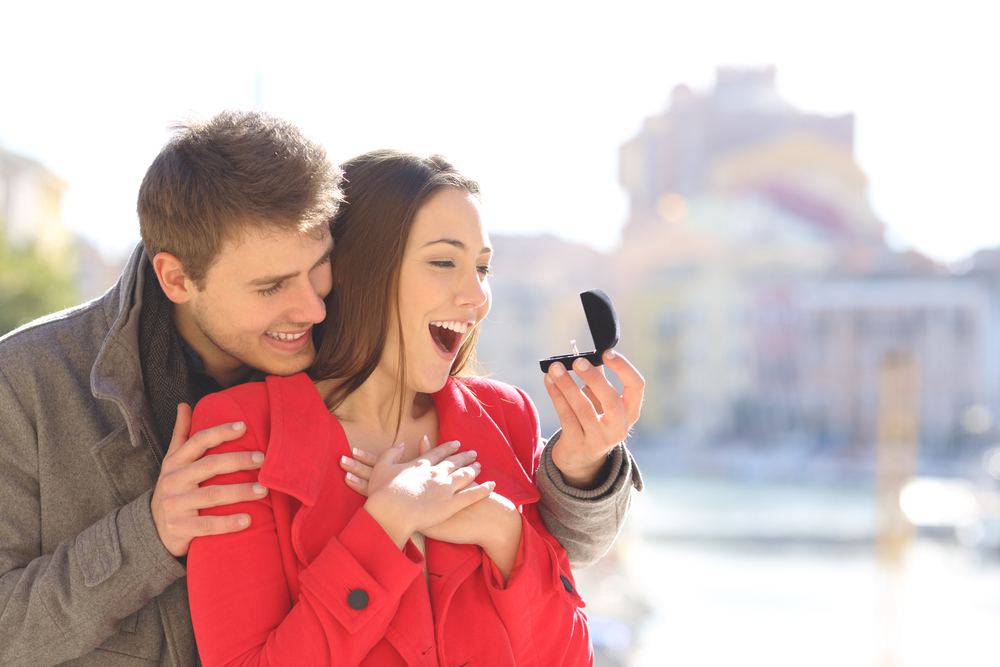 10. Book a Room at the Hotel you've Always Dreamt of
Have you been eyeing a retreat to a dreamy California hotel? Surprise your partner by booking a romantic room and making it all come true. Consult the hotel on ways to make it as special as you can; they'll definitely have creative marriage proposal ideas to suggest.
11. Write it in the Sky
Whisk your significant other away to a romantic spot and have a skywriting plane fly over you and pop the question. Make sure to choose a clear and sunny day for this outdoor proposal idea to avoid your question being hidden behind the clouds.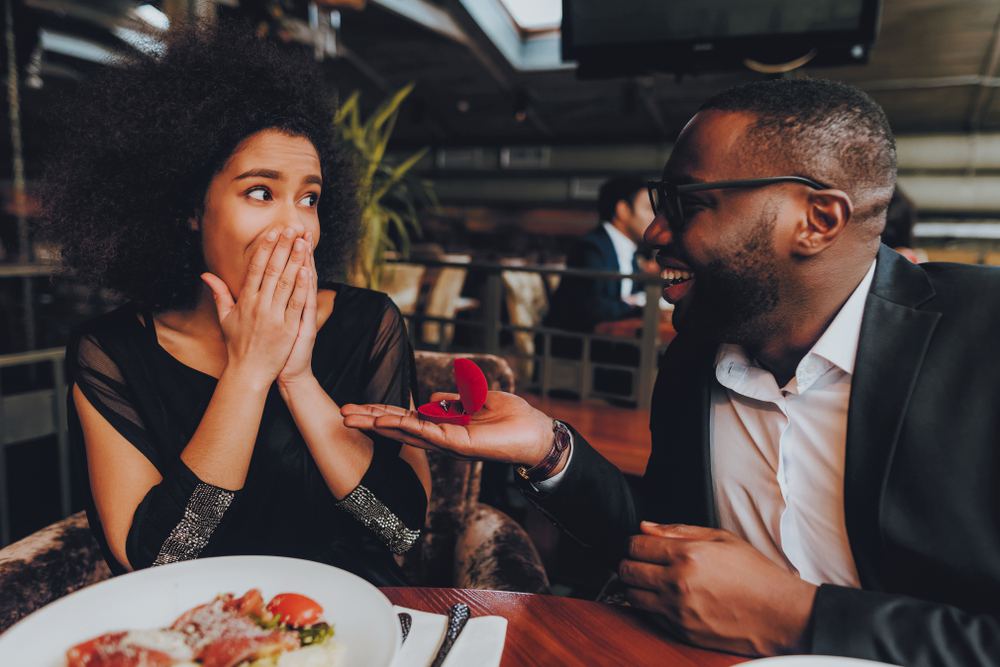 12. Make a "Specials Menu" at Your Favorite Restaurant
Every couple has a favorite restaurant they go to for special occasions. Book a table at your spot, hand the staff your written proposal, and have them bring it to your partner when you ask for the specials menu. Talk about a cool wedding proposal.
13. Reenact the Proposal Scene From your Favorite California-filmed Romcom
Many of our favorite romantic movies are filmed in the Golden State. Why not take an already genius proposal idea from your favorite flick and make it your own? Trace your favorite film couple's steps and pop the question in a similar manner. Your proposal will make you feel like you've stepped onto the silver screen.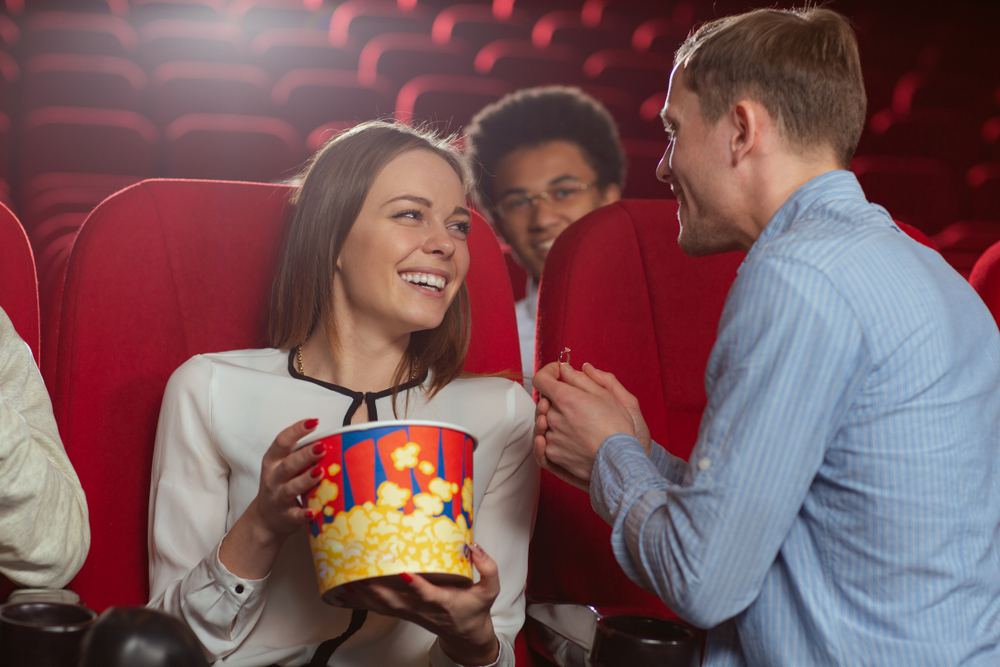 14. Pre-record a Romantic Proposal Film and Screen it at a Rented Out Theatre
Speaking of films, if you're willing to go the extra mile, pre-record your proposal and screen it while you and your partner are on a movie date. This can be an animated proposal, a short movie featuring your family and friends, or a solo act all on your own. Any route you take on this creative marriage proposal idea is bound to impress.
15. Sneak the Proposal into an Interactive Play
This is another genius proposal idea that'll impress your art-loving partner. Arrange with the cast and crew of your local theater to plan a short play that's all about your proposal. Your partner will go in expecting a performance only to find out they're the lead.
16. Ask for Their Hand in Marriage on a Gondola Ride
Whether it's at the Venice Canals or Coronado Cays, a gondola ride is always a good idea. Add live music and a post-proposal dinner to the mix, and your unique proposal will be all the more special.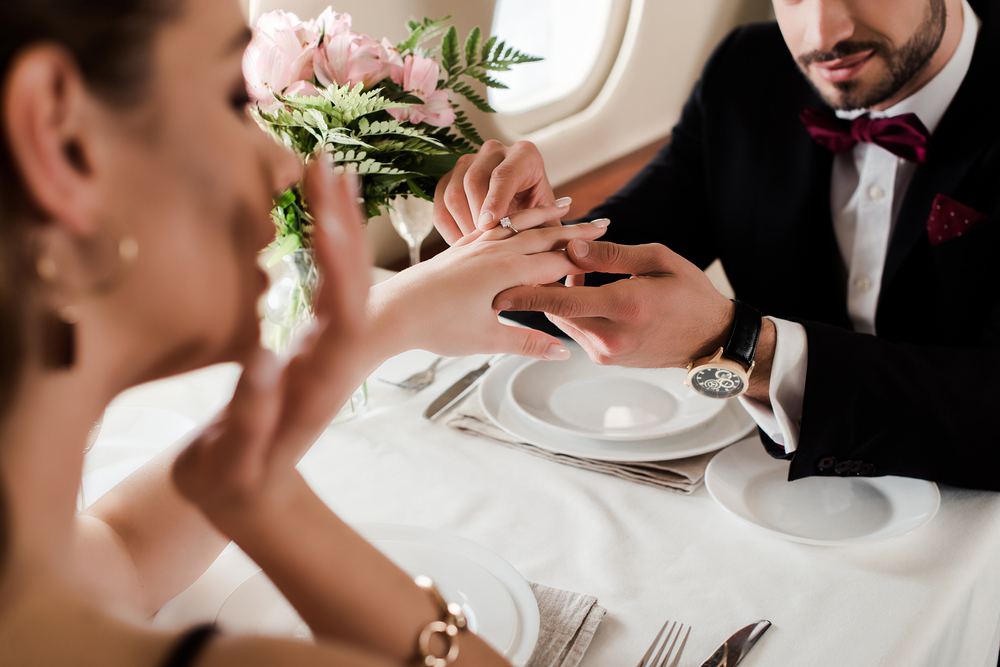 17. Announce it Through the Airplane Speakers
If you're planning a special retreat to pop the question, you'll love this creative marriage proposal idea. Plan with the flight cabin crew to announce your proposal as you take off on your vacation—you'll tie the knot more than 30,000 feet in the air.
18. Hide the Ring in a Book That'll Catch your Partner's Eye
Do you and your significant other bond over books? This is a genius proposal idea you'll love. Design a custom book cover that'll catch your partner's eye. Then, arrange with the bookstore managers to place it in a spot that can't be missed. Your partner will grab the book and open it to find the ring. How cute is that?
19. Get Down on One Knee at your Future Wedding Venue
If you've had the wedding talk before, then you already have an idea of what kind of vibe you might like. Whether you're celebrating your love at a waterfront venue, an enviable wedding destination, or a special micro locale, the venue you choose holds a special value. Pop the question at the same spot and it'll be extra remarkable when the special day comes.