As California mitigates health risks during the COVID-19 pandemic, some travel restrictions may remain in certain communities. Call the local and regional tourism offices to learn more about the restrictions in your intended destination. Thank you for reading, and stay safe.
After months of being confined to our apartments, many of us are ready to head out again. While commuting might not be at the top of your list when it comes to outdoor activities, a scenic one-day road trip in California is the ideal solution to work-from-home burnout.
Luckily, SoCal offers some of the nation's best scenery and roadways, with breathtaking views waiting around every twist and turn. So brush up on your unspoken California driving rules, fill up your tank, cue your road trip playlist, and embark on an incredible weekend road trip.
Scenic Drives in Southern California
As enticing as it is to drive down Route 66 and check out the landmarks along the way, sometimes we want a drive that delivers beautiful views in a fraction of the time (we totally understand). From leisurely coastal roads to exhilarating tree-lined highways, these scenic SoCal drives will cure your wanderlust in the most effective way.
Scenic Drives in San Diego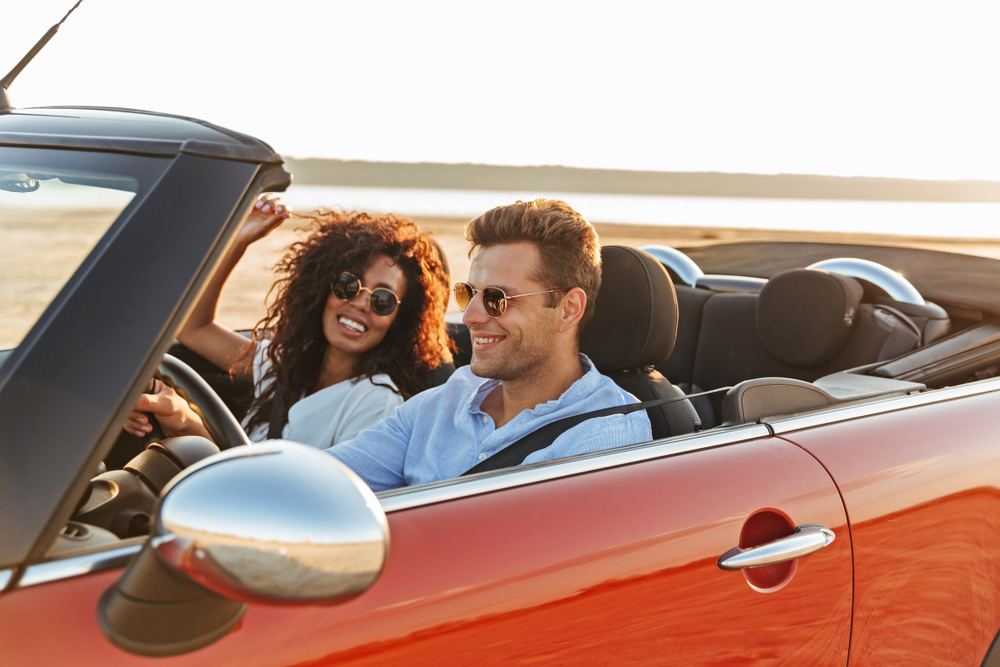 Escondido to Julian
Quaint shops, old-school eateries, and nature-filled views—the twisty route from Escondido to Julian makes for a classic San Diego journey with plenty of old-time charm. Lined with groves of oaks, cedars, and pines, the winding road to the previous mining town has been frequented by motorists for generations, so you know you're in for an exhilarating drive.
Taking this scenic drive in San Diego has the ultimate treat at the end: A classic Julian apple pie. Grab a freshly baked pie from Mom's Pie House or Julian Pie Company, and head south for a pleasant picnic in the forest at William Heise County Park.
Sunrise Scenic Byway
Beginning one mile east of Pine Valley and traveling north, the Sunrise Scenic Byway is a must-try during the spring and summer months. You'll cruise past mountains, meadows, and lush forests on this scenic drive in San Diego. Wildlife lovers will especially enjoy this journey. While passing through the Cleveland National Forest, be on the lookout for black-tailed deer and red-tailed hawks, which are commonly seen in the area.
If you're looking to add a desert road trip to your itinerary, head east to pay a visit to Anza-Borrego Desert State Park. Here, you'll enjoy other fun outdoor activities such as nature walks, Jeep tours, and epic stargazing.

The Palomar Mountain Loop
Another one of San Diego's beautifully scenic drives is the Palomar Mountain Loop. If you like breathtaking views, natural wonders, and traffic-free roads (who doesn't?), you're going to love this underrated journey inland.
You'll start your journey at Pauma Valley and pass by Palomar Mountain State Park and Lake Henshaw before circling back to your starting point. Don't forget to bring your camera on this scenic drive in Southern California—you'll want to stop and snap more than a few pictures along the way.
Scenic Drives in La Jolla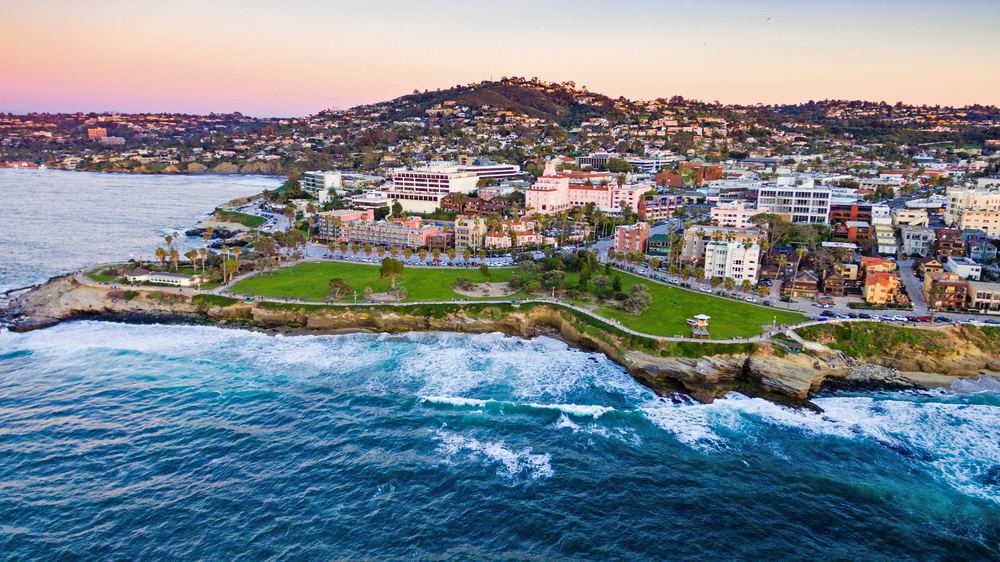 Camino Del Mar to La Jolla
Driving south along the Camino Del Mar coast—popular among surfers, beachcombers, and hang-gliders—will get you to the esteemed La Jolla neighborhood of San Diego. Driving through this stunning enclave exposes you to some of the most desirable homes in San Diego, overlooking the seemingly endless Pacific Ocean.
Besides admiring the enviable real estate and gorgeous scenery, this scenic San Diego drive will also keep you entertained with tons of museums, great cafes, and gourmet restaurants suitable for every budget (especially those with no upper limit).

Scenic Drives in Los Angeles

Angeles Crest Highway
Nestled within the Angeles National Forest, this scenic drive in L.A. transports you to a mountainous fairytale landscape upon the very first mile of the trip. Commonly explored during the warmer months, this scenic drive passes by sheer rock walls, pine forests, and plenty of other natural wonders.
What you won't find on this scenic drive, however, are ranger stations, gas stations, and bathrooms (so answer nature's calls in advance). For a fun and educational excursion, stop by the renowned Mount Wilson Observatory along the way to experience a view unlike any other.
Palos Verdes Drive
Coastal drives as scenic as Palos Verdes are hard to come by. Start your journey at the Palos Verdes Estates, and drive towards San Pedro along roads that expose you to views of the coast that you might recognize from such films as Pirates of the Caribbean.
There are also many interesting landmarks to see on this scenic drive in L.A., including the Vincent Thomas Bridge and the Point Vicente Lighthouse, where you can stop to watch the migrating whales.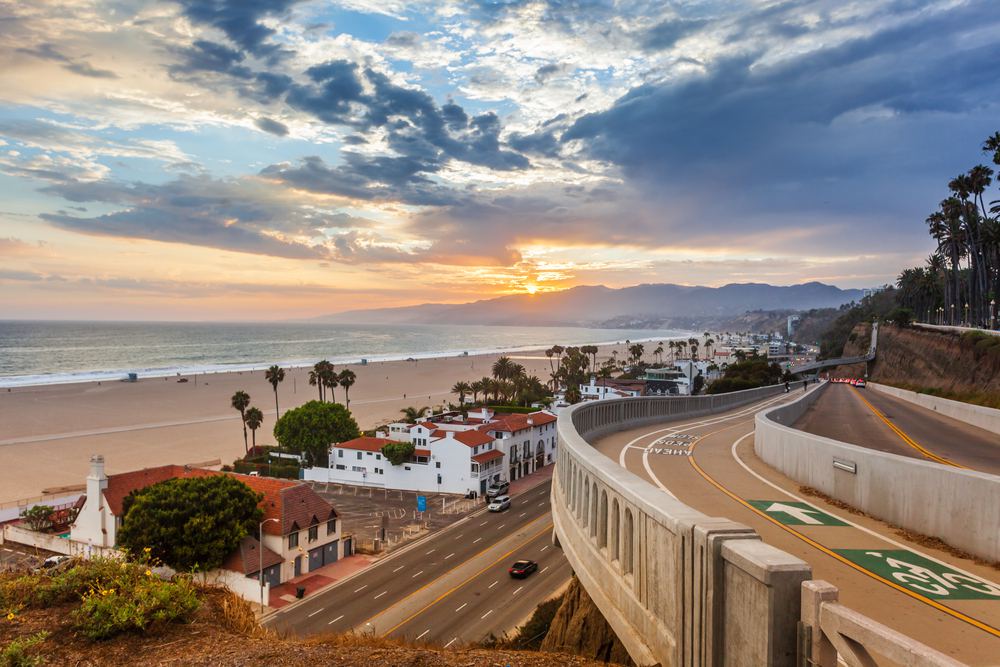 Malibu Canyon to Pacific Coast Highway
If you've been eyeing a weekend getaway to Malibu for a while, consider making this scenic route the first item on your itinerary. Head down Las Virgenes Road, and you'll drive past the Malibu Hindu Temple and Malibu Creek State Park on your descent from the majestic Santa Monica Mountains.
Eventually, you'll end up on the famous Pacific Coast Highway (PCH), where you'll continue your scenic SoCal drive and be treated to a breathtaking combination of ocean views and mountainscapes. Wrap up your trip at the secluded El Matador State Beach, just past Leo Carrillo State Park, to watch the sun go down with a high possibility of complete privacy.
Mulholland Drive
It would be a crime to write about the most scenic drives in L.A. without mentioning one of the most famous streets in town: the film-favorite Mulholland Drive. Despite it being highly popular among locals and tourists alike, this road is rarely jam-packed. In fact, it seems like it's usually Angelenos who drive down this scenic route in L.A.
For the best experience, begin your journey at the Hollywood Bowl Overlook, and travel through San Vicente Mountain Park all the way to Laurel Canyon Boulevard. Along the way, there'll be sweeping views of L.A. you'll want to stop and take in, so allocate enough time to admire the vistas before sunset.

Scenic Drives in Orange County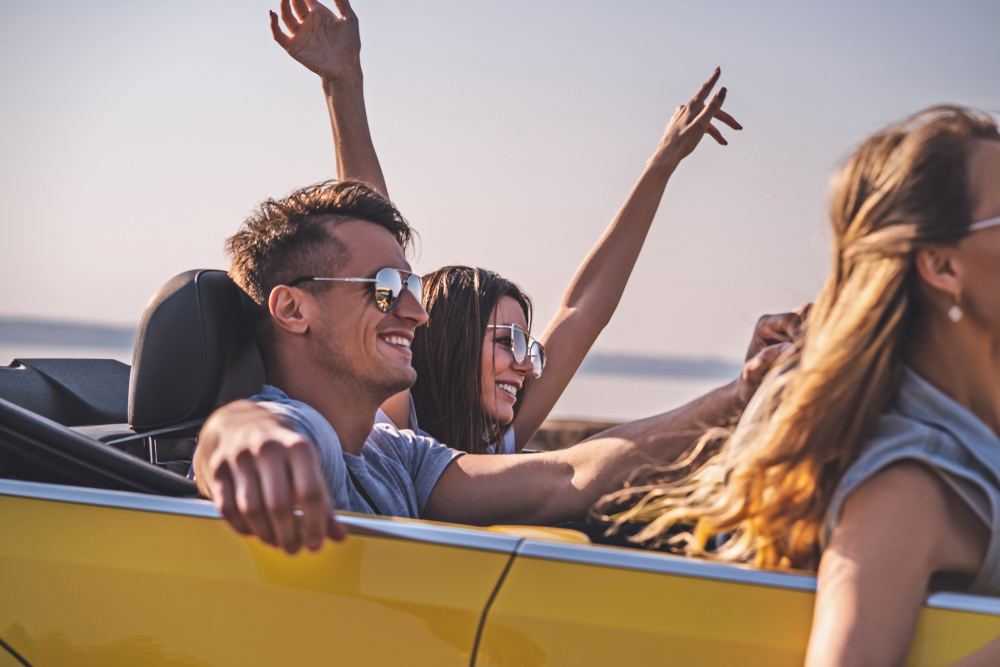 Ortega Highway
From Orange County, take Interstate 5 to San Juan Capistrano for one of the most scenic drives in Southern California. Initially opened in 1933 as a shortcut to link the O.C. to Riverside County, the road today is infamous for its steep grades and sharp turns.
Make sure to cruise down this scenic road in Orange County during non-commute hours for a fun weekend drive. You'll pass by Rancho Mission Viejo, Ronald W. Caspers Wilderness Park, and several interesting landmarks and underrated state parks along the way.
Modjeska Canyon
You won't want to skip over this scenic route surrounded by lush trees and tidy homes tucked against the hillsides. As the name suggests, Modjeska Canyon's main attraction is the Helena Modjeska Historic House. Drop in for a guided tour of the historic landmark and its surrounding gardens, which were home to the Shakespearean actress from 1888 to 1906.
Another surprise at the end of this scenic drive in Orange County is the Tucker Wildlife Sanctuary (open under normal circumstances), which young children will especially enjoy, so consider making it a stop on your next family road trip.
Live Oak Canyon Road & Trabuco Canyon Road
If you feel like your couple's road trip needs another addition, you may want to try this scenic SoCal drive. Shaded by rows of century-old oak trees, Live Oak Canyon Road has remained relatively unchanged over the past 50 years, so driving this route feels like a magical journey back in time to when roads were the destination and not the means.
After passing by O'Neill Regional Park—where we recommend you stop for a picnic—you'll continue down Trabuco Canyon Road, which will take you over Trabuco Creek, up a steep hillside, and then back to dreamy suburbia.