Get ready to jingle those bells. The holidays are right around the corner, and if you're still feeling like a scrooge, then it's high time you embrace the season by channeling your inner child and taking a spin around an ice rink. And we're spoiled in California. After all, we can skate next to the beach, amongst the skyscrapers, between mountain peaks, and under the stars.
Many ski resorts, city centers, and even plush hotels create seasonal ice-skating rinks—some of which feature firepits, customized soundtracks, festive games, and plenty of hot cocoa—and the holiday cheer naturally follows. While there are numerous ice-skating rinks in the Golden State, we found the nine best holiday ice rinks that will have you feeling merry and bright in no time.
1. Skating by the Sea at Hotel Del Coronado
Open through January 5, 2020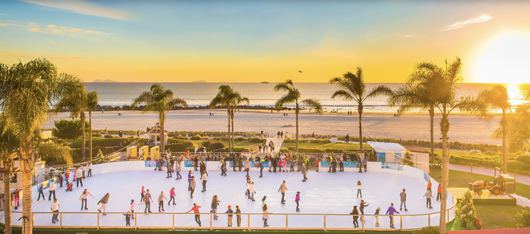 Perched along the shores of San Diego County's Coronado Island, the famed Hotel Del Coronado has long drawn visitors with its idyllic ambience, thanks to its gorgeous Queen Anne architecture and interesting Hollywood film location history. But now, there's another reason to visit the luxurious beachfront resort: Skating by the Sea, which affords you the rare opportunity to ice skate right next to the Pacific Ocean. You can even elevate your experience by going VIP style and booking lounge chairs in the Frostbite: A Place to Chill area, where you can relax by the firepit and enjoy full food and beverage service. So grab some snacks and holiday-themed libations, and stay well into the evening to see The Del's spectacular twinkling lights brighten the night sky. While you don't need to stay overnight to use the rink, the hotel does offer package deals for guests, so you may want to consider booking a staycation.
2. ICE Presented by Plaza at Santa Monica
Open through January 20, 2020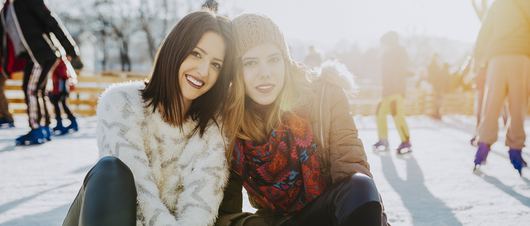 ICE Presented by Plaza at Santa Monica transforms the corner of Fifth Street and Arizona Avenue into a winter wonderland. Located just minutes from the Southern California coast, the renowned shopping area now boasts a full-service 8,000-square-foot holiday rink where children and adults alike can strut their stuff on the ice. Not feeling confident in your skating abilities? Never fear: lessons are offered through the Randy Gardner School of Skating, launched by the eponymous Olympian. You can also watch broomball games, savor delicious bites, and get your fill of hot chocolate. And if you want to make your visit even more memorable, rent a private cabana and throw a holiday-themed bash by the ice.
3. Holiday Ice Rink At Pershing Square
Open November 14, 2019 to January 20, 2020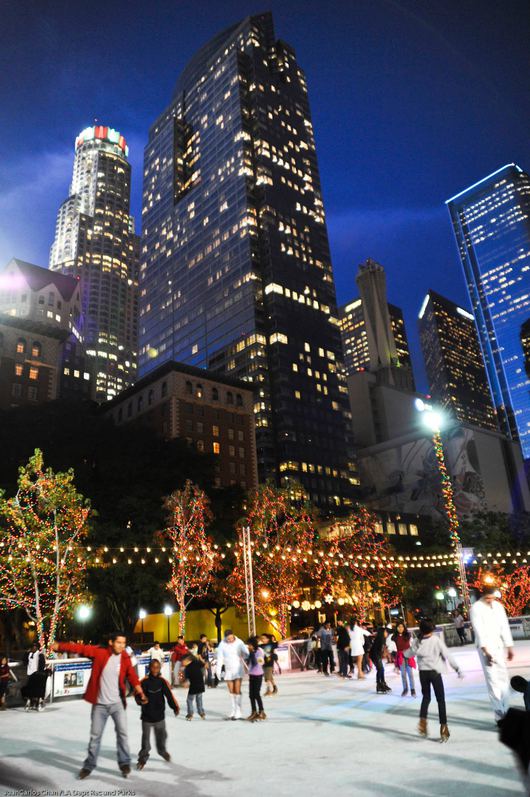 To skate in the midst of Los Angeles' best museums and iconic skyscrapers, look no further than the Holiday Ice Rink at Pershing Square, the largest ice-skating rink in the city. Located in the heart of downtown L.A., just blocks from The Broad and The Grammy Museum, the 7,200-square-foot seasonal rink features special events such as silent-disco skates, winter festivals, musical performances, DJ beats, curling lessons, and Frozen-inspired nights (complete with music from the original Broadway cast recording). So grab your L.A. coffee date, best friend, or favorite coworker, and get ready to lace up your ice skates.
4. The Rink in Downtown Burbank
Open December 12, 2019, through January 5, 2020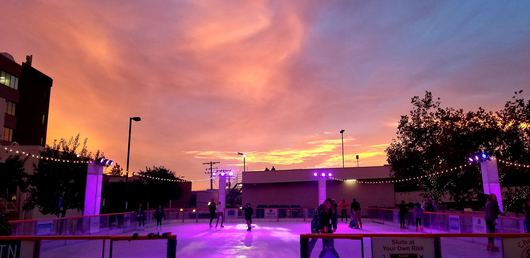 Tucked away behind Burbank City Hall, not too far from Warner Bros. Studio Tour, The Rink in Downtown Burbank beckons with its festive decor and twinkling holiday lights. But if winter sports aren't really your thing and you don't want to look totally helpless on the ice, you can rent Bobby the Seal, an adorable, plastic skating aid to help you keep your balance. Regular skating lessons are also offered on Saturdays, and curling lessons are available on Sundays.
5. Boardwalk Holiday Ice at Santa Cruz Beach Boardwalk
Open through January 5, 2020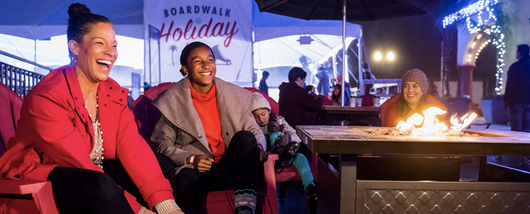 This new covered rink in the Santa Cruz Beach Boardwalk's Main Plaza allows you to enjoy the best of both worlds: beachside ice skating with traditional boardwalk fun. That's right, at Boardwalk Holiday Ice, skaters can take a twirl around the ice rink and then take advantage of the boardwalk's various games, rides, and arcades. Classic holiday movies and festive crafts are available, too, making it easy to spend an entire day at this family-friendly destination. (Tip: Make a reservation in advance for a one-hour skating session to ensure admission.) You can also continue the holiday fun by hopping aboard the decked-out vintage cars of the Holiday Lights Train (open select days)—where hot cider and carols await—and exploring the city of Santa Cruz.
6. Holiday Ice Rink in Union Square
Open November 6, 2019 to January 20, 2020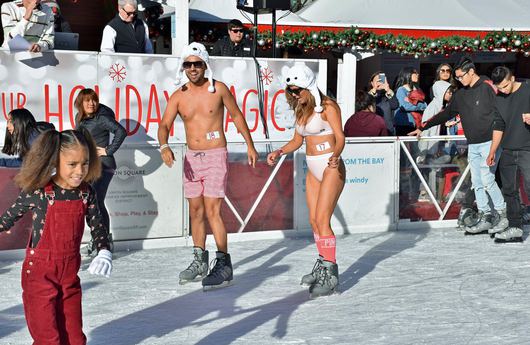 Escape to San Francisco for one of the best holiday traditions in the city: ice skating in Union Square. Glide around the ice-covered plaza as you admire the skyscrapers and festooned Christmas tree towering above you. Whether you swing by the Holiday Ice Rink for the free skating lessons, the 10th Annual Drag Queens on Ice, the all-80s-music Flashback Fridays, the silent-disco skate parties, or the New Year's Day Polar Bear Skate, you're bound to have an unforgettable experience here.
7. Downtown Sacramento Ice Rink
Open through January 20, 2020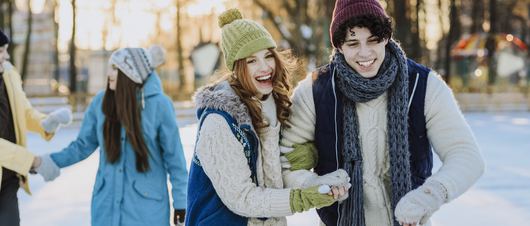 Kick off the season in the state capital at the Downtown Sacramento Ice Rink, where the young and the young at heart can slide across the rink in costume on Princess and Superhero Day, skate alongside top basketball players during Kids Day with the Sacramento Kings, and dance on the ice with their friends on Silent Disco Day. Join the fun at St. Rose of Lima Park near the Golden 1 Center, and you'll get into the holiday spirit in no time.
8. Mammoth Ice Rink
Open through February 2020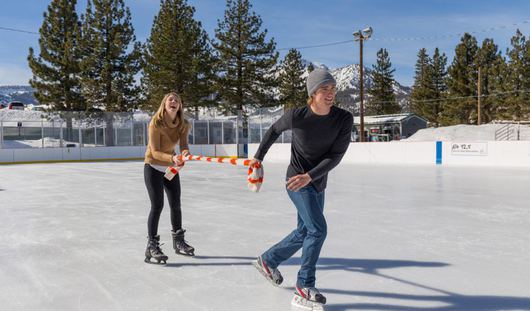 Nestled against a stunning alpine meadow and surrounded by the snow-dusted peaks of the White Mountains and Sherwin Range, Mammoth Ice Rink is one of the most picturesque holiday rinks in the state. Aside from the Instagram-worthy views, the seasonal rink also provides ice-skating lessons and an array of special events, including sessions with Santa, hockey tournaments, and themed skate nights. Stay awhile and fuel your après-ski activity with the delectable treats available at the snack bar.
9. Yosemite National Park Ice Rink
Open through late March 2020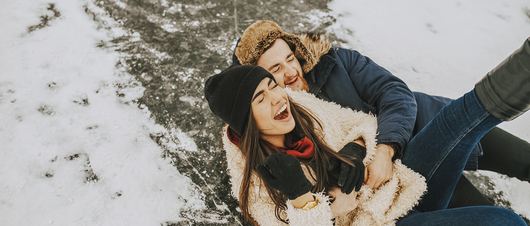 A trip to Yosemite National Park is always magical, especially during the wintertime when everything in the valley is blanketed in snow, bringing the winter wonderland of your dreams to life. And you can soak it all in at two of Yosemite's best ice-skating rinks: the Curry Village Ice Rink—which offers gorgeous views of Half Dome and the warmth of firepits—and the Ice Rink at Tenaya Lodge at Yosemite, where you can follow up your ice-skating session with a thrilling sled ride down the adjacent hill. No matter which Yosemite rink you choose, an ice-skating excursion is a great way to enhance any Sierra Nevada getaway. Best of all, both typically stay open until late March, so you can revel in the winter weather long after the holidays are over.