As California mitigates health risks during the COVID-19 pandemic, some travel restrictions may remain in certain communities. Call the local and regional tourism offices to learn more about the restrictions in your intended destination. Thank you for reading, and stay safe.
Whether you're celebrating an important milestone, looking for the most romantic places in California to propose, or simply needing a good excuse to take your partner away on a romantic vacation, look no further. The Golden State's reputation as a premier destination for couples precedes it—for good reason.
Luring adventurous couples from all over the world for decades, California is abundant with cities that'll bring your affordable romantic getaway fantasies to life. From sunny beaches in small coastal towns to powdery slopes in mountainous winter wonderlands, these are the top spots for an affordable romantic getaway in California.

Affordable vacations for couples in Southern California

Malibu
Surprised to see Malibu on this list? We don't blame you. Visitors are often surprised to learn that there are plenty of cheap (and dare we say, free?) activities to enjoy in this glamorous SoCal destination. While you'll no doubt find plenty of eye-catching mansions atop the hills and along the beaches, you'll quickly realize that Malibu has much more to offer than glitz and glamour.
Embarking on an affordable couple's getaway in Malibu means exploring its incredible state parks, unwinding on a secluded piece of shoreline, hiking trails with unbeatable panoramic views, and glamping in gorgeous surroundings. This affordable romantic getaway in Southern California combines the best of both the city and the beach—and will no doubt make sparks fly.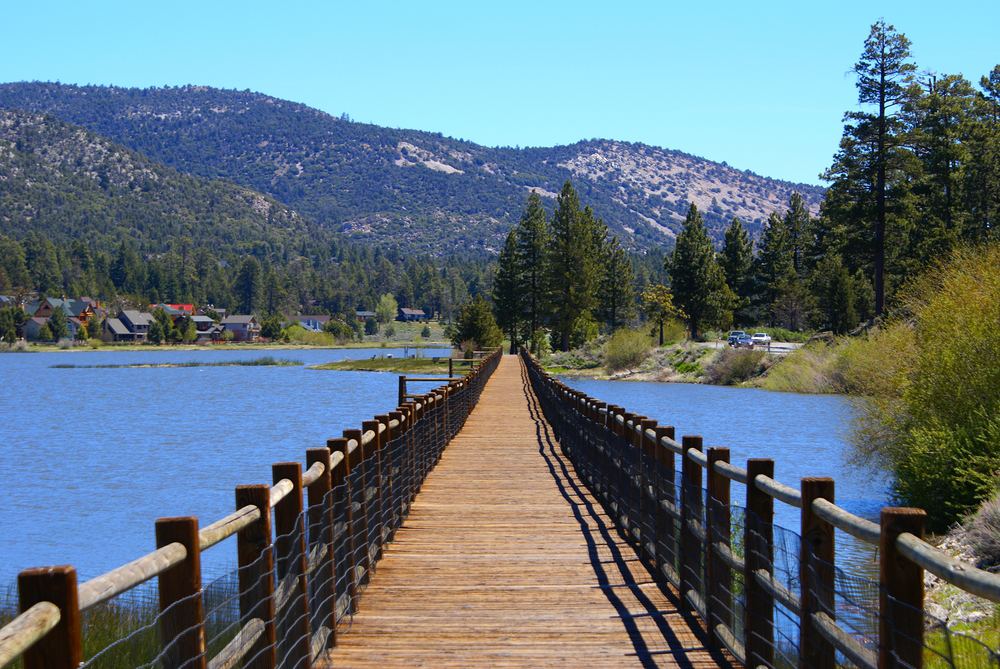 Big Bear Lake
SoCal nature lovers seeking an inexpensive vacation for couples in California should look no further than Big Bear. Booking a cozy cabin overlooking the beautiful waters of Big Bear Lake might be one of the most romantic things you can do. Just note that your trip to Big Bear will look entirely different depending on which time of year you decide to visit.
If you go during the winter months, you'll encounter a winter wonderland with snow-covered slopes that are perfect for skiing and snowboarding. But the dreamy SoCal destination is no less enchanting in the summer. If kayaking, swimming, and fishing are among your shared interests, you'll make unforgettable memories while on an inexpensive romantic getaway in Big Bear during the warmer months.

Inexpensive couples getaways in Central California

Carmel-by-the-Sea
Beautifully quaint cottages, serene beaches, and gorgeous hidden passageways—the small-town charm oozing from Carmel-by-the-Sea will captivate couples almost instantaneously. This upscale coastal town offers plenty of romantic pastimes for couples on a romantic weekend getaway. Brimming with unique eateries and the coolest art galleries, Carmel is an experience you'll cherish with your partner forever.
Carmel-by-the-Sea can also be your first stop on your long weekend getaway to Big Sur, which extends 25 miles to the south and makes for one of the best road trips for couples in California.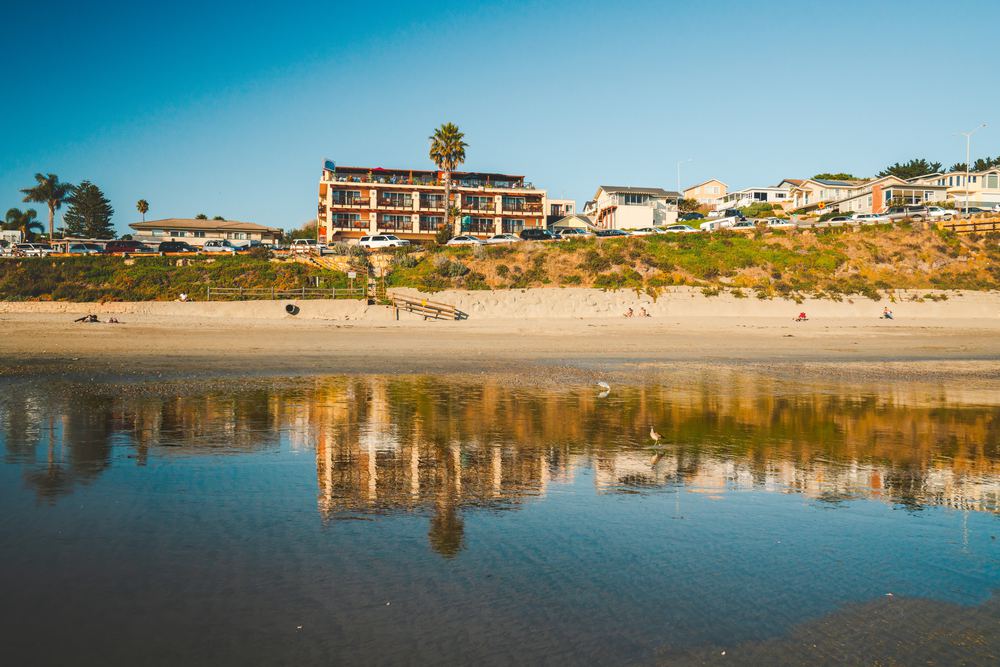 Avila Beach
Avila Beach is a sun-soaked stretch of sandy coastline that offers plenty of romantic things to do for couples—unwind in this can't-miss California beach town for the ultimate laid-back retreat with your other half. You'll love strolling along the boardwalk, dining alfresco at the waterfront restaurants, and watching the beautiful sunsets on your next favorite affordable romantic getaway in California.
If you're looking to spend a night (or two) in Avila Beach, we suggest ditching the hotels and going glamping. Some of the best glamping spots in California can be found here and will add a fun twist to your affordable weekend trip; it'll definitely bring you and your partner closer.
Affordable romantic getaways in Northern California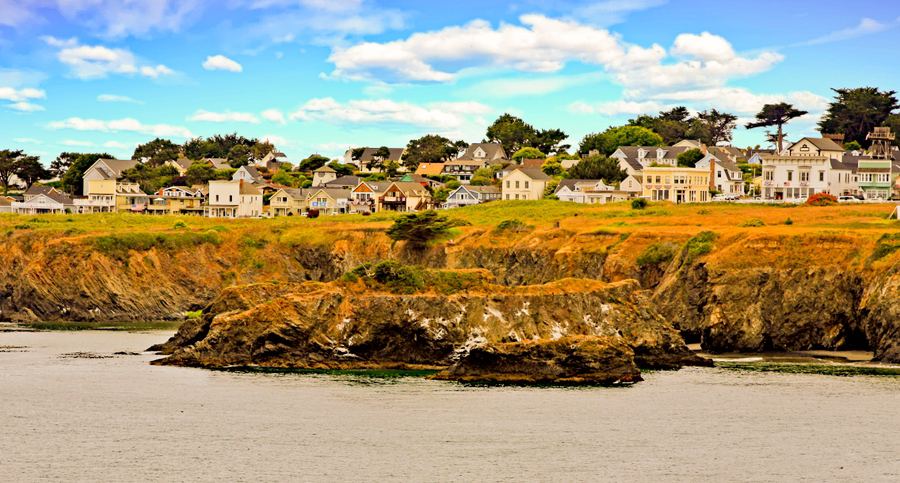 Mendocino
The rugged coastlines, sweeping vistas, and abundant wildlife in Mendocino make it one of the most alluring spots in California for an affordable romantic getaway. Camp in the forests, explore the exciting trails, go swimming in the serene lakes, and discover hidden beaches for a nature-filled vacation in Mendocino that you'll never forget.
Too adventurous for you? Don't disregard Mendocino just yet. While the natural beauty of this region is simply enchanting, there is also plenty to do within the town itself. Head to the historic downtown for top-notch dining and lodging options. With quirky boutiques, authentic eateries, charming hotels, and enticing art galleries, Mendocino is a top contender when it comes to affordable vacations for couples in California.

Lake Tahoe
The bright-blue waters, snow-dusted peaks, and lush forests of this romantic NorCal getaway spot will have you feeling all the feels. Couples from across the country flock to this inexpensive vacation spot for couples year-round. The luxuriant natural environment evokes relaxation and acts as a perfect backdrop for your outdoor adventures, no matter what time of year you decide to visit.
Whether you want to ski in the winter or hike, bike, and boat in the summer—any and all outdoor activities can be enjoyed in Lake Tahoe. The memories you create on this affordable romantic getaway will have you planning your return trip in no time.

Half Moon Bay
The unspoiled beaches, scenic hiking trails, and rolling hills of Half Moon Bay make it a popular affordable weekend getaway destination for couples looking to get in touch with nature. This laid-back coastal town with an unpretentious vibe is perfect for couples who like to be spontaneous and enjoy their weekend sans itineraries.
Eat at the waterfront restaurants, relax by the glimmering waters, and go for long walks along the sandy beaches—your getaway to Half Moon Bay will feel like you're living in a montage straight out of a Hollywood rom-com.

Yosemite Valley
No matter what time of year it is and what milestone you're celebrating, Yosemite National Park is a top destination for twosomes in need of an affordable romantic getaway. The park's wide variety of activities and attractions offers couples plenty of moments that allow for romance and intimacy.
Hike the best trails, admire the breathtaking waterfalls, and camp overnight surrounded by towering trees and wildlife for an affordable romantic weekend getaway that's tough to beat. This must-do trip will not only bring you and your S.O closer together, but it'll also make you feel more in-tune with nature than you've ever felt.