By

California.com
January 26, 2021
As California mitigates health risks during the COVID-19 pandemic, some travel restrictions may remain in certain communities. Call the local and regional tourism offices to learn more about the restrictions in your intended destination. Thank you for reading, and stay safe.
Looking to spice up your love life? Nothing strengthens your relationship like a romantic getaway in Southern California. SoCal is where love is in the air—secluded beaches, luxury hotels, posh restaurants, chromatic deserts, and striking panoramas await. Indeed, the region is an adventurous destination that'll reignite the flame in your relationship (or make it burn brighter than ever).
Whether you seek a retreat with your special someone or plan on proposing, SoCal is the place to do it. Don't waste any time planning a couple's road trip for a romantic weekend getaway in Southern California—hit the open road, cruise along the Pacific Coast Highway, and make the most of your quality time with your boo.
The Most Romantic Weekend Getaways In Southern California

1. La Jolla
La Jolla is one of the most romantic cities in Southern California. If you're looking to splash around San Diego while sparks fly, you've picked the right destination. It doesn't get more romantic than staying at Estancia La Jolla Hotel & Spa—the boutique hotel features an outdoor pool, spa, wellness center, and everything you need for a comfy getaway in La Jolla.
Enjoy seaside dining with your one at only at The Marine Room, where you'll indulge in seafood creations prepared with globally influenced flavors. You must also visit La Jolla Cove, Windansea Beach, La Jolla Shores Park, and Torrey Pines State Natural Reserve; each destination offers a unique experience that'll deepen your bond.


5. Santa Barbara
Santa Barbara is the ideal beach town for a couples retreat in Southern California. There are plenty of beaches to visit and hidden gems you wouldn't want to miss. Check in at Pacifica Suites or La Playa Inn, and let the romantic adventures begin. Hike to the ruins of Knapp's Castle—a privately-owned landmark that was once an extravagant home. If you don't feel like walking, take the yellow water taxi Lil' Toot from Stearns Wharf to Santa Barbara Harbor.
Make sure to visit the Mural Room in the Santa Barbara Courthouse, too, where you'll discover over 4,100 square feet of canvas murals depicting the area's early history. As for food, an oceanside dining experience at the Boathouse at Hendry's Beach is exactly what you need to spice up your food—and—love life.
6. Big Bear Lake
Big Bear Lake is the ultimate destination for a romantic winter getaway in California. The resort town has everything couples need for a cozy SoCal vacation. Book a room at Noon Lodge, a historic mountain retreat that's perfect for rekindling the romance.
Take your partner kayaking at Boulder Bay Park and enjoy a picnic in the great outdoors. Or, stock up on water and hike the Castle Rock Trail together. Let your four-legged pal tag along; the trail is dog-friendly. In the evening, enjoy fine dining at The Pines Lakefront—the char-grilled rib-eye sandwich and the brook trout fillet are to die for.

7. Coronado
Coronado is one of the most underrated yet romantic places in Southern California. The resort city is so full of love and passion that many couples relive their honeymoon phase here. El Cordova Hotel, Glorietta Bay Inn, and Humphreys Half Moon Inn are possibly the most romantic hotels in Southern California—staying the night in these hotels will make your getaway even more unforgettable.
Spending an afternoon at Coronado Beach is a must. The coveted beach is located by the famous Hotel del Coronado and is a great place to finally pick up surfing. When visiting Coronado, you should also head over to Coronado Ferry Landing, where you'll discover countless shops, restaurants, activities, and striking downtown views. Take a swing at the Coronado Golf Course—a bayfront par-72 golf course and one of the city's most treasured destinations. Before leaving, try the wild salmon burger from Parakeet Cafe and the poke tacos from Leroy's Kitchen and Lounge.
8. Catalina Island
If you're planning a Southern California getaway for couples, Catalina Island should be on your list. Situated southwest of Los Angeles, Catalina Island is a paradise for lovers. Here, you can go on countless maritime adventures, watch the most beautiful sunsets, and reignite the spark in your relationship. The most picturesque hotel here is the Old Turner Inn. Its sunny porches, in-room wood-burning fireplaces, and antique furnishings provide a rustic atmosphere.
Take your partner to the Wrigley Memorial and Botanic Garden, a 38-acre oasis filled with Catalina Island endemic plants. Then, get your heart pumping with California Parasail—float through the air and enjoy the striking views from above. You can also go snorkeling at Descanso Beach to discover life underwater. Regardless of what you choose to do, make sure to get a bite to eat at Cafe Metropole; the street-corn salad and veggie panini are the most delicious options.

9. Solvang
Transport yourselves to Europe without leaving the state—Solvang is a Danish-inspired town that looks like it's straight out of a storybook. Strengthen your bond with your partner and plan the most romantic Southern California getaway for couples in this town. Book a room at the luxurious and elegant Mirabelle Inn to make your mini-vacation extra special.
Learn about Danish culture and history at the Scandinavian-influenced Elverhøj Museum of History and Art. Then, pay a visit to one of the first California missions established by Franciscans along the Pacific Coast: Mission Santa Inés. Don't forget to share a Donna Sophia pizza from Leonardo's Ristorante and Pizzeria before you leave.
10. Temecula
Plan the ultimate romantic weekend getaway in Southern California in Riverside County's most underrated city: Temecula. This gorgeous tourist destination is home to many luxury resorts, so you know you'll be pampering bae to the max here. Does the Hampton Inn & Suites Temecula suit your needs, or do you prefer the upscale accommodations at Wilson Creek Manor? Whichever you end up choosing, you won't be disappointed.
Go on a private, old-fashioned horse-drawn carriage ride through the romantic city with the Temecula Carriage Company. Later, elevate your getaway with a romantic hot-air balloon ride with California Dreamin' and take in the incredible views of Temecula from above. Check out Old Town Temecula, the downtown district of the city, where you'll come across plenty of historic buildings, hotels, museums, restaurants, boutiques, gift stores, and antique shops. Your getaway wouldn't be complete without dining at Cork | Fire Kitchen—the crab grilled cheese and the carnitas tacos are unbelievably appetizing.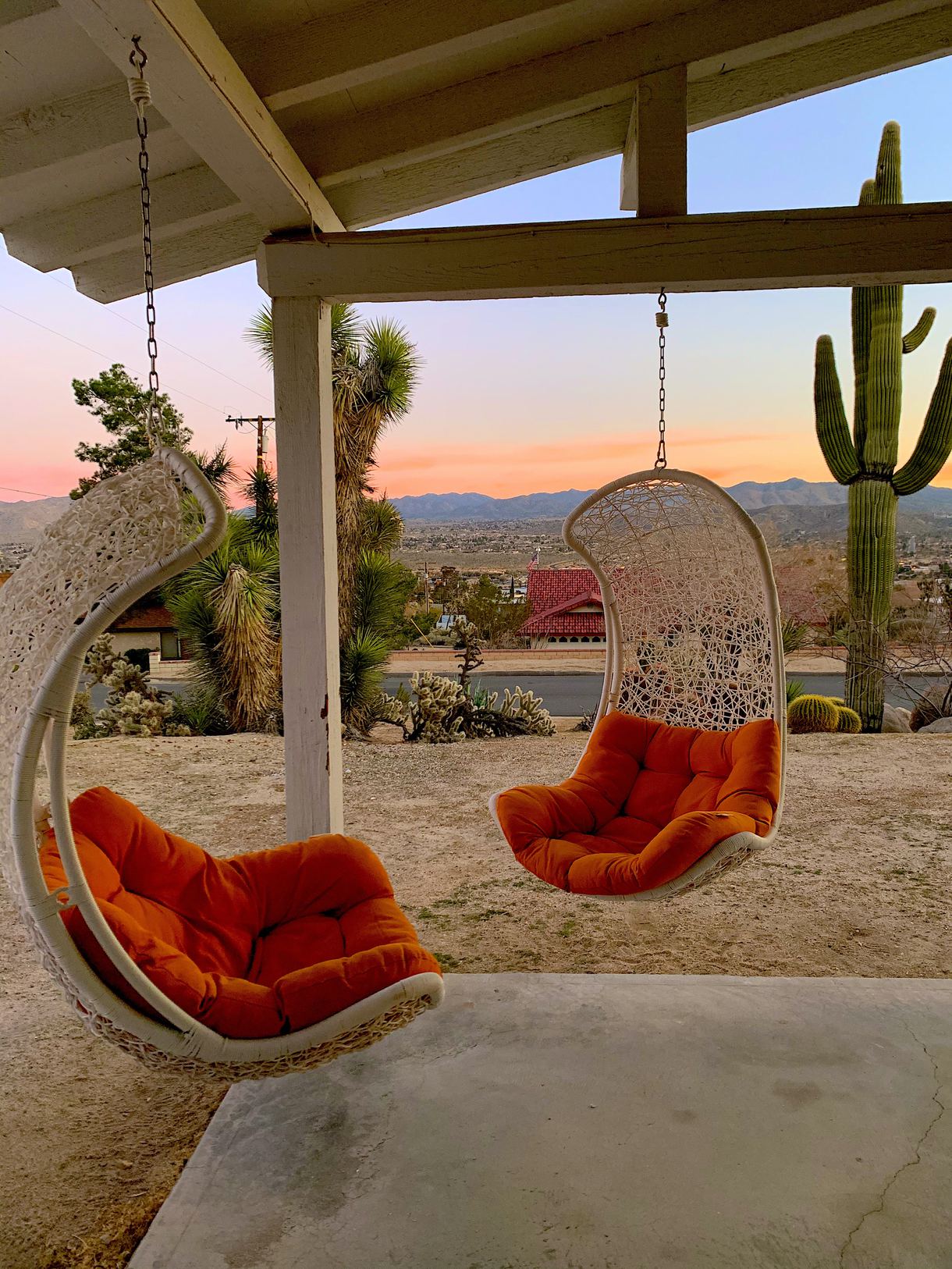 11. Yucca Valley
If you want to plan a unique romantic getaway in Southern California, Yucca Valley has all sorts of bizarre and exotic spots to make your experience extraordinary. Ditch the idea of staying at a hotel; instead, book a gorgeous abode such as the Joshua Tree Green Haus to enjoy total privacy with your special someone.
Yucca Valley is home to one of the weirdest places in California you should visit: Bob's Crystal Cave. The vibrant oasis is an explosion of colors made with foam, running water, and countless vivid crystals. Once you start getting hungry, grab a bite at Kimi Grill and savor sushi rolls, noodle soups, and teriyaki bowls. Later, head over to Desert Christ Park, a biblical sculpture garden that's eerily hypnotizing. It goes without saying that you should stop by Joshua Tree National Park, where the Mojave and the Colorado Deserts collide.
12. Desert Hot Springs
Located in the Coachella Valley, Desert Hot Springs is famous for its numerous natural hot springs and enviable hot springs resorts. So naturally, when planning a getaway here, you should stay at this type of resort. Miracle Manor Boutique Hotel & Spa and El Morocco Inn & Spa Resort are the top choices, offering the best amenities for a romantic weekend getaway in Southern California.
Besides soaking in hot springs, there are plenty of other activities to enjoy in Desert Hot Springs. Visit Cabot's Pueblo Museum to view artworks and artifacts of American Indian and Alaska Native cultures as well as memorabilia of early desert homesteader life. Indulge in hearty meals at The Cottage Too, and discover the mesmerizing megalithic sculptures and stone furniture at Roger Hopkins Stone Sculptor. Don't forget to explore Mission Creek Preserve's wetlands and creosote-strewn hillsides, either.

13. Laguna Beach
Last but not least, Laguna Beach is a magical coastal city that's the perfect destination for a romantic weekend getaway in Southern California. Pamper your partner and stay the night at Pacific Edge Hotel, where the expansive SoCal coastline provides a laid-back setting for your mini vacation. Enjoy an oceanside lunch at Las Brisas, where California cuisine meets the flavors of Mexico.
Laguna Beach is known for its coves and beaches—Diver's Cove, Crescent Bay Beach, Emerald Bay, Moss Street Cove, Thousand Steps Beach, and Victoria Beach are all must-see destinations here. Picnic on the grassy grounds of Treasure Island Park, then head over to the hilltop Alta Laguna Park to explore the hiking trails.