As California mitigates health risks during the COVID-19 pandemic, some travel restrictions may remain in certain communities. Call the local and regional tourism offices to learn more about the restrictions in your intended destination. Thank you for reading, and stay safe.
Solo road trips aren't as easy as hopping on a plane and arriving at your destination comfortably. But as daunting as it seems to go on a road trip by yourself, it's a quintessential California experience, so it belongs on your bucket list. Plus, when traveling alone, you don't have to conform to anyone else's agenda or expectations. It pushes you out of your comfort zone and brings a whole new meaning to freedom.
You can blast your favorite road trip tunes, too. There's no one to tell you to change the music—you're in charge. You're the navigator of your own trip, and the roads belong only to you. With Jack Kerouac and Thelma and Louise on your mind, experience your first road trip alone and discover the depths of the state and yourself.
Tips for long road trips
Before hitting the open road, take your car to a mechanic to ensure it's functional.

Learn how to check your oil, change a tire, and jump-start your engine.

You're going to be spending a lot of time in your car, so make sure it's clean before hitting the road.

Plan ahead so you know where you're going, but don't be too strict. Make a detour here and there.

Have your documents with you at all times.

Don't overdo it. If you can't drive for five hours straight, don't force yourself.

Most importantly, tell someone where you're going and give them a copy of your itinerary if you have one.

I

t's always better to be safe than sorry.
Things to do on a road trip alone
Books accommodations in advance, but also have a sleeping bag with you just in case.

Stock up on food and water. The last thing you want to hear on a road trip is your stomach growling.

Make a playlist. With nobody to enforce their music on you, be your own DJ and play your favorite songs on full volume to keep yourself entertained.

Have an emergency kit with you—first aid essentials, flashlights, and basic tools.

Download apps that'll help you find fun things to do in the area.

Pick the attractions you want to see most, and take the scenic route.

Hiking, mountain biking, fishing, horseback riding await at Big Bear Lake; need we say more? Southern California's largest recreational lake draws a lot of travelers embarking on solo road trips. The San Bernandino gem is perfect to visit during all seasons—you can ski and snowboard all winter, or boost your adrenaline by ziplining or water skiing during warmer months. Big Bear Lake is also a fantastic fall road trip destination thanks to its breathtaking autumn foliage. Stop by Boulder Bay Park and take in the vibrant hues of azure blue and emerald green. Reach the summit of Castle Rock Trail and immerse yourself in the striking scenery.
2. Palm Springs

A road trip by yourself to Palm Springs is a classic getaway. Abundant with luxurious resorts, palm tree-lined streets, and more swimming pools than one can count, the desert city is packed with unique attractions and activities. Only two hours away from Los Angeles, it's a popular retreat for Hollywood stars. Check out the city's very own walk of fame—the Walk of Stars honors various celebrities who've lived in the area.
Discover the quirky art scene of Palm Springs (including the peculiar eight-foot-tall faceless babies crawling in a vacant lot) and the stunning mid-century modern homes. This desert oasis is also home to the world's largest rotating tram car, allowing you to soak in the breathtaking cliffs of Chino Canyon. Make your solo road trip forever memorable by taking a photo at the iconic Palm Springs welcome sign.
3. Death Valley National Park

Embark on a road trip alone to the land of extremes: Death Valley National Park. Its morbid name may repel you, but its towering peaks will instantly captivate you. As one of the driest and hottest places in the world, Death Valley glows with the burning rays of the sun. A typical desert road trip destination, there's a lot to see here.
First is the Harmony Borax Works—a crumbling mining complex known for its use of 20-mule team wagons. It's hard to imagine how they were able to function in one of the most inhabitable places. Explore the remnants of the operation where people once worked to extract precious minerals. Absorb the vastness of Death Valley at Dante's View, which provides a bird's-eye view of the mountains and dry land. Another point of interest is Hells Gate, a scenic viewpoint perfect for reflecting on life. Before hitting the road again, make sure to check out the moving rocks that slide across the scorching grounds.
4. Sierra National Forest

The perfect destination to explore classic mountain scenery on a solo road trip is the Sierra National Forest. Escape the routine urban life and discover solitude among the incredible landscapes of the forest. Lying adjacent to the southern border of Yosemite National Park, the forest offers spectacular and striking landmarks such as Arch Rock. Formed as a result of wind and rain erosion, the one-of-a-kind formation is only a short walk away from the Sierra Vista Scenic Byway.
The Sierra National Forest is also home to the only redwood arch-truss bridge in California—Dinkey Historical Bridge. The structure was one of the first in America to use a design that gave wood bridges the strength to withhold heavy loads. Don't forget to hike to the top of Fresno Dome to soak in dramatic views of the lush area.
5. Napa Valley

The best part about going on a road trip alone is treating yourself. The ideal place to do that is none other than Napa Valley. Known for its world-class vineyards, this Wine Country region offers endless entertainment options. Elevate your solo road trip and embark on an adventure high in the sky by taking a hot-air balloon ride. (If you're afraid of heights, experience Napa Valley on an open-air trolley tour instead.)
You can also engage in watersports such as stand-up paddleboarding and skiing at the nearby Lake Berryessa, or go on a sightseeing cruise aboard an authentic Venetian gondola. Exploring by foot is also an option—a self-guided walking tour through Wine Country might just be what's missing. With renowned wineries and luxe spas inviting you in along the way, pamper yourself as much as you can and get the most out of your best solo road trip yet.
6. Calaveras Big Trees State Park

Massive, majestic sequoias have lured visitors to Calaveras Big Trees State Park since their discovery. Although the park itself was established in 1931 to preserve the giant trees, people flocked in as early as 1852 to see the noteworthy sequoias. A solo road trip here will make your everyday problems look insignificant compared to the colossal trees. There are two groves at the park—North and South Grove.
Look for the spot where the mighty Pioneer Cabin Tree once stood. Also known as the Tunnel Tree, it was estimated to be around a thousand years old until it collapsed during a storm in early 2017. The largest of the North Grove is the Empire State tree, which measures 30 feet at ground level. Besides giant trees, the four-season destination offers access to the Stanislaus River, Beaver Creek, ancient volcanic formations, and natural meadows. When you need to, take a well-deserved break from driving and discover the Calaveras Big Trees State Park's natural beauty along the trails.
7. Point Reyes

Feel the coastal breeze of Point Reyes flowing through your hair as you reach your solo road trip destination. As you pass through the scenic Cypress Tree Tunnel, you arrive at the Point Reyes Lighthouse. The historic structure was built in 1870 and continues to operate to this day; 313 steps lead you to the lighthouse, where you'll catch one of the most stunning sunsets in the Golden State. If the weather is clear, you'll also see Point Reyes Beach and Mount Saint Helena. The lighthouse's observation deck is great for whale and bird watching.
While in Point Reyes, also make the time to explore the various tide pools at Limantour or Drakes Beach and listen to the sound of waves crashing against the rocks. Once you've recharged, go on a 13-mile round-trip hike at Wildcat Beach to see the most stunning coastal waterfall: Alamere Falls. Watch the water dramatically cascade over a 30-foot-tall cliff right onto the shore. End your solo road trip by observing a colony of elephant seals at Chimney Rock.
8. Salton Sea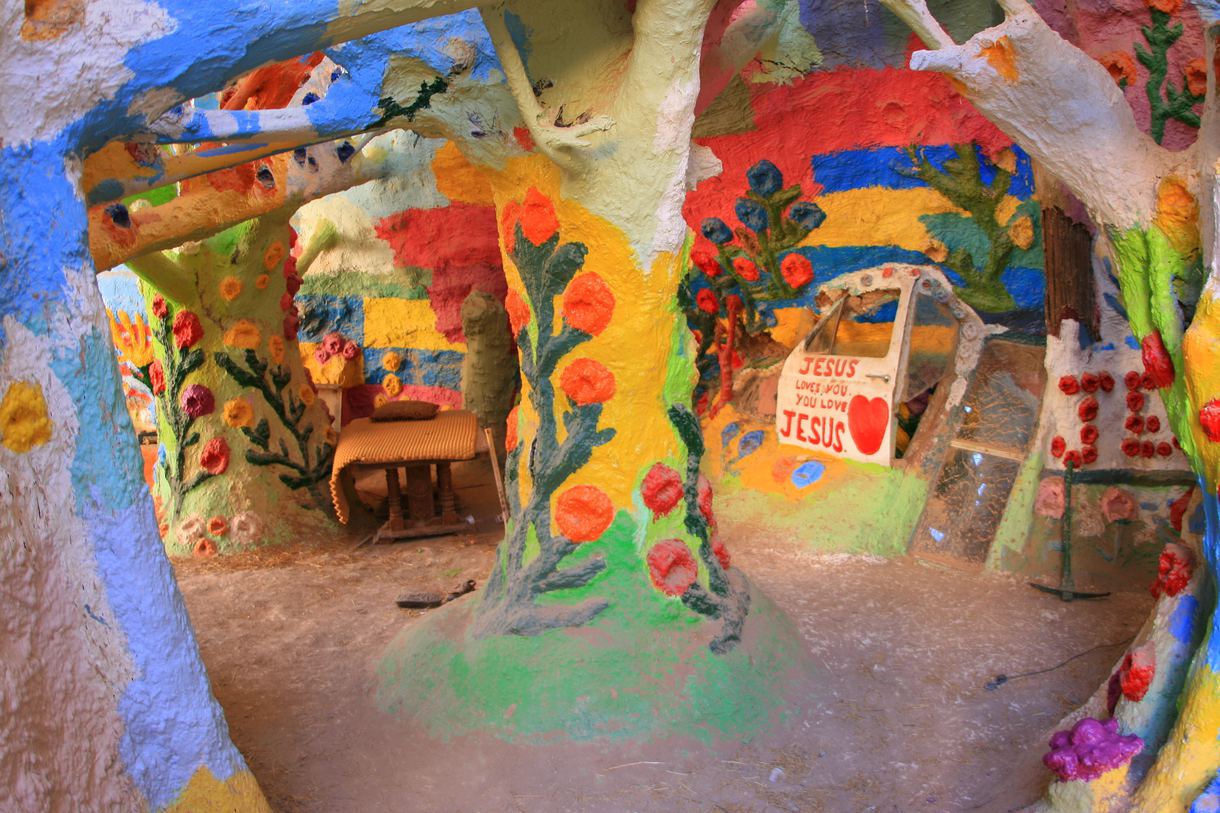 Accidentally formed when Colorado River floodwater breached an irrigation canal, the Salton Sea is a must-visit when going on a road trip alone. Providing an apocalyptic scene that's both incredible and eerie, the entire area is an eclectic mix of visual adventures. Residents have managed to transform it into a thought-provoking space—abandoned towns turned into interactive art museums and deserted resorts into community centers. Stop by one of America's last free places to live, Slab City, and explore the squatters' paradise and its deserted structures.
Many people wind up driving all the way to the Salton Sea just to visit Leonard Knight's obscure Salvation Mountain, where desert art meets religion. Soak in the vivid colors of the religious masterpiece spreading the message of love. East Jesus has a similar ambience—it's a community of artists that live together and create art in the desert. And finally, don't forget to visit the famous one-room International Banana Museum to end your solo road trip with a hilarious bang.
Not sure where to head first? Discover which California road trip is best for your Enneagram type.