By

California.com
September 11, 2020
As California mitigates health risks during the COVID-19 pandemic, some travel restrictions may remain in certain communities. Call the local and regional tourism offices to learn more about the restrictions in your intended destination. Thank you for reading, and stay safe.
Looking to unwind in nature? Make yourself comfortable at one of California's glamorous camping (glamping) destinations where you can wake up to birdsong, rushing rivers, or encompassing forests. Combining style and comfort with the great outdoors, glamping in California is the perfect middle ground for enjoying adventure-packed days and cozy nights.
Home to numerous lush forests, shimmering lakes, and gorgeous mountain ranges, Northern California has no shortage of dreamy glamping spots. You can revitalize your soul and body while experiencing an enviable mountain vacation and bonding with loved ones.
So, leave your devices at home, jump in the car, and drive off into nature. You'll be rewarded with wildlife watching, untamed sceneries, fierce waterfalls, and wild adventures in these top glamping destinations in NorCal.
The Best Places to Glamp in Northern California
Houseboat Glamping in Shasta Lake

Location: Packers Bay, Lake Shasta
Amenities: Bedrooms, kitchen appliances, shower, gas grill, hot tub, and many more
Activities: Swimming, wakeboarding, fishing, hiking
Dogs allowed: Yes
Glamping takes on a whole new meaning when it comes to houseboat rentals in Lake Shasta. Voyage to one of the most popular spots in NorCal for a weekend of fancy fun. The houseboats at Shasta Marina at Packers Bay boast modern amenities that will make you feel right at home while traversing the waters. Follow your heart's desire and relax with class—it's time to enjoy life to its fullest. With the sun kissing your cheeks, the pine forest protecting you, and the azure water glistening around you, relax as you feel time slowing down.
Strawhouse Resort Yurt

Location: 31301 CA-299, Junction City
Amenities: Bamboo flooring, heating and air conditioning, an electric fireplace, microwave oven, induction plate, small refrigerator, coffee pot, toaster oven, clawfoot tub and shower, a queen bed downstairs, a queen bed in the loft, a fold-out twin bed, a large deck area
Activities: Fishing, white-water rafting, bird watching, hiking
Dogs allowed: Yes
Dig the positive vibes of Strawhouse Resort's Pacific yurt on your next escape to the mountains. Treat yourself and experience mindfulness in style. Sip on organic coffee while the sound of the Trinity River lullabies you; fish for your own steelhead, salmon, and German browns; or prepare for an incredible adrenaline rush while white-water rafting along the waterways. Stargaze through your roof window before dozing off into sweet dreams reminiscing your adventures.
Black Mountain Lookout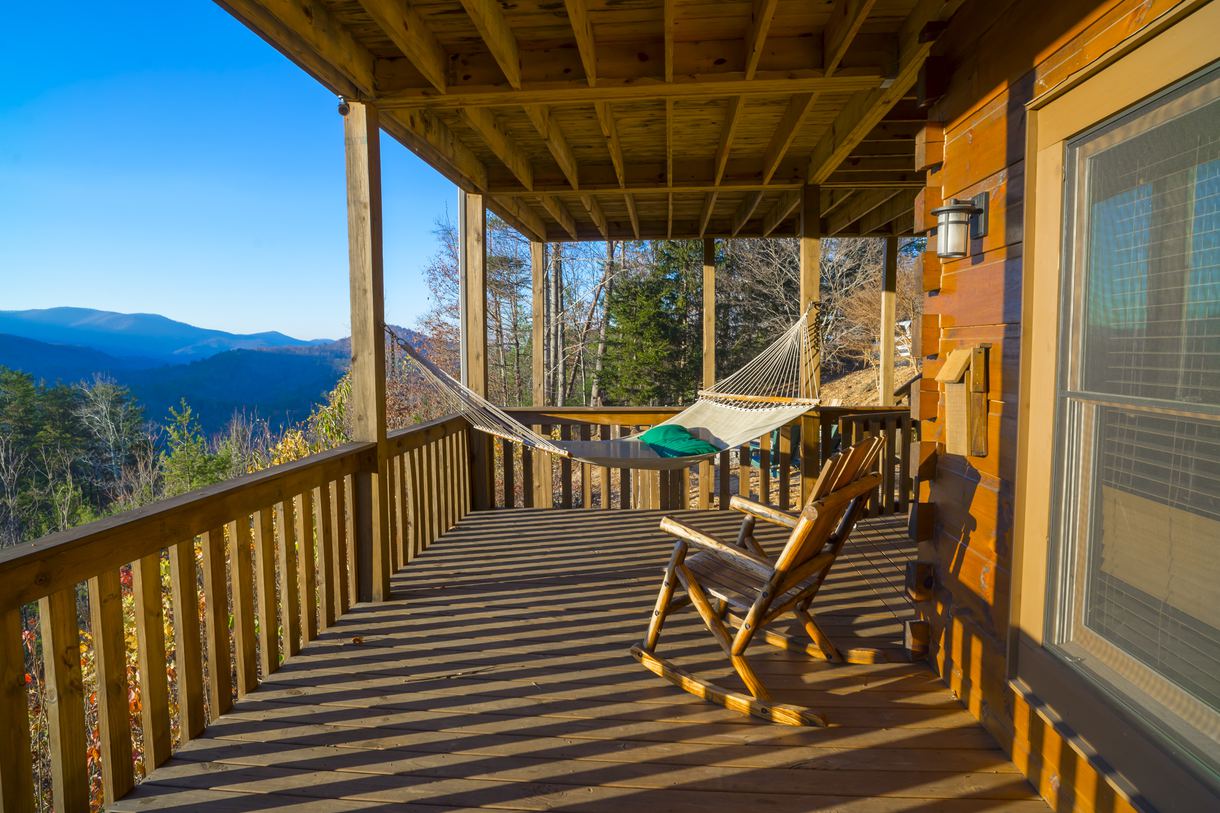 Location: 10 miles from Highway 395, near Milford
Amenities: Table and chairs, refrigerator, small stove, heater, lights, picnic table, vault toilet
Activities: Hiking, birding, stargazing, wildlife viewing
Dogs allowed: Yes, but on-leash
The Black Mountain Lookout in Plumas National Forest is the perfect location for a romantic getaway. Settle into your comfy lodge and admire the breathtaking landscape surrounding you. Traverse to the mysterious Last Chance Creek for wildlife viewing before dinner. Indulge in stunning sunsets on the shimmering Honey Lake in the north, and absorb the serenity of each moment. Once the sun sets, a new universe awakens—make yourself a hot cup of cocoa and cuddle up in a warm blanket as you watch the stars twinkle above.
Treehouse Glamping in Santa Cruz

Location: 17 minutes from the Pacific Coast Highway, near Watsonville
Amenities: Queen-size bed with linens and pillows, private jacuzzi, shower with towels and complimentary shampoos, kitchen, heating, hot water, deck, toilet
Activities: Hiking, biking, surfing, kayaking, scuba diving, zip-lining
Dogs allowed: Yes, but the property has a cat
Escape to the middle of an enchanting redwood forest just north of Monterey Bay to sleep in a cozy treehouse (literally). Spend your days hiking the trails through the nearby Forest of Nisene Marks State Park, and let the looming redwoods fuel your soul. You can also surf the waves at Natural Bridges State Beach and watch the sunset over Santa Cruz. At the end of the day, your private hot tub under the trees awaits you at this breathtaking Santa Cruz glamping site. Watch the night sky and listen to the calming sounds of the trees swaying in the wind.
Luxury Canvas Tent at Pine Grove Cobb Resort

Location: 15960 Bottle Rock Road, Cobb
Amenities: Redwood deck, beds, linens, seating area, Wi-Fi, outdoor community pool, electric water kettle, firepit, wood-burning pizza oven (upon request), French press, organic coffee, tea
Activities: Meditation, yoga, wildlife watching
Dogs allowed: Yes
A two-hour drive from San Francisco takes you to Pine Grove Cobb Resort's riverside tent nestled amidst majestic old-growth pine trees. Wake up to views of Cobb Mountain, the sound of birds chirping, and the smell of organic coffee; it will have a revitalizing effect on you. Venture along the Old Road Trail to the summit of Cobb Mountain, or take the Creek Trail via Houghton Creek for hours of serenity. For a more relaxed day, meditate on the redwood deck and unplug from your everyday life, or gather with the other campers around the firepit and make new connections.
Airstream Suite in Yosemite National Park

Location: 6323 CA-140, Midpines
Amenities: Queen-sized bed with linens, TV, kitchen with a microwave and basic cooking utensils, walk-in shower and custom vanity sink, private patio, campfire, Wi-Fi
Activities: Swimming in the pool, lawn games around the property, lounging in outdoor areas, board games in the clubhouse
Dogs allowed: Yes
Escape to Yosemite National Park and experience unique glamping options provided by Autocamp. While an abundance of activities is offered on-site, the iconic park calls for unparalleled adventures. Traverse the trails of Mariposa Grove to observe awe-inspiring giant sequoias, hike along the various paths of Hetch Hetchy, and bike through Yosemite Valley (bikes are available at the campground on a first-come, first-served basis). After a full day at Yosemite National Park, savor a divine dinner at the nearby 1850 Restaurant or get creative in your fully furnished kitchen.
Tower Cabin at Oz Farm

Location: 41601 Mountain View Road, near Manchester State Park
Amenities: Two separate rooms with double beds, deck, wood-burning stove, sink and potable water, outhouse, kitchenette with basic amenities
Activities: Swimming, hiking, boating, biking, wildlife viewing
Dogs allowed: Yes, but on-leash.
Travel along the Mendocino coast for a diverse NorCal experience. Just 30 minutes past Sea Ranch, your home away from home at Oz Farm awaits you. The Tower Cabin is the perfect Mendocino glamping getaway for lovebirds. When you're not frolicking in the neighboring river or wandering the organic farm's grounds with your S.O., you can explore Manchester State Park or Point Arena for scenic tranquil vistas and an abundance of outdoor activities. For bigger parties, check out Oz Farm's Domes, which are situated on the south bank of the Garcia River.
Manzanita Lake Camping Cabins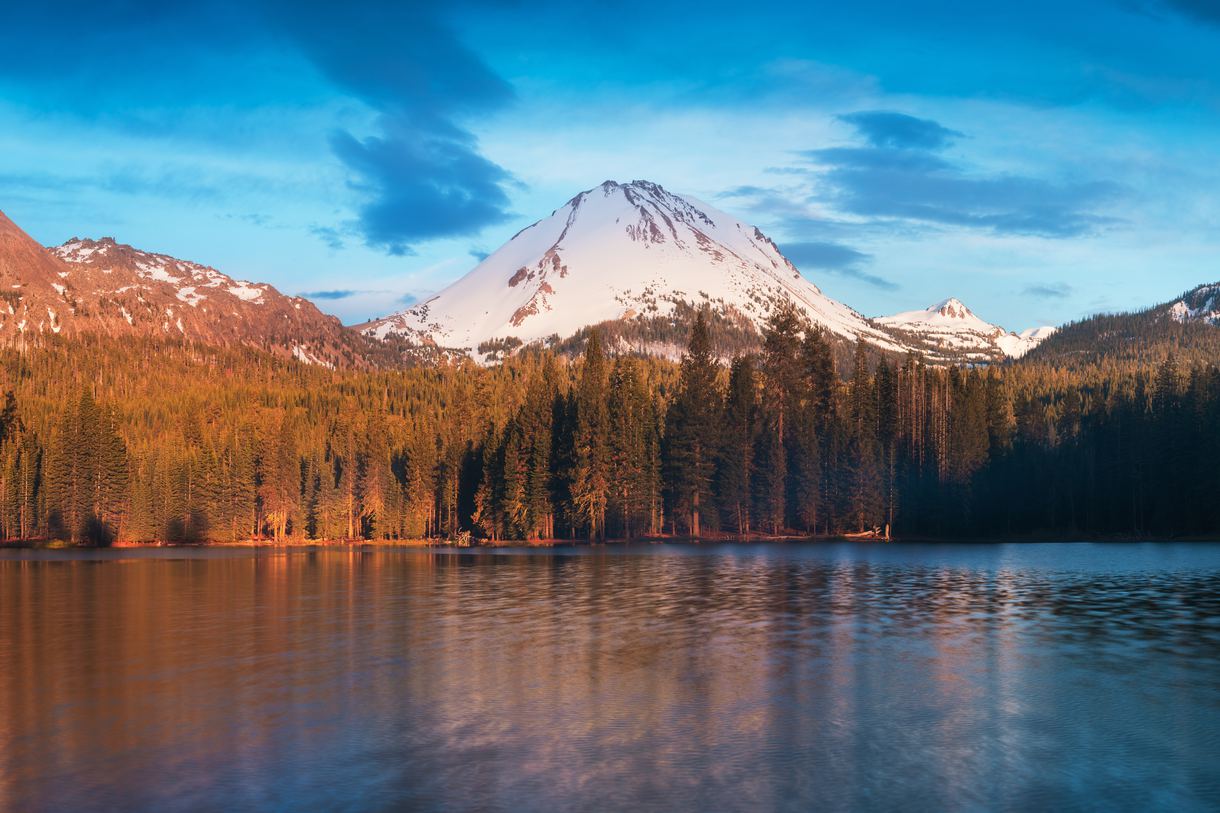 Location: 39489 CA-44, Shingletown (in Lassen Volcanic National Park)
Amenities: Beds, propane heat, lockable door, lantern, picnic table, fire ring, and a bear-proof food storage locker. Amenities for personal hygiene at the main campground.
Activities: Boating, fishing, swimming, kayaking, canoeing, paddleboarding, hiking, wildlife viewing
Dogs allowed: No
Journey to Lassen Volcanic National Park and rejuvenate yourself in a unique landscape complete with rugged mountain peaks, alpine lakes, and hydrothermal areas. Explore all eight hydrothermal areas of the national park; after traipsing along volcanic peaks and through mountain meadows, hike to Kings Creek Falls.
At the end of an adventurous day, settle down at your rustic cabin at the Manzanita Lake Campground before taking a dip in the lake and admiring the stunning view of Lassen Peak changing colors just as the sun starts to set. Everything around you seems like a fairytale as the dark sky suddenly starts to present its familiar star constellations.
Sardine Peak Lookout
Location: Tahoe National Forest
Amenities: Beds, a dry sink, a table and four chairs, three propane lights, a propane cast iron heat stove and a propane oven for cooking, cooking utensils, picnic table, fire ring, vault toilet
Activities: Hiking, mountain biking, off-roading, fishing, boating, swimming (nearby)
Dogs allowed: Yes, but on-leash
While South Lake Tahoe offers luxury hotels with spa treatments and action-packed days at the lake, glamping in Tahoe is best at the Sardine Peak Lookout. Feel the air change as you drive up to Sardine Peak, situated 20 miles outside of Truckee, and take in the beautiful vistas of Stampede Reservoir, Boca Reservoir, Sardine Valley, Independence Lake, and the Sierra Buttes.
Constructed in 1935, the cabin is primitive and lacks water and electricity—so you can completely unplug while surrounded by ancient pine forests. Venture to the Stampede Reservoir for maritime fun or hike one of 100-plus maintained trails in the Tahoe National Forest.
WildTender Ranch & Rescue

Location: Pescadero
Amenities: Beds, firepit, shower, portable toilet, picnic table
Activities: Animal interactions, biking, hiking, fishing, paddling, wind sports, surfing
Dogs allowed: Yes
Visit the horse sanctuary of WildTender Ranch & Rescue to interact with magnificent creatures and enjoy a very special glamping experience in the Bay Area. Feel the healing powers of the land and its equestrian residents. Spend your days at the beach and indulge in fun under the sun; then, wander off to the Pigeon Point Lighthouse to watch blood-red sunsets over the Pacific Ocean before cozying up in your very own teepee. If the teepee is too wild for you, spend the night in a geo-dome and wake up to the sun rising over the glimmering ocean.