By

California.com
March 10, 2021
As California mitigates health risks during the COVID-19 pandemic, some travel restrictions may remain in certain communities. Call the local and regional tourism offices to learn more about the restrictions in your intended destination. Thank you for reading, and stay safe.
While Los Angeles offers a plethora of attractions—including beaches, museums, parks, and gardens—we crave a getaway every now and then. The sprawling city is in close proximity to the coolest destinations in the Golden State; perfect for discovering the ins and outs of the area. If you want a full-day vacation, take a look at the best Los Angeles day trips for a relaxing and out-of-this-world getaway.
The Best Day Trips From L.A.

Santa Monica
Distance from Los Angeles: 20 minutes
This iconic coastline is one of the closest Los Angeles getaways. You're guaranteed to have fun on the roller coasters and bumper cars at Pacific Park on the Santa Monica Pier. Hit the arcade, win a prize, and enjoy panoramic views of the coast on the Pacific Ferris wheel.
Have a bite at one of the burger and pizza bars along the pier and catch a glimpse of life underwater at the Santa Monica Pier Aquarium (open under normal circumstances). Wrap up your Santa Monica getaway with shopping at the Third Street Promenade.

Malibu
Distance from Los Angeles: 40 minutes
A visit to Point Dume in Malibu can easily become an affordable romantic getaway. Have a delightful swim and observe the migrating whales on Malidu's sandy, cliffside beaches. Then, Malibu Farm Restaurant awaits you with its healthy sustainable menu and spectacular views from the pier.
Once you're recharged, bask in the glory of the great outdoors while hiking to Escondido Falls. If you have more time on your hands, pay a visit to Malibu Creek State Park—the best destination for a weekend escape from L.A.

Laguna Beach
Distance from Los Angeles: 50 minutes
This next Los Angeles trip calls for surfing, kayaking, and looking out for sea lion sightings. But there's more to Laguna Beach than just splashing around. The Laguna Art Museum, California's oldest, is home to 3,000 paintings, sculptures, and photographs dating back to the 19th century. Explore the treasures of the museum, then take a stroll at Heisler Park for sweeping sunset views. A refreshing fruity yogurt bowl from Banzai Bowls is the perfect snack for a quick recharge. Before leaving, challenge your taste buds at Nick's Restaurant.

Balboa Island
Distance from Los Angeles: 50 minutes
The Balboa Fun Zone is the ultimate destination for action-packed adventures. This historic amusement park on Newport Beach's Balboa Peninsula has to be on your list of day trips from Los Angeles.Watersport opportunities, amusement park rides, boutique stores, and art galleries line the boardwalks that make up Balboa Village. Pick your favorites and have an enticing home-style meal at Wilma's Patio.
Huntington Beach
Distance from Los Angeles: 1 hour
Full of exciting experiences, America's Surf City is one of the best day trips from L.A. Visiting beaches, shops, and restaurants isn't all there is to do. Transport yourself to a 1940s-style Hawaiian beach bungalow at Duke's and watch the surfers ride epic waves while enjoying your mouth-watering meal.
Then, get on a horse and explore Huntington Central Park's urban forest. Enjoy fishing with Wagner Charters, which also offers day trips to Catalina Island. Next, grab dinner at Simmzy's Huntington Beach and revel in your meal with unbeatable views of the pier.
Oxnard
Distance from Los Angeles: 1 hour
If you're looking for wilderness and an old-world feel, Mandalay State Beach in Oxnard is the place to be. The sand dunes, scrub plants, and rugged flora and fauna allow visitors to enjoy the natural beauty of the most romantic beach in the state. Pay a visit to the Carnegie Museum of Art, which features both classic and contemporary pieces. End the day with affordable Japanese delights at Anaba Sushi, a local favorite dining spot.

Santa Catalina Island
Distance from Los Angeles: 1 hour
You'll forget about the bustling mainland once you find yourself at this oasis. Santa Catalina Island is a short trip from Los Angeles. You can easily get there with a one-hour ferry ride, but if you're feeling a little fancy, a helicopter will get you there in 15 minutes. Considering the abundance of attractions here, this is the perfect weekend escape from L.A.
The Catalina Island Museum is a must-visit, especially if it's your first time. Later, trek the 2.8-mile Garden to Sky Trail to arrive at the Wrigley Memorial and Botanic Garden. The trail is so picturesque and scenic that it's one of the best things to do on a romantic getaway near Los Angeles.
There is a wide variety of small family-operated businesses to choose from when hunger strikes. Catalina Coffee and Cookie Co. is one of these must-try places—gourmet coffee, cinnamon rolls, and the best brownies are all found here. As for dinner, Bluewater Avalon offers the finest sustainable seafood with a gorgeous waterfront patio to elevate your experience.

Santa Barbara
Distance from Los Angeles: 1 hour and 30 minutes
Santa Barbara offers one of the best L.A. day trips thanks to its breathtaking coastline, historic Mission, and the ruins of Knapp's Castle. Admire the countless exhibits at the mission's museum. Later, head over to the neighboring La Huerta Historic Garden to see the botanic history of Spain's agricultural transformation.
Once you start craving food, indulge in appetizing Spanish fare at Loquita or contemporary Indian meals at Bibi Ji. If you'd prefer the best of everything, the Santa Barbara Public Market offers a large variety of cuisines from some of the best local chefs.
Palm Springs
Distance from Los Angeles: 1 hour and 45 minutes
Boasting desert landscapes and mid-century modern architecture, Palm Springs deserves its own weekend trip away from Los Angeles. Start by feeding giraffes and getting up close to all kinds of critters at the Living Desert Zoo and Gardens. Make your trip educational and visit the Palm Springs Art and Air Museums.
For nature lovers, there are over 60 miles of trails at your disposal in the Indian Canyons. The Palm Springs Aerial Tramway is another exciting activity. Once you reach the top, treat yourself to a delicious meal overlooking the Coachella Valley at Cascade Café.

Joshua Tree National Park
Distance from Los Angeles: 2 hours
Why not visit one of the best national parks near Los Angeles? Discover the many Joshua Tree hikes that meader through gigantic boulders, cacti gardens, and kaleidoscopic wildflowers. There are many great bird-watching and photography spots in this scenic desert park, too. Climb the towering rock walls, explore the mind-blowing geological formations, and soak in the stellar night sky on your Joshua Tree getaway.

San Diego
Distance from Los Angeles: 2 hours
If you have the time, you should definitely extend this one-day trip from Los Angeles into a weekend escape. From museums to gardens, San Diego offers endless possibilities. The 1,200-acre Balboa Park features breathtaking Spanish-Renaissance architecture, a fantastic botanical building, and a Japanese-style garden. Enjoy a picnic at the park and visit one of the many on-site museums.
Check out the San Diego Zoo, home to one of the largest collections of rare and endangered animals in the world—with pandas, giraffes, elephants, polar bears, and koalas, they have it all. Whatever you do, don't leave San Diego before trying the chia seed pudding at Little Lion Cafe.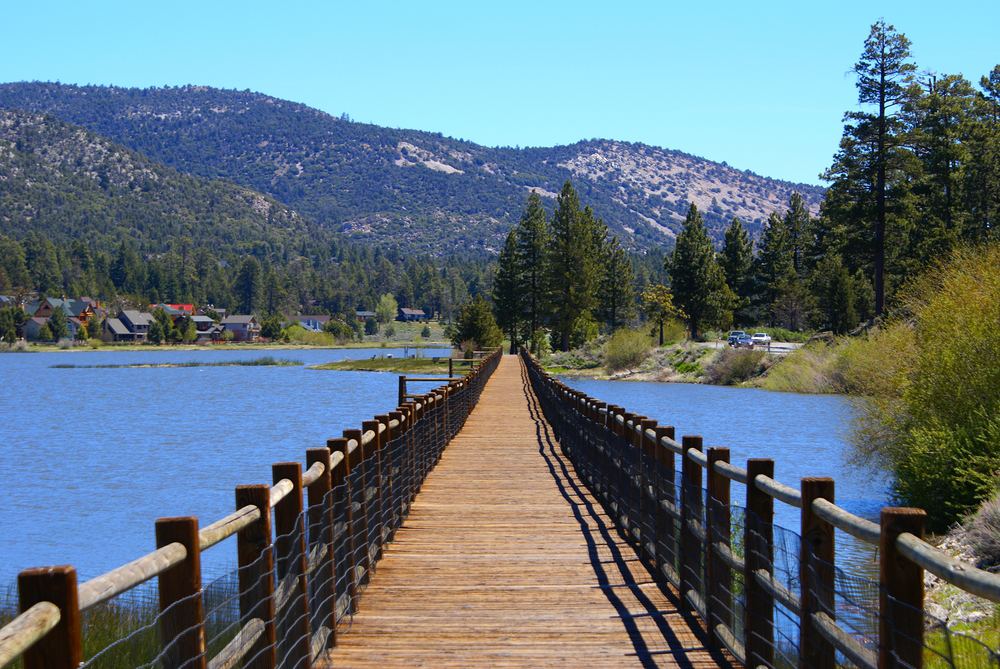 Big Bear Lake
Distance from Los Angeles: 2 hours
Known as the ultimate four-season mountain escape, Big Bear Lake is a great weekend getaway destination from Los Angeles. From the drive itself, to the scenery and ski locations, everything about this place is magical. The outdoor recreation opportunities here are endless—hiking, fishing, camping, snowboarding, snow tubing, and skiing are only the tip of the iceberg.
In the evening, check out the Mexican cuisine at Hacienda Bar and Grill and enjoy a round of pool at Big Bear Bar and Grill.
Solvang
Distance from Los Angeles: 2 hours
Solvang is the closest thing to visiting Denmark without leaving the state. This cozy town is home to dozens of Danish farmhouse-style buildings that look like they're straight out of a fairytale. Here, you'll find the Hans Christian Andersen Museum which houses a variety of exhibits from the Danish Shakespeare. Make the most of this Los Angeles day trip with a traditional Scandinavian meal or a pastry from one of the many bakeries and restaurants in Solvang.