As California mitigates health risks during the COVID-19 pandemic, some travel restrictions may remain in certain communities. Call the local and regional tourism offices to learn more about the restrictions in your intended destination. Thank you for reading, and stay safe.
While there is only one big, beautiful Lake Tahoe, it happens to have two sides: North and South Shore Lake Tahoe. Different as night and day yet still very similar, these two sides complement each other in the best way.
A getaway to South Lake Tahoe offers a busier stay, as the downtown area draws a large number of tourists. North Shore Lake Tahoe, on the other hand, is more secluded and nestled in the wilderness—exploring the hiking trails and enjoying other outdoor activities are among the top things to do near the lake.
Whether you're reading about Tahoe facts and dreaming of future vacations or looking for the best underrated towns in the area to move to, both shores have unique characteristics you should know in advance. Besides sharing incredible dining and accommodations—along with access to great snow and lake recreation—here's everything that sets North Shore Tahoe apart from the South Shore.

Everything You Need to Know About North Shore Tahoe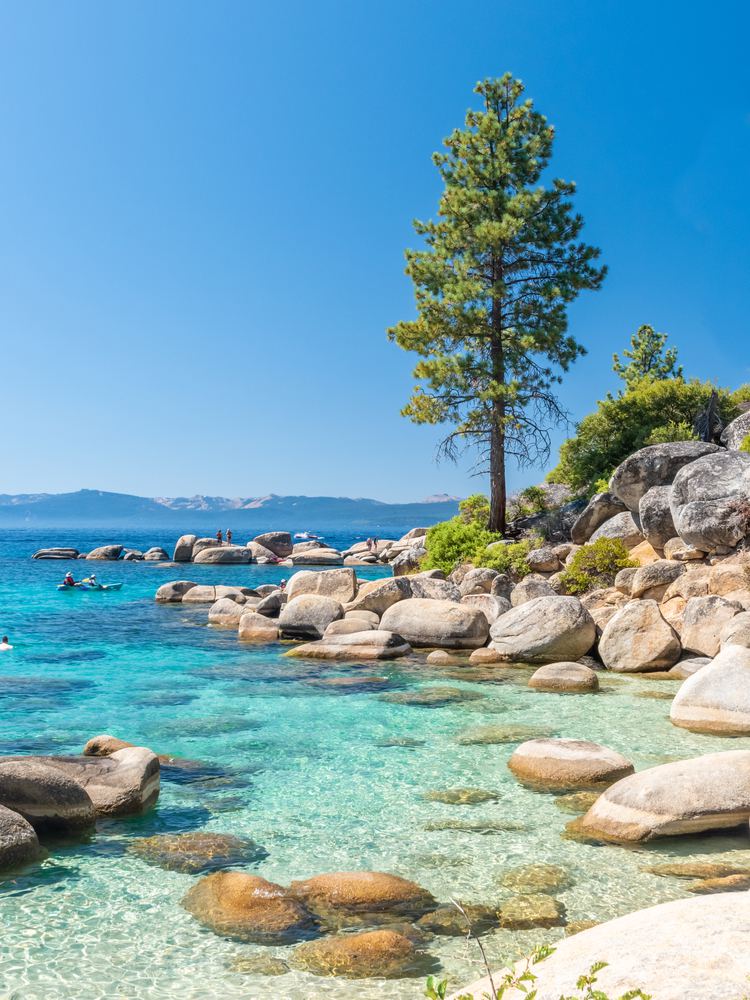 North Shore Lake Tahoe is perfect for those who enjoy a quieter, more laid-back lifestyle. Home to the towns of Truckee, Tahoe City, and Tahoe Vista, this side of the lake feels less urbanized and more enveloped in the wilderness. Here, you'll find the most coveted ski destinations in all of California.
In general, fewer people tend to live in and visit North Shore Tahoe. The area offers a more mountain-style feel than the south side. North Shore Lake Tahoe is ideal for those looking to get outside and enjoy the splendor that comes from relaxing in the mountains sans crowds.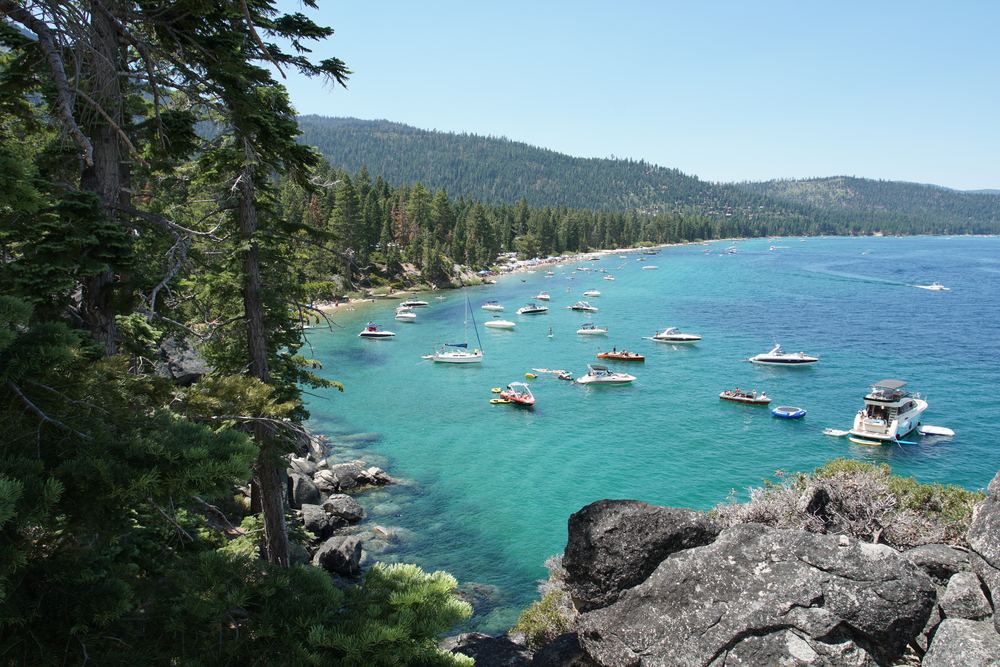 North Shore Lake Tahoe during the summer
While winter is all about the powdered slopes and thrilling terrains, summer in North Shore Lake Tahoe is far more serene and relaxed. Whether you enjoy visiting Tahoe's dog-friendly beaches or going on adventures on the Tahoe Rim Trail, you'll never run out of things to do.
Tahoe Boat Rentals North Shore
On your next summer road trip to the northern shore, rent a boat and spend a day sunbathing, swimming, and splashing around. There are a variety of Tahoe boat rentals on the north shore along with a complete fleet of ski boats, cruising boats, and luxury yachts. AWS Incline and North Shore Boat Rentals are two companies that'll make your boating trip over Tahoe's crystal blue waters worthwhile.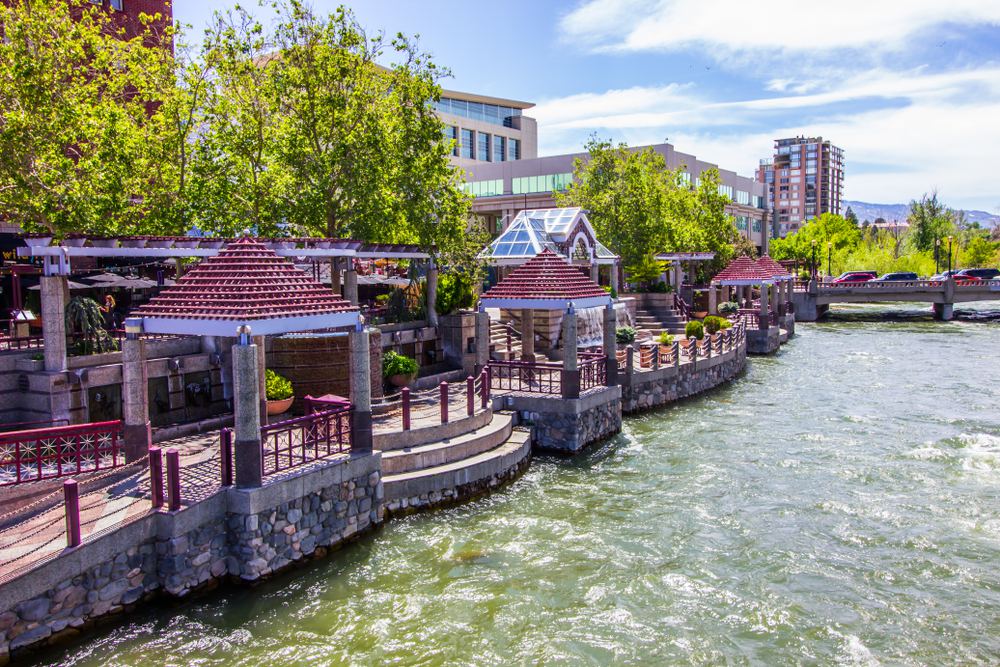 Dining, shopping, and nightlife in North Shore Tahoe
North Shore Lake Tahoe steps it up with its fine dining options and delicious, budget-friendly eateries. There are hundreds of restaurants to choose from, most of which are owned by Tahoe locals. Not only does this make your experience authentic, but it also allows you to entice your taste buds on a whole new level.
If you crave a bit of retail therapy during your stay, head to Truckee—the epicenter of shopping in the area. The small town boasts everything from large shopping centers to small boutique stores that offer standout finds and unique souvenirs to take home.
While there are several nightlife spots and apres-ski activities in North Shore Tahoe, it isn't exactly the area's strong suit. You'll find indoor live music at certain spots in Truckee or Squaw Valley. But the North Shore won't be your go-to destination if going out at night is your favorite thing about vacations.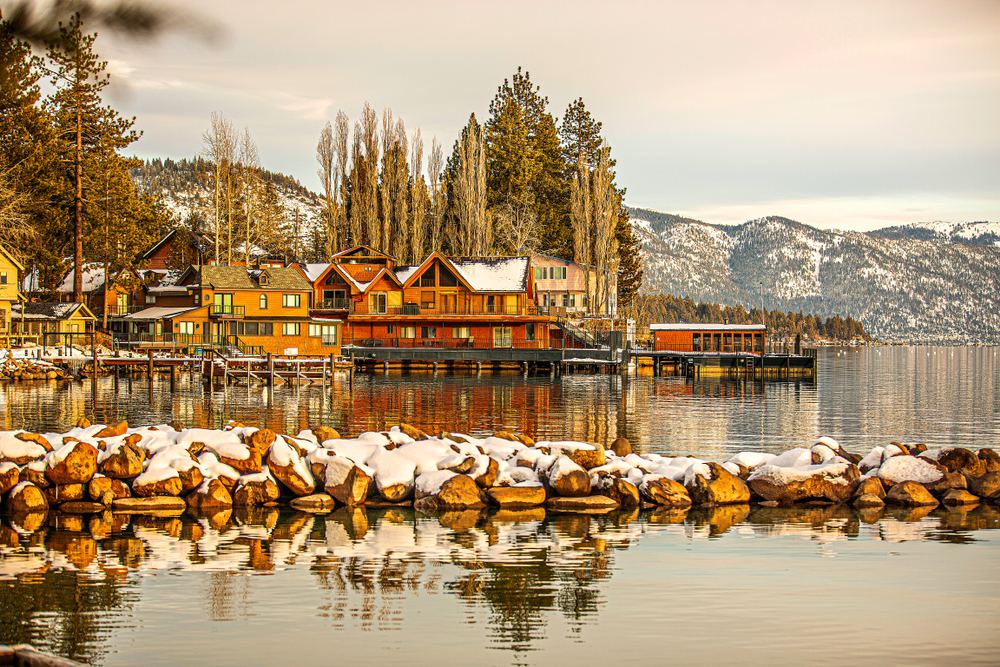 North Shore Lake Tahoe Hotels
Truckee is an excellent choice for North Shore vacationers who want the feel of a classic ski town community. However, if lakeside accommodations are more up your alley, opt for Tahoe Vista.
Cedar House Sport Hotel
Location: 10918 Brockway Road, Truckee
One of the many perks of the Cedar House Sport Hotel are its restaurant, free private parking, and shared lounge that's ideal for unwinding. This North Shore Lake Tahoe hotel is the perfect basecamp to rest in after a long day of playing hard and exploring the outdoors. The Cedar House Sport Hotel is also close to Northstar California Resort, making it an excellent choice for avid skiers.
The Ritz-Carlton Lake Tahoe
Location: 13031 Ritz Carlton Highlands Court, Truckee
This five-star mountain resort in North Shore Lake Tahoe lets you experience luxury at its peak. The Ritz-Carlton Lake Tahoe is home to the only luxury ski-in, ski-out access in the area. Boasting a fantastic slopeside spa and exceptional dining, The Ritz-Carlton Lake Tahoe is what vacationing in style is all about.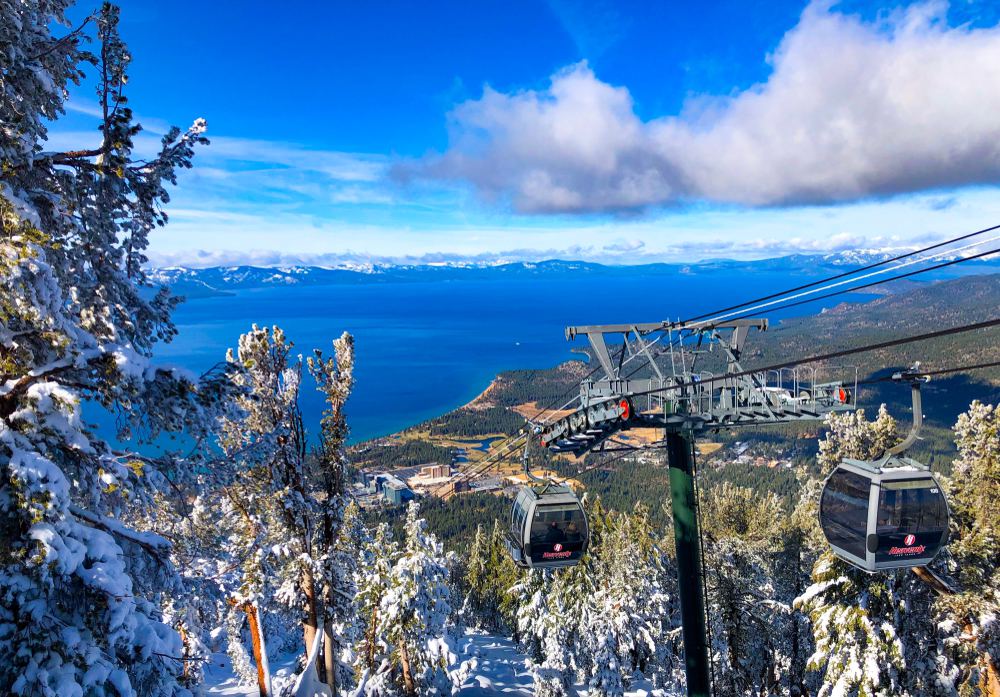 A Guide to South Shore Tahoe
Compared to the nature-filled relaxed vibe of the north side, South Shore Lake Tahoe can basically be considered the Las Vegas of the area. Nightlife, late-night food, and boisterous vacationing—the action never seems to stop on the South Shore.
Spend your mornings exploring the snow-capped terrains. Wrap up your day enjoying the finer things in life such as gourmet restaurants and busy nightclubs. If you enjoy post-ski activities more than skiing itself, you'll undoubtedly fall in love with this side of the lake.
South Shore Lake Tahoe during winter
Any guide to Lake Tahoe would tell you that the south shore is not all about the glamorous party scene. If skiing as much as possible is the first and foremost priority, there are a handful of top-notch ski-in, ski-out hotels and condos to choose from. This is also where many of the best backcountry skiing and snowmobiling are located—especially around the Kirkwood area. So don't leave your ski gear at home.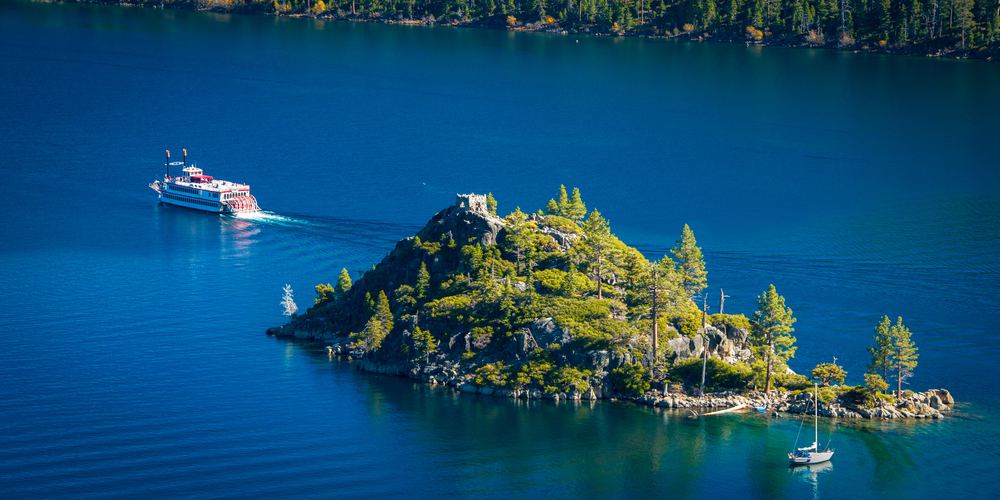 South Shore Lake Tahoe during summer
Parasailing, jet skiing, kayaking, and party boats—summer in South Shore Lake Tahoe is all about adventure. The biggest draws on the South Shore are the bustling downtown and top-notch long-distance hiking trails. Mountain living takes the backseat in South Shore Lake Tahoe, allowing culture to thrive and welcoming festivals and can't-miss events to take the stage.
Dining, shopping, and nightlife in South Shore Tahoe
There's no shortage of dining options in South Shore Lake Tahoe either. Thanks to its proximity to San Francisco, you'll find fantastic seafood here, as well as other options ranging from Italian to Thai. Even the pickiest eater in your crew will find something to satisfy their cravings.

The large pedestrian-friendly Heavenly Village is filled with restaurants, shops, and live outdoor music. There's also a mall right in the middle of the village, featuring an excellent range of shopping and dining options. Don't forget to grab a cappuccino from
Lake Tahoe's best coffee roasters to keep you warm.
Although the party never stops in South Shore Tahoe, it often starts with late afternoon live music, food and drink specials, and lots of dancing. However you choose to continue the rest of your day is up to you; South Shore Lake Tahoe is literally active 24/7.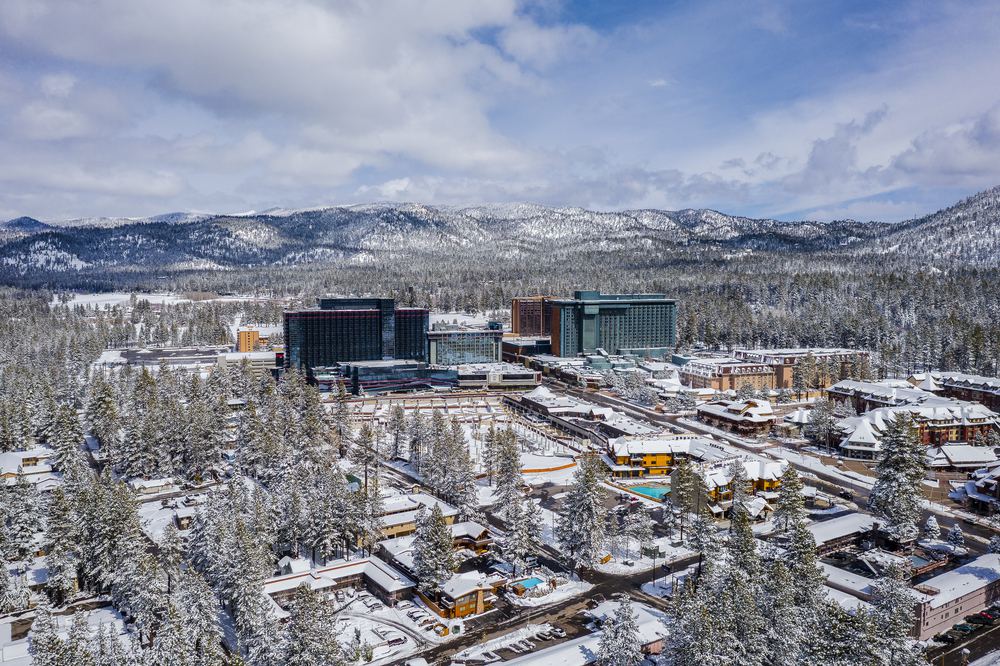 South Shore Lake Tahoe Hotels
From quaint family-run bed and breakfasts to high-end luxury boutique hotels, accommodations in South Shore Lake Tahoe are world-class, to say the least.
The Landing Resort and Spa
Location: 4104 Lakeshore Boulevard, South Lake Tahoe
The Landing Resort and Spa is a luxury waterfront hotel within close proximity to all the best South Shore Tahoe activities. The sophisticated feel of the hotel provides guests with all the little touches you need for the perfect Tahoe vacation.

The Coachman Hotel
Location: 4100 Pine Boulevard, South Lake Tahoe
This quaint (and very Instagram-worthy) boutique hotel is the ideal accommodation for those looking for a cozy retreat. Unwind in the hot tub, cool off in the pool, and take advantage of all the recreational opportunities within walking distance from The Coachman Hotel.