By

California.com
July 22, 2020
As California mitigates health risks during the COVID-19 pandemic, some travel restrictions may remain in certain communities. Call the local and regional tourism offices to learn more about the restrictions in your intended destination. Thank you for reading, and stay safe.
Want to make the most of your weekend in the Bay Area? Stay local, and spend it chillin' in one of the region's most beautiful destinations. Treat yourself to a day exploring the Bay's natural beauty—trek your way through the local nature reserves, discover breathtaking hiking trails, and visit some of the most iconic California state parks. Jump-start your next adventure near San Francisco, and head to these top Bay Area state parks now.
1. Castle Rock State Park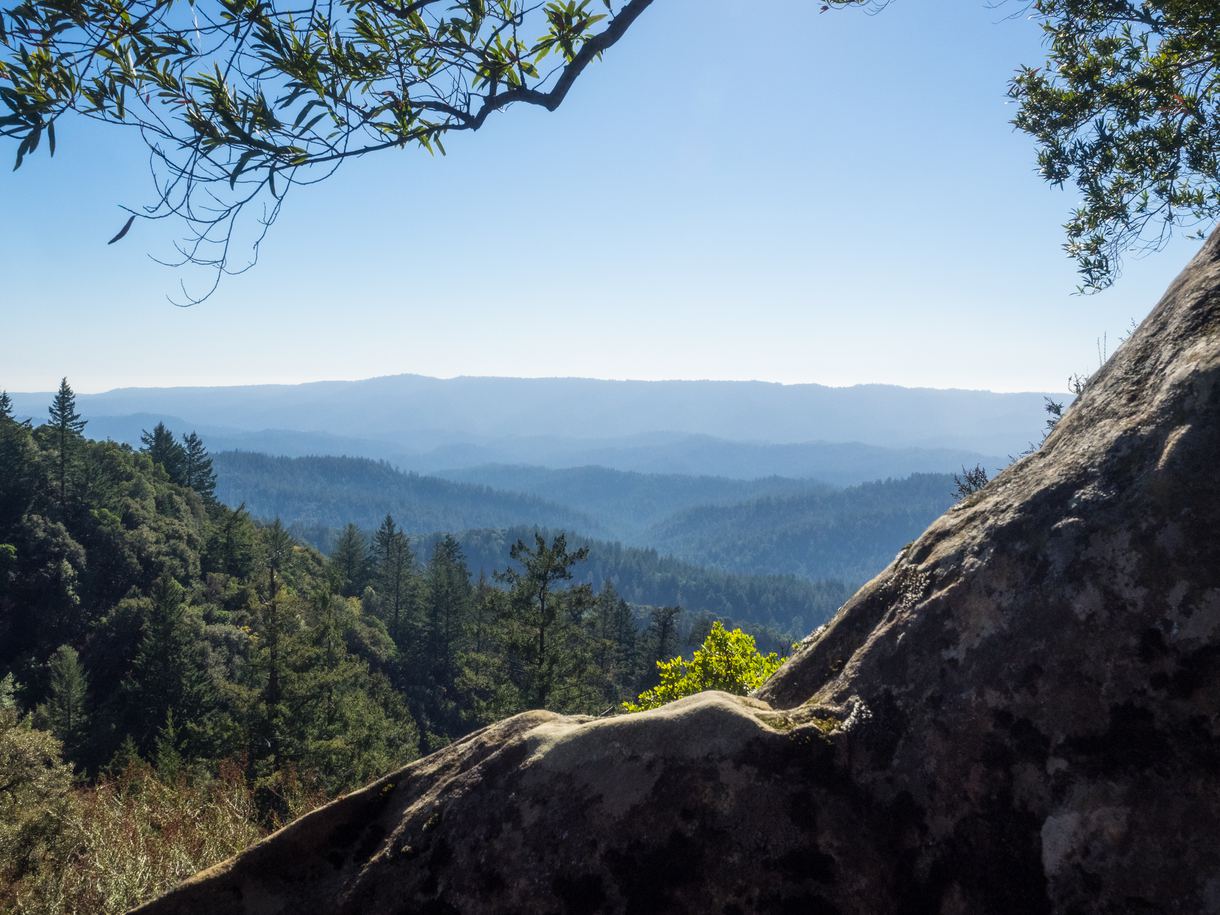 Location: 15451 CA-35, Los Gatos
Hours: 8 a.m.–sunset
Amenities: Benches, picnic tables, campgrounds, museums, visitor center, and the Kirkwood amphitheater.
Dogs allowed: No
Castle Rock State Park, nestled along the crest of the Santa Cruz Mountains, offers lush forests and stellar panoramas that'll take your breath away. The 5,242-acre park stretches almost to Santa Clara and San Mateo Counties. In addition to the sweeping views and rich vegetation, the park offers an impressive range of activities, so pack your lunch and spend the day here. Whether you're up for hiking rugged trails, horseback riding, or exploring mysterious caves, Castle Rock has something for everyone—especially rock climbers. Known for its unusual rock formations and steep canyons, this state park is a hot spot for rock climbing.
Castle Rock is also a hiker's haven. Whether you trek along Castle Rock Trail or Skyline-to-the-Sea Trail, you can savor the beauty of your surroundings. As you explore the forested paths, you'll discover coast redwoods, Douglas-fir, and Pacific madrone. When you're ready to take a break from the hot summer sun, cool off by the enchanting Castle Rock Falls while enjoying picturesque views. The waterfall is also a renowned climbing area, offering an observation platform with stunning vistas of the park and beyond.
2. Big Basin Redwoods State Park

Location: 21600 Big Basin Way, Boulder Creek

Hours: 8 a.m.–7 p.m.
Amenities: Seven campgrounds, picnic areas, and hiking trails
Dogs allowed: On-leash dogs are allowed in the campsites, in the picnic areas, and on paved roads. No dogs are allowed on the trails or fire roads, in the Rancho del Oso area, or on Waddell State Beach.
History buffs, this spot is for you—established in 1902, Big Basin Redwoods Park is the oldest California state park and is considered a Golden State historical landmark. Home to a unique variety of flora and fauna, it boasts the largest continuous stand of ancient coast redwood trees south of the San Francisco area. (Some of these coast redwood trees are as tall as the Statue of Liberty.) The Santa Cruz County park consists of old-growth and recovering redwood forests as well as varied landscapes that include waterfalls, canyons, and slopes covered with chaparrals and oaks. With phenomenal views of the Pacific Ocean, Big Basin is definitely a must-see on our list.
Hikers can get their groove on and traverse over 81 miles of linked trails. Explore the leisurely Redwood Loop Trail to experience the wisdom of the protected coast redwoods. If you're feeling ambitious, you can make your way from Big Basin to Castle Rock State Park in the eastern end of the Santa Cruz range; take the Skyline-to-the-Sea Trail for a stunning glimpse of Waddell Beach. You may even spot bobcats, deer, raccoons, acorn woodpeckers, and egrets along your journey.
While you're at the park, also stop by the Rancho del Oso Nature and History Center to learn more about the coastal expanse. If you need more than a day to explore, Big Basin is one of California's campable state parks, complete with standard campsites, group camps, tent cabins, horse camps, and backcountry trail camps.
3. Half Moon Bay State beach

Location: 95 Kelly Avenue, Half Moon Bay

Hours: 8 a.m.–sunset
Amenities: Four beaches, campgrounds, individual sites for tents, coin-operated showers, and nature preserves
Dogs allowed: No dogs are allowed on the beaches. Dogs are allowed on-leash in the campground, in the day-use picnic areas, and on the Coastal Trail.
The undulating, sandy beaches of Half Moon Bay State Beach stretch four miles, offering its visitors scenic vistas and exciting activities. This state park includes the Roosevelt, Dunes, Venice, and Francis Beaches—all of which offer entertainment for the whole family. The 181-acre destination is a superb spot for beach camping, picnicking, fishing, sunbathing, cycling, and hiking. Take the Coastside Trail to enjoy three miles of stunning shoreline.
Head south of the Pillar Point Harbor to reach the world-renown Mavericks Beach. Due to the righteous Mavericks waves—which are known for reaching 50 to 60 feet high faces and are some of the biggest and most dangerous waves on the planet—the beach is considered one of the best surf spots in the Bay Area. The notable Mavericks Surf Contest was held here from 1999 to 2016, and this past year, the first video performance contest was held to honor the athletes who ride the waves here.
4. Mount Diablo State Park

Location: Contra Costa County
Hours: 8 a.m.–sunset
Amenities: Summit visitor center and observation deck, hiking trails, picnic areas, and campsites
Dogs allowed: Dogs are only allowed on paved roads, campgrounds, and in developed areas. No dogs are allowed on trails and fire roads.
The 20,000-acre Mount Diablo State Park is a great place to hike, bike, camp, bird watch, or horseback ride. Boasting 78 scenic trails, this is among the best places to hike in Contra Costa County and is a picturesque outdoor workout spot in the Bay.
Take the approximately seven-mile out-and-back Mount Diablo Summit Trail to explore the diverse wildlife and revel in NorCal's breathtaking landscape. When you reach the top of Mount Diablo's highest peak, an observation deck and visitor center await you. On clear days, you'll catch sight of the Golden Gate Bridge, the Farallon Islands, and the Shasta Cascade's Lassen Peak—the southernmost active volcano in the Cascade Range.
5. Angel Island State Park

Location: San Francisco Bay

Hours: 8 a.m.–sunset
Amenities: Campsites, hiking and biking trails, and campgrounds

Dogs allowed: No

Opened in 1954, Angel Island State Park is among our favorite state parks near San Francisco. Traverse the island's coastal grasslands and rich ecology, including coast live oaks, toyon shrubs, Pacific madrones, bay laurels, evergreens, and California hazelnut plants.
For a nice hike, take the beginner-friendly Angel Island Perimeter Loop—one of the best Bay Area hiking trails—showcasing beautiful wildflowers and spectacular views of the S.F. skyline, Mount Tamalpais, and the Marin Headlands. You will be in awe. For the beach babes, leave the hiking behind and head to the beautiful beaches at Quarry Point and Ayala Cove; just keep in mind that swimming can be dangerous due to tidal changes and a lack of lifeguards.
6. Butano State Park

Location: 1500 Cloverdale Road, Pescadero

Hours: Sunrise–sunset
Amenities: Campground, hiking, mountain biking, and picnic areas
Dogs allowed: Dogs are allowed on-leash in the campground and on paved areas. No dogs are allowed on the trails.
Want to escape the summer sun? Head to the well-shaded Butano State Park in San Mateo County. With a secluded second- and third-growth redwood-filled canyon, lush vegetation, and gently flowing creeks, the park offers over 40 miles of hiking trails that wind through 4,000-plus acres. Admire wet riparian, oak woodlands, and chaparral ecosystems as you traipse through the park.
For a leisurely stroll, take the Olmo Fire Road to admire towering trees. Or, hike the Little Butano Creek Trail to enjoy serenity amongst the magnificent redwoods. Providing over 21 drive-in, 8 walk-in, and 8 campsites, Butano State Park is perfect for a weekend escape from the Bay.
7. San Bruno Mountain State & County Park

Location: 555 Guadalupe Canyon Parkway, Brisbane
Hours: 8 a.m.–8 p.m.
Amenities: Hiking trails, picnic facilities, and picnic table areas
Dogs allowed: No
Located in San Mateo County, San Bruno Mountain State & County Park is a landmark of local and regional significance—it's a unique open space tucked away in the midst of the peninsula's urban jungle. This 2.4-acre park is a great way to see the South Bay's well-preserved flora and fauna.
Enjoy a lovely picnic and unwind while taking in the views and observing the rare butterflies (such as the San Bruno elfin, callippe silverspot, and Mission Blue) flying high in the sky. You can also trek up one of many trails ranging from 250 to 1,314 feet in elevation. The paths aren't super shady, so pack your California-made products and stay hydrated.