Thinking of making a big move? The best places to live in California are hard to pin down. In true millennial fashion, why not turn to the guidance of personality tests?
While we have traces of all nine personality types within us, there's one that's most dominant. Once you identify your type, you'll understand your preferences. Who knows? Your personality test might be the final push to packing up and heading to one of the best cities in California to live in.
Whether you've been contemplating living in NorCal or moving down to SoCal, here are the best areas to live in California.
Best cities to live in California for every personality

1. The Reformer: Berkeley
The reformer is someone who's rational, idealistic, and holds themselves to high standards. They have a strong sense of what's right and wrong, and often have a hard time understanding why others aren't as driven by that. One of the best places to live in California for this personality type is Berkley. The East Bay city is the birthplace of the 1960s Free Speech Movement and home to the oldest campus in the UC system. Reformers would fit right into Berkeley.
This city is known for having liberal-minded bohemian souls. That's only because there are so many visionaries aiming for radical change. So, if you have dreams of bettering the world, Berkeley is the best place to live in Northern California.

2. The Helper: Redlands
The helper is caring, generous, and a natural helper. Instinctively, this personality type needs a community to check in with. A city like Redlands is a good place to live in California for helpers. The small-town vibe and tight-knit community will make you feel right at home.
Whether you're taking up a job in teaching, community outreach, or services, you'll fit right in. Redlands is family-oriented— something residents are keen to acknowledge. The amenities are favorable, the education system is exceptional, and the crime rates are low. People work together to uphold the high standards.
This not only makes Redlands a favorable place to live for your personality type, but also one of the best cities to live in SoCal in general. Despite its proximity to L.A., Redlands remains one of the best affordable places to live in California.

3. The Achiever: Los Angeles
Los Angeles is full of people with big dreams and plans of grandeur. This is exactly why the achiever would succeed in L.A. People of this personality type are adaptive, excelling, driven, and image-conscious. They're driven by accomplishments and love getting acknowledged for their success. This personality type navigates the City of Angels like a champ.
If you're an achiever, Los Angeles is one of the best cities to live in California because you're surrounded by innovative people. You'll grow your image and network like before. Pick an affordable place to live in L.A. and hustle like you know you can.

4. The Individualist: Carmel-by-the-Sea
The sensitive, expressive, and withdrawn individualist would love everything about Carmel-by-the-Sea. The charming beach town is a match made in heaven for this personality type. Individualists have a passion for culture and the arts that would be shared with many of Carmel's residents.
The cobblestone streets of one of the best small towns to live in California will inspire you endlessly. You'll love spending your days at your own merit—basking in the artistic glory of the town and discussing culture. You'll become an essential member of an innovative community in one of the best towns to live in California.

5. The Investigator: San Jose
The investigator is secretive, perceptive, innovative, and gets a ton done behind the scenes. They're able to concentrate and develop complex ideas and skills completely independently. All these are signs that you'll love the NorCal city of San Jose. Surrounded by the rolling hills of Silicon Valley, San Jose is a major idea hub.
As one of the best places to live in California, you'll find people that match your intellect and love of learning here in San Jose. After all, It's one of the most educated cities in the nation. If you love being in the great outdoors, San Jose offers plenty of hiking and biking trails for every skill level.

6. The Loyalist: Santa Barbara
Responsible, committed, and a traditionalist—loyalists love sticking to what they know. You thrive in an environment you're familiar with and would rather not face constant change. The loyalist will love the laid-back vibe and upscale quality of life in Santa Barbara. A classic beach town in every sense, Santa Barbara is home to the best neighborhoods in California.
The city has a diverse economy—service, education, health care, and finance, to name a few. Santa Barbara is dependable, highly educated, and safe. Almost all qualities of the city are ones you prioritize when searching for the best places to live in California.

7. The Enthusiast: San Francisco
Unlike loyalists, enthusiasts thrive off spontaneity, versatility, and a busy lifestyle. You're consistently looking for change and always up for anything. A true life of the party, enthusiasts belong to a city that reflects their lifestyle—San Francisco, the best city to live in California.
Famous for its dining scene, vibrant murals, and lively nightlife, the City by the Bay is never boring for this personality type. If you think S.F. is too costly, there are plenty of affordable places to live in the Bay Area. But if you're ready to move, San Francisco is one of the best cities to live in California.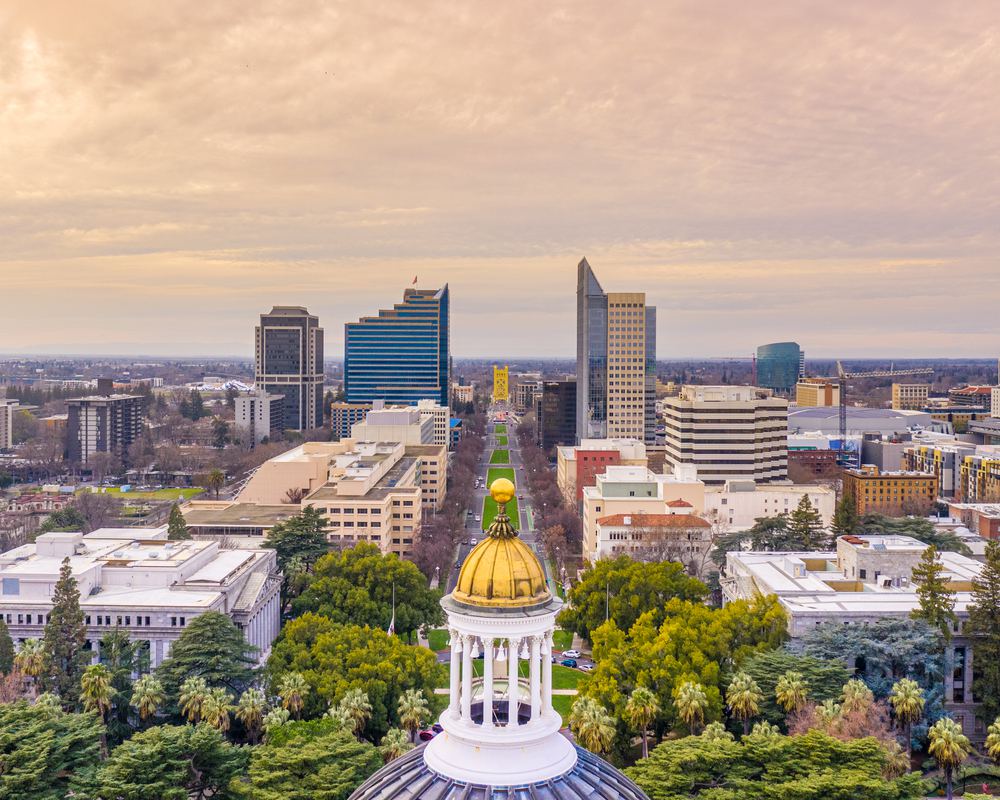 8. The Challenger: Sacramento
The challenger is powerful, decisive, willful, and dominating. You're driven, focused on your goals, and do whatever it takes to get the job done. You're a great leader and agent for change, so it only makes sense for you to be in the capital of the state—Sacramento.
As the capital, Sacramento is the seat of the Governor of California and the state's Legislature. This also makes it a political center and hub for lobbying. Since these are values you cherish in a city, Sacramento is one of the best cities in California to live for you. Within the city, the best places to live in Sacramento are Davis, Roseville, and Broadstone.

9. The Peacemaker: San Diego
The receptive, harmonious, and easygoing type—peacemakers are great at seeing the good in everything. You value inner stability and peace of mind, which is why you'll thrive in "America's Finest City." With great weather, plenty of outdoor activities, and prime oceanside location, San Diego will have you fallin' head over heels—it's definitely one of the best cities to live in California.
Any peacemaker would love splashing around San Diego, soaking up the sun, and mingling with other carefree people. Whether you pick Carlsbad, Solana Beach, Del Mar, or Coronado, there's no arguing that San Diego is one of the best places to live in California.