By

Mackenzie Hutson
September 04, 2019
Whether you are joining the latest nutrition trend, adjusting to an intolerance, or attempting to live a healthier lifestyle, following a gluten-free diet and going out to restaurants have not always gone hand-in-hand. Thankfully, that has changed over the past couple of years, and tons of gluten-free bakeries, eateries, and cafés have opened up across Los Angeles—and beyond. So if you are looking for a place to take your new love after a successful coffee date; are trying to find a restaurant close to the coolest L.A. museums; or are wanting to get your grub on after a great Hollywood hike, consider this your gluten-free restaurant guide to L.A.
Café Gratitude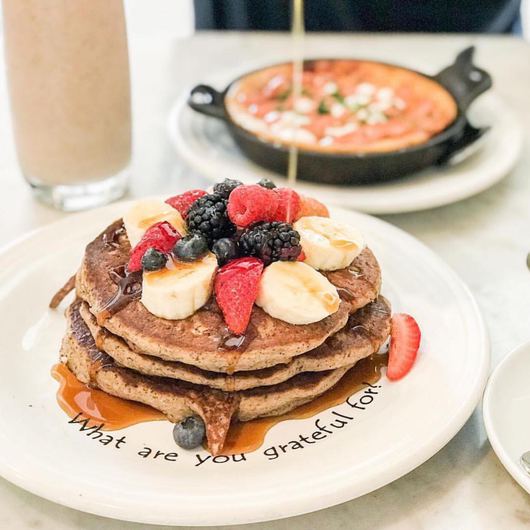 After successfully opening San Francisco's Gracias Madre in 2009, the team behind the vegan eatery brought its locally grown, seasonally driven cuisine down south to Venice. Café Gratitude now has four Southern California locations—all featuring flavorful, plant-based dishes primarily made with gluten-free ingredients.
Start your day with a gluten-free donut, some gluten-free cookies, or the buckwheat-flax pancakes with mixed berries and bananas. If you visit later in the day, chow down on the Mexican bowl featuring savory mushroom carnitas, black beans, creamy guacamole, pico de gallo, quinoa, and luscious cashew nacho cheese.
Crossroads Kitchen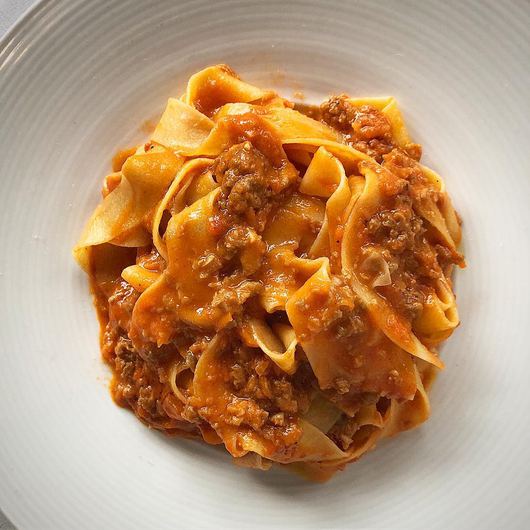 Given its location on upscale Melrose Avenue, cozy-chic ambience, and elegant plating, you'd never guess that Crossroads Kitchen is an entirely plant-based restaurant. But make sure to add it to your to-do list if you find yourself shopping in the L.A. area or going to a rooftop movie nearby.
Stop by for brunch to try the gluten-free pasta Bolognese, almond mascarpone french toast, or cucumber melon gazpacho before diving into the brownie sundae.
M Café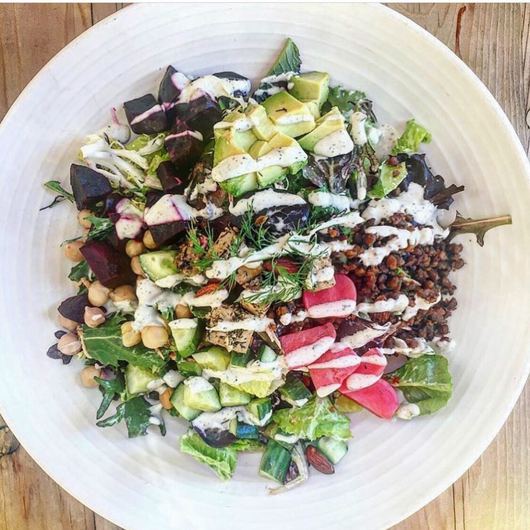 Health is at the core of West Hollywood's M Café. Using only minimally processed, local, and organic ingredients—and no red meat, poultry, refined sugars, eggs, or dairy products—in its food, the eatery has masterfully pioneered contemporary macrobiotic cuisine. The café creates everything on its menu with intention, so its dishes are compatible with vegan, vegetarian, and gluten-free diets.
Order the scrambled tofu Benedict with soy hollandaise or savor the smoky tempeh bacon and avocado breakfast enchilada for an incredible brunch any day of the week. Or, stop by for an afternoon snack of organic miso soup or a full-on meal of spicy miso ramen, complete with gluten-free kelp noodles, braised shiitake mushrooms, sesame, and nori.
Malibu Farm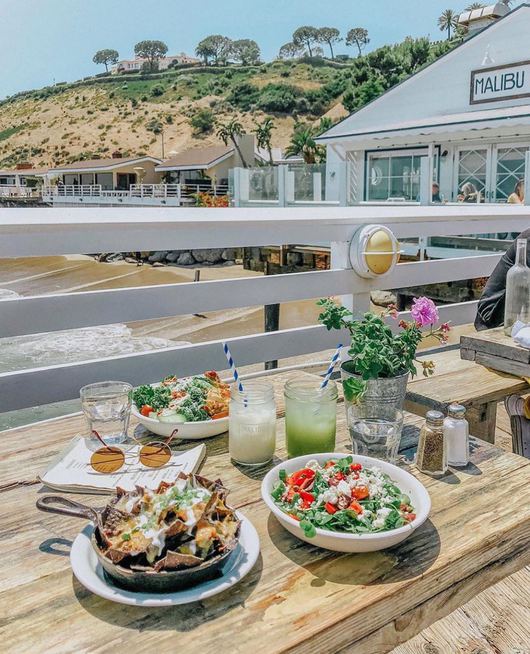 Situated at the start of the Malibu Pier, just off the Pacific Coast Highway, Malibu Farm is an incredible eatery specializing in local, organic, farm-fresh cuisine. Order the raw brussels sprout salad tossed with mustard lemon dressing and toasted almonds for the table, then grab the cauliflower-crust "pizza" for yourself. Should you still have room, go for the crab cakes with caper aioli to celebrate California's unbeatable seafood, and finish off with a scoop of vegan ice cream.
Kreation Organic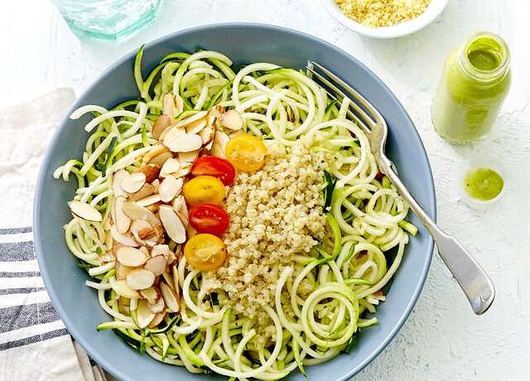 Kreation Organic started as a humble café in Santa Monica but quickly grew into a from-scratch kitchen serving up freshly pressed juice and gluten-free bites using locally sourced, organic produce. Grab the vegan chick'n zucchini quinoa pesto pasta or the seasonal Buddha bowl to go along with your green juice cleanse. Or, stop by for a gluten-free, granola-based energy bar after a fitness class.
Powerplant Superfood Cafe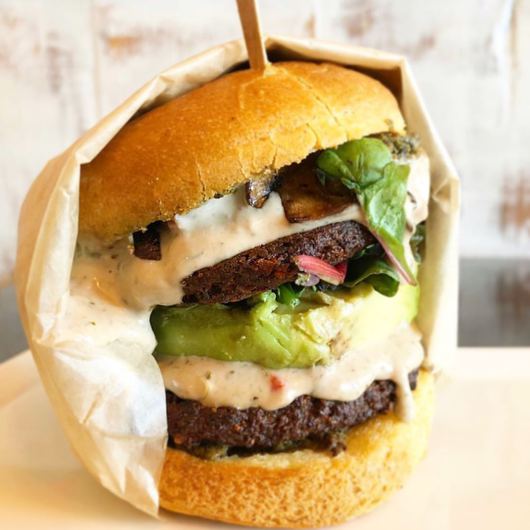 As a completely gluten-free, organic, and vegan-friendly eatery, Los Angeles' Powerplant Superfood Cafe dishes up Southern-inspired comfort food that will have you coming back time and time again.
Try a seasonal brunch special—such as the vegan pesto burger or the fennel tempeh sausage with sautéed garlic spinach, rosemary, and beets—or get an old standby like the vegan biscuits and gravy. Of course, it's hard to go wrong with the chili-cheese veggie burger, the tempeh Reuben sandwich, or the Southern pimento cheese, so get outside your comfort zone and enjoy it all.
Little Pine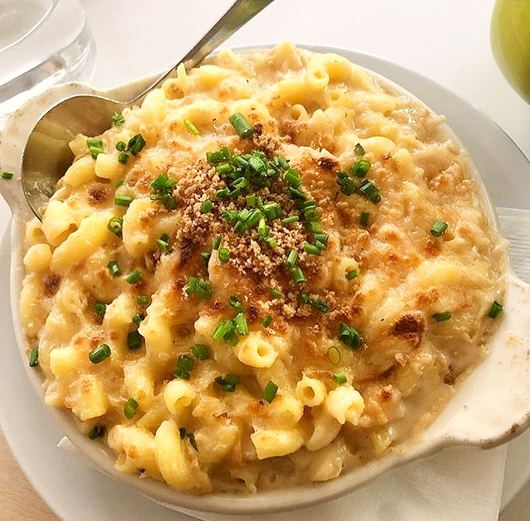 Nestled in the Silver Lake neighborhood, Little Pine is not entirely gluten-free but does offer a wide selection of gluten-free options. Begin with the charred broccolini and the roasted carrots—accented by smoked almond ricotta, thyme, and micro basil—before moving on to the main dish: macaroni and cheese. This creamy concoction is so exceptional, you'd never guess it was plant-based and gluten-free, toasted breadcrumbs and all.
The Butcher's Daughter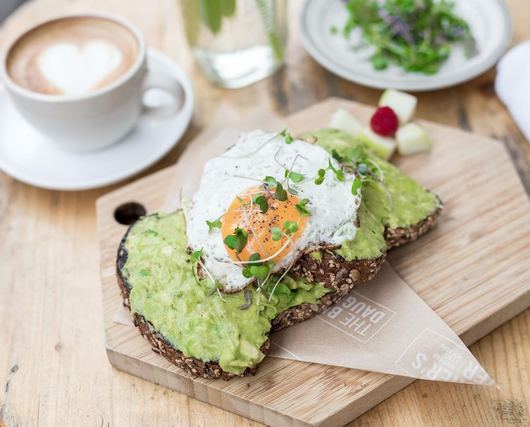 Much like a traditional butchershop, The Butcher's Daughter takes great care in chopping, carving, and preparing meats—but there's one key difference: This Venice eatery is entirely plant-based. Though the menu changes daily, it always features local, organic produce and gluten-free accompaniments.
Start off with the avocado toast starring gluten-free bread, cilantro, lime, mustard seed, and a farm egg; follow it up with a side of local fruit to cleanse your palate. Whatever you do, don't skip out on the dolce picante stone-oven pizza. The gluten-free cauliflower crust perfectly complements the sweet honey, creamy gorgonzola, spicy chili flakes, intriguing fig jam, and fresh pear lying on top.
Kitchen Mouse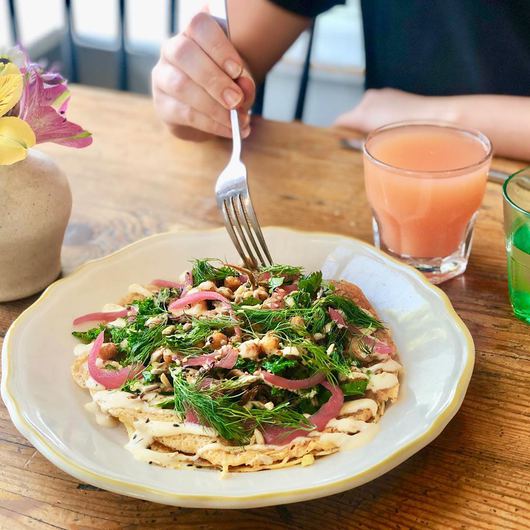 As an entirely dairy- and gluten-free restaurant, Kitchen Mouse in Highland Park is an ideal spot to satisfy your cravings without ditching your diet.
Go with Mikey's chilaquiles to savor the flavorful combination of enchilada sauce, cilantro crema, black beans, house-made vegan queso, avocado, and serrano slaw. If you're craving something sweeter, opt for the snickerdoodle pancakes with cinnamon-coconut-sugar butter. Tempeh bacon, huevos rancheros, and a burger bowl help to round out the menu, so your meat-eating friends will leave satisfied, too.