By

California.com
October 20, 2020
As California mitigates health risks during the COVID-19 pandemic, some travel restrictions may remain in certain communities. Call the local and regional tourism offices to learn more about the restrictions in your intended destination. Thank you for reading, and stay safe.
Now that we've beaten the heat, it's time to experience the Golden State at its best—as the summer crowds disperse, the fall foliage emerges. Autumn is a wonderful time to travel and watch the leaves change colors. With awe-inspiring sceneries and out-of-this-world landscapes, California offers plenty of places to admire the stunning seasonal views. So, take advantage of the great outdoors and check out the best places to visit in the fall.
Northern California's Best Places to Visit in the Fall

1. Manzanita Lake
Location: Lassen Volcanic National Park, Shasta County
Manzanita Lake is one of the most photographed attractions within Lassen Volcanic National Park—and for good reason. This lake is as breathtaking as it gets, especially in the fall when the leaves change colors. Famed for its rainbow, brown, and brook trout, the lake is a great fishing spot. Manzanita Lake is also a perfect destination for birdwatchers, wildflower enthusiasts, and families seeking a fall vacation in the Golden State. With over 170 campsites, enviable campground amenities, and impressive views of Lassen Peak, it's an ideal place to go this fall to relax and unwind.
2. Samuel P. Taylor State Park
Location: 8889 Sir Francis Drake Boulevard, Lagunitas
Marin County's redwood-filled Samuel P. Taylor State Park is just the place to visit in the fall. Boasting 2,882 acres of grasslands and majestic trees, the state park is among the top spots to see California's fall foliage. Only a few miles from Point Reyes National Seashore, Samuel P. Taylor State Park offers visitors a wide range of activities such as picnicking, biking, hiking, and camping. The Camp Taylor campground has 51 sites, 29 of which accommodate RVs and trailers, making it the perfect spot for an autumnal weekend getaway. Soak in the fall colors as you stroll along the 24-mile-long Lagunitas Creek and hike to the top of Barnabe Peak.

3. June Lake
Location: Inyo National Forest, Mono County
Arguably boasting the most photogenic scenery in the Golden State, June Lake is the romantic fall getaway of your dreams. The crystal-clear lake is one of the largest in the region and among the state's few natural bodies of water. It is one of the best vacation spots in October—hiking, swimming, paddling, kayaking, and rock climbing are all possible amidst the tranquil mountain setting. As the scenic drive to the glimmering waters takes your breath away, a visit to June Lake makes you feel like you're vacationing in an autumnal paradise.
4. Beachfront Park
Location: Front Street, Crescent City
Nestled in the heart of Crescent City, right beside the ocean, Beachfront Park is a beautifully maintained area that's perfect to visit during autumn with the whole family. Offering plenty of space for visitors to enjoy, it consists of a wonderful playground, dog park, swimming pool, and marine mammal rescue center. Beachfront Park is also located close to the Coastal Trail, which provides incredible views of nearby attractions such as the stunning Battery Point Lighthouse. Only a short walk away from the beach, the park is the ideal place to go in the fall that'll keep the kids entertained and excited.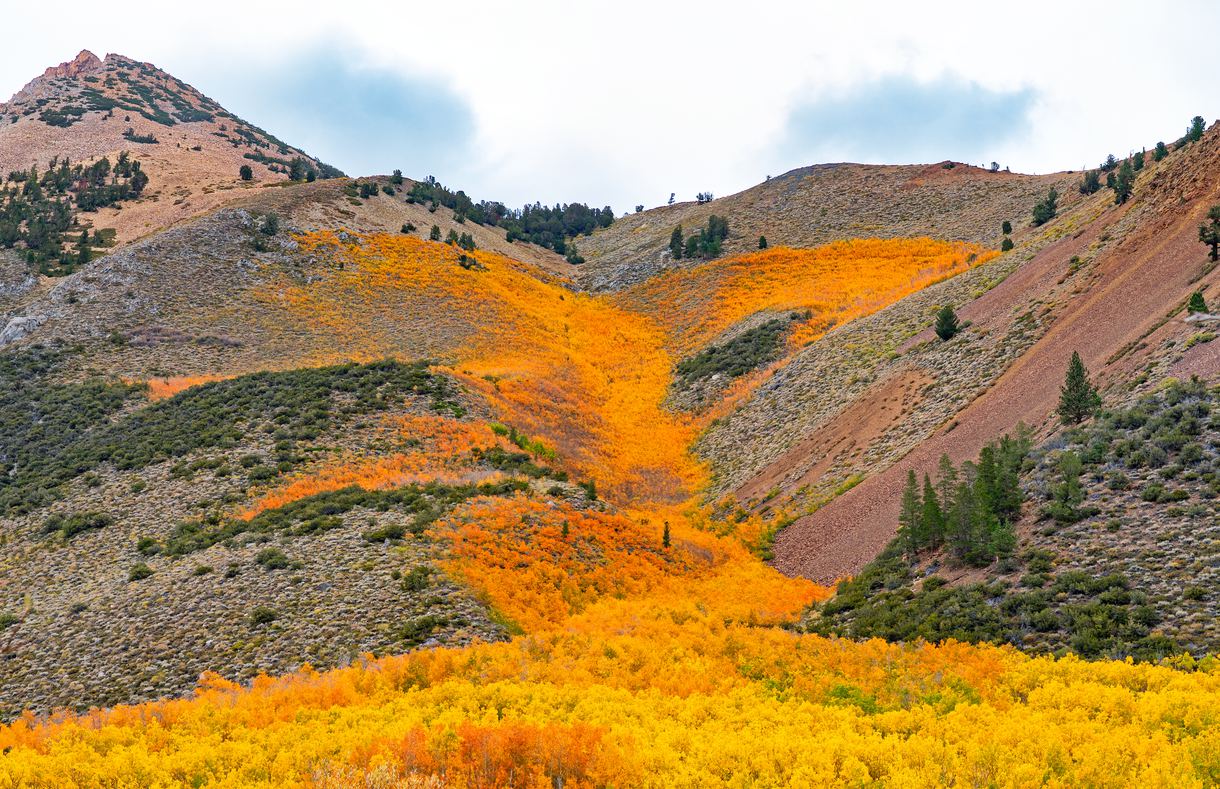 5. Bishop Creek Canyon
Location: Inyo County
The autumn wonderland to visit this fall is Bishop Creek Canyon. Although there's never a wrong time to visit, the autumn months are when the canyon truly shines: This breathtaking place is abundant with fall foliage, fresh air, granite peaks, gorgeous lakes, and lovely wildflowers. Lake Sabrina and Bishop Pass are must-sees here—with mighty mountains enveloping you and alpine forests transporting you to another world, you'll immediately feel immersed in Bishop Creek Canyon's nature. Thanks to the easy access to the stream and the wide range of outdoor activities here, it's one of the best places to visit in the fall.
Southern California's Best Places to Visit in the Fall

1. Volcan Valley Apple Farm
Location: 1284 Julian Orchards Drive, Julian
Is it even fall if you don't go apple picking? While everyone is raving about the blissful Apple Hill, Volcan Valley Apple Farm is a can't-miss California U-pick farm that belongs on your fall bucket list. The beautiful, family-owned apple orchard and farm has over 8,000 trees with seven apple varieties. This SoCal spot is just the place to visit in the fall for good old-fashioned apple picking. With labeled rows to help you identify what you're picking, the orchard is pretty large and quite organized.
2. Anza-Borrego Desert State Park
Location: 200 Palm Canyon Drive, Borrego Springs
Starlit nights are even more magical in autumn, which is why Anza-Borrego Desert State Park is among the best places to travel in the fall. The breathtaking area encompasses over 600,000 acres of natural beauty; covering one-fifth of San Diego County, this serene destination is California's largest state park. Badlands, palm oases, slot canyons, and cactus-studded hills are all up for exploration. Your day is bound to be filled with beauty and thrills—the park offers over 500 miles of dirt roads, 12 designated wilderness areas, and 110 miles of hiking trails. Don't forget to stay past sunset when visiting; night-sky enthusiasts will vouch for its splendor.

3. Big Bear Alpine Zoo
Location: 41220 Park Avenue, Big Bear Lake
Autumn is the best time to visit zoos. Not only is the foliage beautiful, but the animals are also active in their newly colored habitats. One of two alpine zoos found in the U.S. is Big Bear Alpine Zoo, which offers injured, orphaned, and imprinted wild animals a safe haven. It is also a wonderful family-friendly place to visit in the fall. The best part about this zoo is that it's a rehabilitation center rather than a captivity zoo—90 percent of all the animals brought here for rehabilitation are successfully released back into their native environment.
4. Cuyamaca Rancho State Park
Location: 14592-14674 CA-79, Julian
San Diegans' go-to camping and hiking spot is Cuyamaca Rancho State Park. Spanning 26,000 acres, it's home to pine, fir, and oak forests as well as expansive meadows and running streams. The state park boasts over 100 miles of trails that accommodate hikers, bikers, and horseback riders. Instead of staying in a luxurious SoCal desert hotel, camp overnight here—the Green Valley Campground has 81 campsites and the Paso Picacho Campground has 85—and soak in the fall foliage as the starry sky mystically illuminates your surroundings. You won't ever forget this unique experience.

5. Descanso Gardens
Location: 1418 Descanso Drive, La Cañada Flintridge
Head to the breathtaking Descanso Gardens to view a one-of-a-kind autumnal botanical landscape. Offering one of the largest collections of camellias in the world, this top California garden allows people to experience beauty and serenity simultaneously. Aside from the majestic gardens, the must-see places within the sprawling oasis are the historic Boddy Mansion, Sturt Haaga Gallery, and Enchanted Railroad. With 150 acres of natural wonders, there's always something in bloom here.
6. Lake Gregory Regional Park
Location: 24171 Lake Drive, Crestline
Nestled within a cool cedar and pine forest in the San Bernardino Mountains, Lake Gregory Regional Park is a paradise for nature lovers. Offering a wide range of activities for people of all ages, the park is equipped with trails, picnic areas, barbecue grills, and a skate park. There's an abundance of boating and water sport opportunities, too, so you'll easily keep boredom at bay. The picturesque scenery is best enjoyed after summer ends; it's an incredible place to take in the autumn foliage, so don't hesitate to explore Lake Gregory Regional Park.