By

California.com
September 22, 2020
As California mitigates health risks during the COVID-19 pandemic, some travel restrictions may remain in certain communities. Call the local and regional tourism offices to learn more about the restrictions in your intended destination. Thank you for reading, and stay safe.
Sandy beaches, majestic mountain ranges, lush botanical gardens, and incredible national parks—California is full of fall family vacation destinations. With an abundance of fantastic spots to choose from, your options are endless. Whether it's appreciating the Golden State's fall foliage as you sip on your pumpkin spice latte or hiking to see SoCal's scenic landscapes, California is the perfect place for a fall family getaway.
So, don your finest autumn outfit and take the family to unwind during an enviable mountain escape, spend a day at the best theme parks, or let the waves crash gently onto your feet at the beach. The Golden State's best fall family vacation spots will allow you to make memories that you'll cherish forever.
Fall family vacation ideas for adventurous souls

Humboldt Redwoods State Park
California's largest redwood state park is a popular fall family vacation destination. Humboldt Redwoods State Park is located along the spectacular Avenue of the Giants—a 31-mile portion of Highway 101.
Spend the day hiking and fishing for salmon, steelhead, lamprey, and Sacramento pikeminnow. Explore the boating opportunities throughout the park, and immerse yourself in the incredible views of redwoods and wildlife while kayaking. If you visit the park on a particularly warm day, go for a dip in the river or cool down in the swimming hole.
The most stunning riding trails of California are right here, too, so saddle up and soak up the wisdom of Humboldt County's towering redwoods. End your fall family getaway by spending the night in one of the park's campgrounds and indulging in bonfire s'mores. The beauty, scenery, and abundance of activities in Humboldt Redwoods State Park will make it the best fall family vacation you've ever had.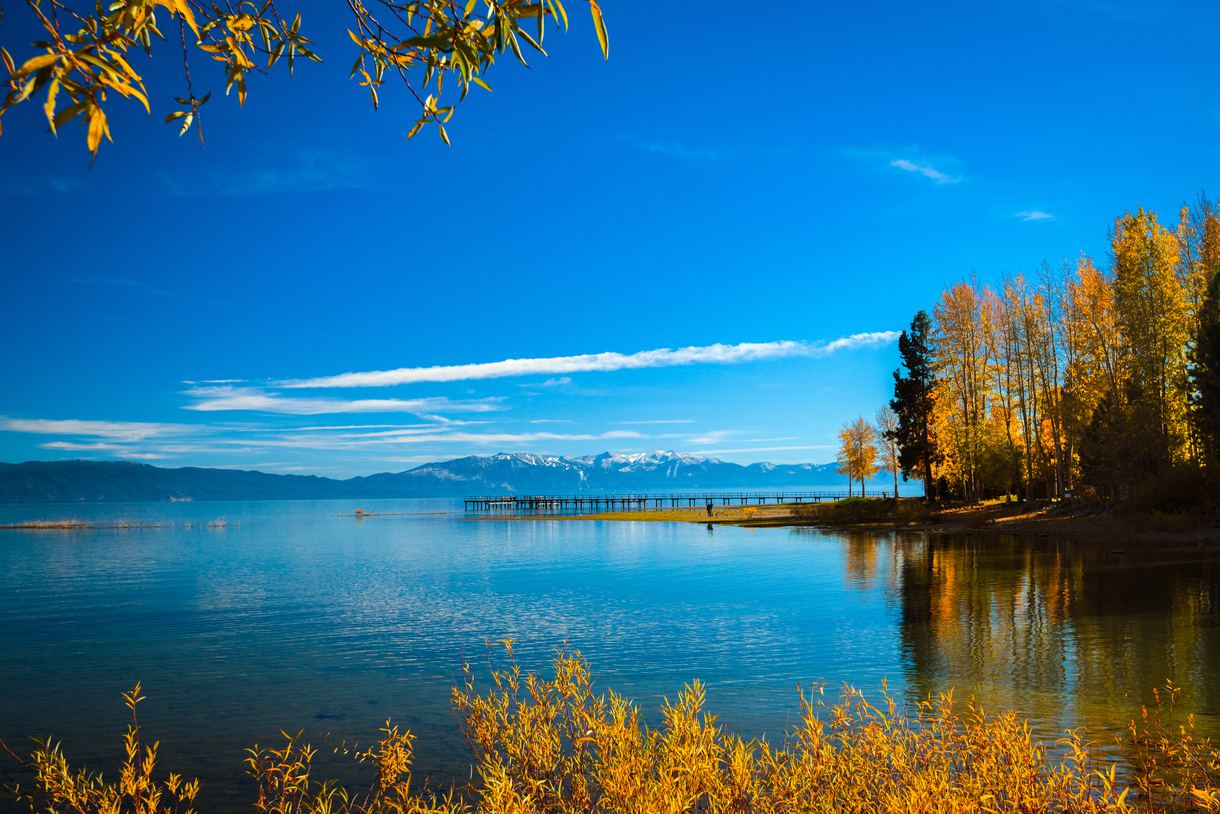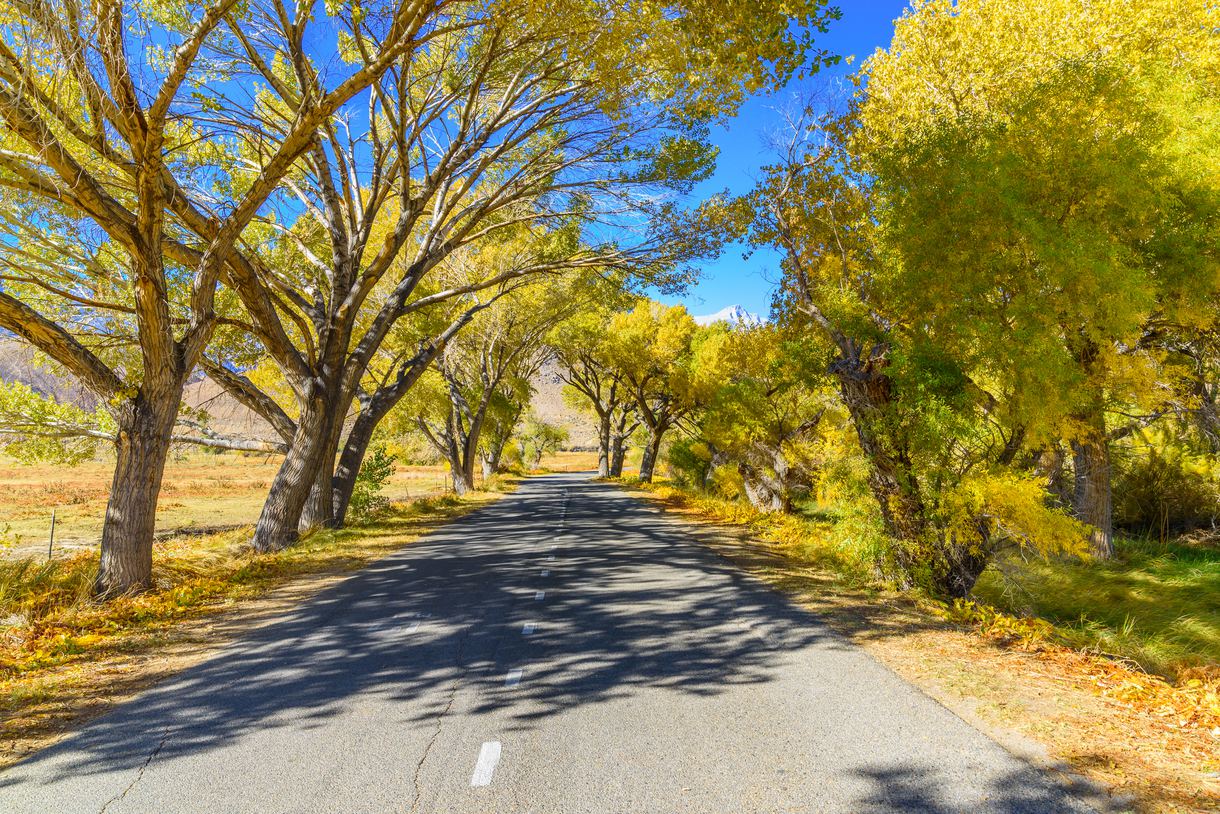 Highway 395 Road Trip
A family road trip on the scenic Highway 395 is by no means a brief fall family getaway, but it is well worth your while. Beginning in Southern California and stretching all the way up to the Canadian border, Highway 395 passes by some of California's most picturesque areas. Make a pit stop at Red Rock Canyon State Park, where dramatic rock formations capture your attention.
Drive a little north and you'll come across Alabama Hills—famous for appearing in countless Western films. The tallest mountain in the contiguous U.S., Mount Whitney, also comes into view here. Standing tall at 14,505 feet, the mighty mountain is a breathtaking sight. As you're cruising down the highway, you'll also drive past the Ancient Bristlecone Pine Forest; this is where Methuselah, the oldest tree on Earth, exists—it's even older than the pyramids. Embrace the fall foliage when you arrive in Mammoth Lakes, where the finest shades of autumn enrich your trip with their vibrant colors.

Joshua Tree National Park
Merging two desert ecosystems, Joshua Tree National Park is known for its distinct trees, surreal geological features, and rich natural history. Get the whole gang prepared for a memorable family getaway at the national park, where a new world awaits you.
With almost 800,000 acres of natural wonders, Joshua Tree is home to 57 mammals, 46 reptiles, and more than 250 bird species. Admire the plant diversity of the park—cacti, lichens, fan palm oases, and of course, the park's namesake: Joshua trees—as you traverse some of the 300-plus miles of hiking trails.
Camp here overnight and toast marshmallows while experiencing the spectacular night sky with your family. Don't forget to capture the memories of your best fall family vacation with the impressive scenery as your backdrop.

Santa Cruz
Whoever said going to the beach is only a summer activity made a grave mistake, so make a beeline for Santa Cruz. The coastal town offers plenty of outdoor recreation for kids and adults alike.
Also known as Boardwalk Beach, Santa Cruz Main Beach is a popular family-friendly location thanks to its recreational activities. Fishing, kayaking, and stand-up paddleboarding are only a few of the things the whole family can enjoy while in Santa Cruz.
Once you've had your fun on the water, continue your adventures on land at the Santa Cruz Beach Boardwalk. Help your children win games at the arcade station before challenging them in a game of bowling. Or, get the whole gang to play a few rounds of sand volleyball or try a new family activity such as mini-golf. Make your fall family getaway more exciting and ride the historic roller coasters until everyone gets their fill of thrills.

Cabazon
The city of Cabazon is best known for being home to one of California's quirkiest and most mysterious attractions: Long regarded as one of the top roadside attractions in California, the Cabazon Dinosaurs are unlike anything you've ever seen.
Dazzle your kids at this exciting outdoor museum, where over 50 lifelike prehistoric reptiles roam the area. Try to climb up Mr. Rex and experience life atop extinct animals—see if you can get your kids to sit in the dinosaur's mouth. Dinny, one of the early Cabazon reptiles, is probably the only dinosaur that is, in fact, a gift shop; browse through the store and buy souvenirs to make your trip a memorable experience.
Make it the best fall family vacation yet by extending your desert adventures. Spend some time in Palm Springs, visit the Living Desert Zoo and Gardens, take a short drive to the Salton Sea, or explore Anza-Borrego Desert State Park.