As California mitigates health risks during the COVID-19 pandemic, some travel restrictions may remain in certain communities. Call the local and regional tourism offices to learn more about the restrictions in your intended destination. Thank you for reading, and stay safe.
Confucius once said, "Roads were made for journeys, not destinations," and California is all about the journey. The best thing about Los Angeles—aside from its hustle and bustle, stunning scenery, glamorous lifestyle, unique slang, and hipster vibes—is its close proximity to a wide variety of road trip–worthy destinations. You can find yourself surrounded by mountains or beside the beach at a moment's notice.
Whether you're on the hunt for a weekend getaway or a scenic day trip, you have innumerable options to choose from in L.A. So hop in your car, turn up the road trip tunes, and roll down the windows as you make your way out of L.A. and head to the nearby forests, beaches, desert terrains, or rugged mountains.
The Best Road Trips from L.A.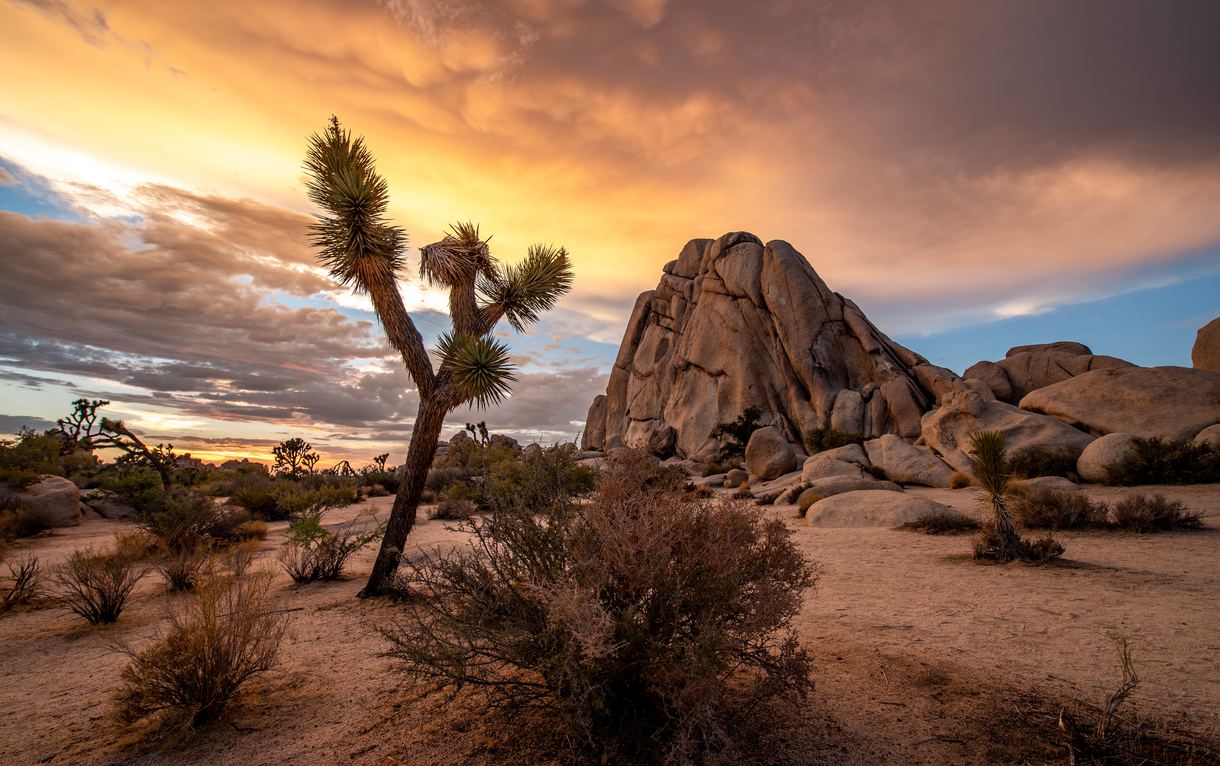 L.A. to Joshua Tree National Park
Distance from L.A.: 2 hours and 11 minutes
There are plenty of things to see and do on California family road trips, and a trip to the majestic Joshua Tree National Park never fails to deliver. Joshua Tree is the closest national park to L.A., making it an optimal choice for a quick day trip. The park's diverse landscape boasts everything from ancient Joshua trees and giant boulders to flowering cacti and shrubs, giving off the ultimate desert vibe and putting visitors into a different state of mind. Spring is the best season to take in the beauty of the park, but the scenery is truly spectacular at any time of year.
Once you've made it to the vast expanse of the park, head to Cottonwood Spring. Hiking trails, old gold mills, and campsites await you. Admire the wildflower and cacti, and stop by the Joshua Tree Visitor Center before continuing onward. As you head north from Cottonwood Spring, the Ocotillo Patch and the Cholla Cactus Garden are worthwhile stops; prepare for more sightings of cacti and the beautiful hum of hummingbirds. Marvel at the innumerable Joshua trees as you take a turn down a dirt road to hike up to the Desert Queen Mine.
You can also choose to hike short trails such as the Barker Dam Nature Trail and Hidden Valley Nature Trail, which take about 30 minutes each to complete. Professional trekkers may want to opt for the Lost Palm Oasis Trail, which spans 7.2 miles and makes for a challenging workout.
After your desert excursions, refuel with a hearty meal at the Joshua Tree Saloon, which offers breakfast, lunch, and dinner. And if you can't bear to leave after just one day, worry not. Joshua Tree is one of the best national parks for camping in the Golden State, complete with nine major campgrounds and over 500 campsites. You can quickly turn your day trip into a weekend-long adventure.

L.A. to the Salton Sea State Recreation Area
Distance from L.A.: 2 hours and 34 minutes
Ever wondered what happened to the Salton Sea? Enjoy a secluded weekend getaway in this mysterious spot. Situated at 227 feet below sea level, it is the largest lake in California and is even saltier than the Pacific Ocean. Though the lake was once a popular tourist destination in the 1950s, it was transformed into an eerie yet fascinating landscape due to environmental troubles in the 70s and is now largely unfrequented. With the decline in tourism, the man-made Salton Sea State Recreation Area is an ideal spot for those looking for a remote and unique escape.
Integral to an L.A. road trip are the pitstops made along the way to your destination. As you cruise to the Salton Sea, take a brief break at the Cabazon Dinosaurs. This quirky desert attraction is definitely worth the stop. Built in the 60s to attract customers to a nearby restaurant, the world's biggest dinosaur sculptures now stand guard over the desert. If you have time to visit another unusual roadside attraction, swing by Pappy and Harriet's Pioneertown Palace. Looking like something taken out of a vintage Hollywood movie, this spot draws visitors wanting to enjoy live music, Tex-Mex, and barbecue.
When you reach the Salton Sea State Recreation Area, stretch your legs and take a hike around the only caves in the area: The Bat Caves Buttes is a three-mile loop trail perfect for hikers of all skill levels. Camping by the lake is a must; with five campgrounds to choose from, you'll surely get the relaxation you deserve. The ideal campgrounds to pitch your tent are Corvina Beach Campground, Mecca Beach Campground, New Camp, Headquarters Camp, and Salt Creek Beach Campground. For a change of scenery and an indulgence in all things quirky, visit the nearby International Banana Museum.

L.A. to Santa Barbara
Distance: 1 hour and 30 minutes

Memorize California's unspoken driving rules before hopping on Highway 101 en route to this Central Coast gem. A Santa Barbara getaway couldn't be more perfect—take it from the celebs (ahem, ahem, Oprah and Ellen), who flock over to "The American Riviera" every chance they get. The drive from L.A. to Santa Barbara in itself is quite enchanting, with islands and whales peaking across the horizon, birds chirping along with the sound of the crashing waves, and bewitching red-tiled rooftops rising above the coastal town.
Since Santa Barbara is only 95 miles from Los Angeles, spend some time in Santa Monica on your way there. Take a stroll on the Santa Monica Pier to admire the ocean views and ride the iconic Ferris wheel. Another notable stop is the Adamson House Museum in Malibu, where visitors can take in the wonders of vintage craftsmanship. Once you arrive at your final destination, lounge on the shores of the pristine Butterfly Beach or head to Refugio State Beach to go kayaking (rent your vessel from Paddle Sports Center) and swimming.
Why stop the fun there? Return to land and make your way to The Funk Zone, which is a local hot spot for restaurants and museums. Shalhoob's Funk Zone Patio offers original American dishes served in the most charming outdoor setting. Art and culture are not absent in Santa Barbara, either: The Wolf Museum of Exploration and Innovation (MOXI) is a modern museum dedicated to science, technology, and the arts and offers interactive exhibits. If you're thinking of spending the evening in this lovely coastal city, you won't regret an overnight stay at the luxurious Belmond El Encanto.

L.A. to Big Bear Lake
Distance from L.A.: 2 hours
Prepare for a transcendental trip from L.A. to Big Bear. An escape to SoCal's mountain wonderland is one of the best road trips from Los Angeles. Just two hours away from the famed city, Big Bear Lake sits at an altitude of 6,743 feet and is surrounded by the majestic San Bernardino National Forest. World-renowned for its winter escapes and lakeside activities for summer getaways, Big Bear Lake is a year-round Southern California staple attraction.
For a quick dose of nature, stop by Monterey Park on your way out of Los Angeles. Then, take the historic Route 66 to make your way to San Dimas, where you can explore Walnut Creek Community Regional Park and go for a swim in Puddingstone Reservoir. Once you reach San Bernardino National Forest, rejuvenate yourself at Deep Creek Hot Springs.
Keep the laid-back vibes going when you arrive at Big Bear Lake. Hiking is a must when visiting in the warmer months; Pine Knot Trail to Grand View Point is a standard route for runners, hikers, cyclists, and horseback riders. You can also enjoy the picturesque views on the Scenic Sky Chair Lift as you ascend to the top of the mountain. Before heading back to L.A., Teddy Bear Restaurant is the place to go for grub—indulge in all-American comfort food and a slice of the famous apple pie.
L.A. to Palm Springs
Distance from L.A.: 2 hours
If you're craving a desert getaway, the trip from L.A. to Palm Springs awaits. Considered one of the best weekend getaways from L.A., Palm Springs surely doesn't disappoint. The town's luxurious resorts (hello, The Saguaro Palm Springs), world-renowned golf courses, and thermal mineral springs are bound to leave you feeling wondrous and refreshed for reality back home.
As you prepare to embark on the long desert road to Palm Springs, plan extra time for a few pit stops along the way. The first stop is The Richard Nixon Library and Museum—an interesting presidential library for adults and kids. Drive 27 miles from the library to reach California Citrus State Historic Park, where you can learn about (and taste) the state's famous citrus fruits.
When you're ready to kick off your weekend in Palm Springs, check in to the Miracle Manor Boutique Hotel and Spa or The Spring Resort and Spa for a luxe retreat. As you explore Palm Springs, take a scenic drive past the mid-century modern Eichler homes to appreciate this iconic California architecture coupled with laid-back vibes. Further soothe your soul and mind by hiking one of the many trails found around the Palm Springs area. The Bump and Grind Trail is a popular path found next to the city of Rancho Mirage. The trail reaches an elevation of 1,000 feet but has relatively gentle slopes; it is perfect for all skill levels and is quite charming, given the scenic mountain and valley views.
Of course, no trip to the Palm Springs area is complete without a visit to the top cultural attractions. The Palm Springs Art Museum is home to compelling art exhibitions, a vast permanent collection, and the 433-seat Annenberg Theater. Current exhibits include Gerald Clarke: Falling Rock and Jim Iserman: Copy. Petter. Repeat. After spending a day exploring Palm Springs' most unique destinations, treat yourself to a fine dining experience at Le Vallauris Restaurant, a French-inspired establishment serving gourmet dishes in a romantic outdoor setting.