As California mitigates health risks during the COVID-19 pandemic, some travel restrictions may remain in certain communities. Call the local and regional tourism offices to learn more about the restrictions in your intended destination. Thank you for reading, and stay safe.
The Golden State has everything you need for the best family road trips—beautiful beaches, fun museums, and stunning nature. Exploring new places together, bonding around bonfires, and feasting as a family are only the tip of the iceberg. Spend quality time on an action-packed family road trip that'll turn into a tradition in no time. Crank up the tunes and set off on an unforgettable adventure with the whole gang.
Northern California Road Trips With Kids

San Francisco
San Francisco's scenic views start at the iconic Golden Gate Bridge. Your summer road trip adventures begin by visiting the California Academy of Sciences (open under normal circumstances). The natural history museum boasts an aquarium, planetarium, and a magical rainforest. Home to 40,000 animals, the museum puts a smile on every visitor's face.
The next stop on your S.F. family road trip is Pier 39. The fun starts right on the docks—watch the jugglers, magicians, and street performers fire up the audience. Admire the marine life at the Aquarium of the Bay. Split a sundae with your kids at Players Sports Grill and Arcade, then hit the arcades with a pocket full of coins. Don't forget to take unique family photos at the Museum of 3D Illusions.
Feel the NorCal breeze brush against your skin and enjoy the ocean views at Baker Beach. Perfect for picnics and building sandcastles, the expansive shore is the ultimate spot for family-friendly fun. Once you're done splashing around, head over to MAC'D for everyone's favorite mac n' cheese. If you're traveling with your RV, camp the night at San Francisco RV Resort.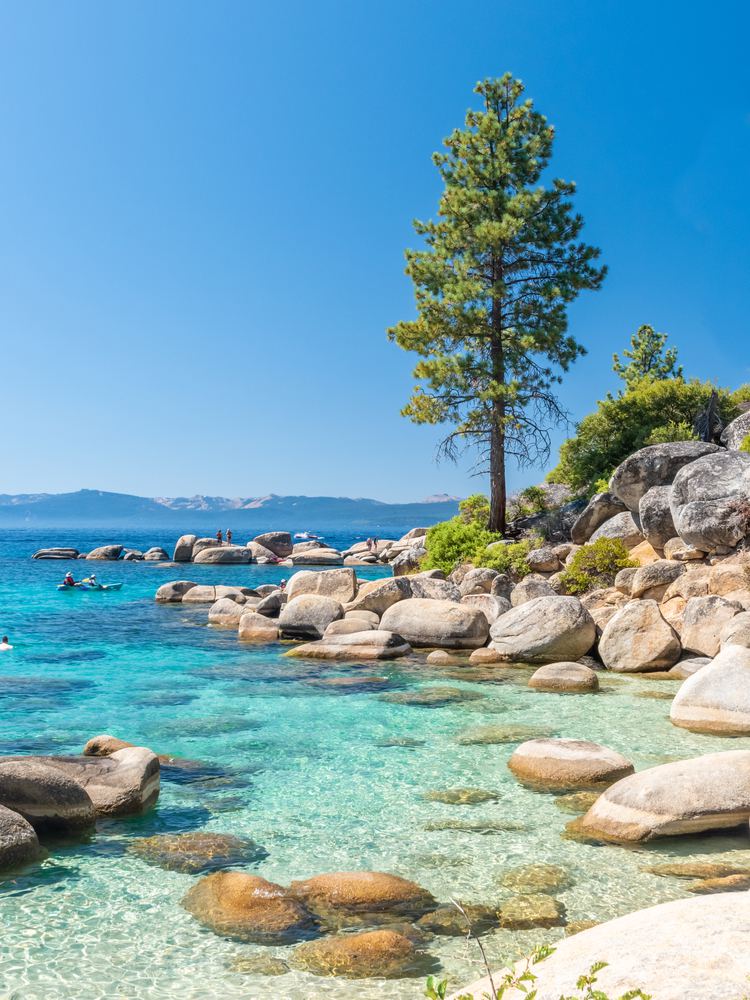 Mendocino
Mendocino is the ultimate family road trip destination for non-stop fun. From glass bottom beaches to lush botanical gardens, the area is a popular spot with vacationers. The second you arrive in Mendocino, you'll want to visit Glass Beach in Fort Bragg. At low tide, you'll see thousands of multicolored sea glass pieces that make for the perfect photo op. Admire the crashing waves and spend quality time with your family before heading over to the adjacent MacKerricher State Park.
Covering nine miles of coastline, MacKerricher State Park has several types of coastal habitat. Dads will love fishing at Lake Cleone—largemouth bass, kelp greenling, and rainbow trout are among popular catches. With plenty of hiking, biking, and equestrian trails, the underrated state park is worth paying a visit with the family.
Before continuing your Mendocino adventures, stop by Frankie's Pizza and Ice Cream Parlor for a quick recharge. For a little sweetness, treat the whole family at Mendocino Chocolate Company. Next up is riding the magical Skunk Train that takes you through tunnels towards old-growth redwood groves.
Don't leave just yet—snap a beautiful family picture at the Mendocino Coast Botanical Gardens, where 47 acres of oceanfront paradise are at your disposal.
Central Coast Family Road Trip Destinations

Monterey Bay
Looking for the perfect winter beach destination? Add Monterey Bay to your list of family road trips. Here, you'll never run out of family-friendly activities. The kids will love going to the Monterey Bay Aquarium (open under normal circumstances). Other than admiring the exhibits, visitors can also interact with the sea creatures at the aquarium.
Amplify your adventures with animals by paying a visit to the Monterey Zoo. Join the "Walk with the Animals" tour to spend as much time as possible with your favorite creatures. Observe how instinctual behavior takes over the tigers first hand during Crunch Time. Whatever you do, don't leave before participating in Butch the elephant's bedtime ritual.
As soon as it's lunchtime, head over to Rosine's Restaurant to enjoy large portions of authentic Italian dishes. For dessert, satisfy your sweet tooth at Crepes of Brittany. Before hitting the road again, check out the first two-story house ever built in California—the historic Larkin House. While there are a lot more things to see in Monterey, end your best family road trip by cruising along the iconic 17-Mile Drive.

San Luis Obispo
Giant oak trees enclose you, salty ocean spray fills the air, and the wind blows through your hair—if you're experiencing this, you've arrived in San Luis Obispo. Famous for its Spanish mission and plaza, SLO offers an abundance of unique attractions and activities to visitors of all ages.
Make your way to Downtown SLO to check out the farmers' market and the iconic Bubblegum Alley—considered one of the weirdest attractions in the state. Everyone will love leaving their mark on the city walls (as long as the kids are chewing their own gum). Later, pay a visit to the historic Mission San Luis Obispo de Tolosa. The Spanish mission has a design that stands out from the rest—it's the only L-shaped mission church in California.
All the sightseeing and exploring will make the whole family hungry. Old San Luis BBQ knows exactly how to satisfy your cravings. For a more lively setting, head over to Luna Red to indulge in flavorful entrees and award-winning paellas.
No California road trip with kids is complete without hitting the beach. Moonstone, Toro Creek, and Cave Landing beaches are some of the best family-friendly ones to visit. Splash around the water, watch the sun set beneath the horizon, and enjoy the best of SLO on your family road trip.

Santa Barbara
Everyone knows that Santa Barbara is the best weekend family road trip destination. With plenty of hidden gems to discover, the American Riviera boasts Spanish colonial architecture and first-class tourism opportunities.
The coolest Central Coast activities are all found here—begin your family adventures at Ganna Walska Lotusland. As one of the most beautiful gardens in California, Lotusland is home to over 3,000 different plants from around the globe. There are several distinct gardens to explore, including the Fern, Cactus, Japanese, and Topiary gardens. Learn about the historic estate while feasting your eyes on the greenery.
If you're a first-time visitor, head over to Old Mission Santa Barbara, recognized as "Queen of the Missions" for its exceptional beauty. Plan a picnic with the whole family and admire the lush grounds of the Spanish mission.
When it's lunchtime, enjoy a family meal at Bouchon Santa Barbara—the French onion soup is to die for. While you're at it, get an extra-large scoop sundae from Mission Street Ice Cream and Yogurt. With a stomach full of good food, make your way to Thousand Steps Beach to ride the waves and explore the many tidepools. You won't regret coming here during golden hour.
The Top Family Road Trips in Southern California

San Diego
Planning a family RV trip? San Diego is a must-see spot on your California road trip. Whether you're visiting museums or splashing around, America's Finest City knows how to entertain families. Grab a pen and get ready to cross off the top things to do in San Diego from your list.
Home to the most beautiful places in SoCal, San Diego offers the coolest attractions in the region. It goes without saying that visiting Balboa Park is a must. The 1,200-acre historic urban cultural park consists of several museums, theaters, and the San Diego Zoo. Enjoy a stroll in the gardens and check out the many attractions scattered throughout the urban park.
If your family loves spending time in the great outdoors, San Diego is profuse with hiking trails. Take your pick among kid-friendly trails like the Torrey Pines Beach, La Jolla Beach, and Black's Beach trails. Your action-packed family adventures will stimulate your appetite—for delicious crispy fried chicken, make your way to The Crack Shack.
San Diego has no shortage of beaches either. Coronado, Pacific, and Flat Rock beaches are among local favorites. If it's too late to go for a swim, head over to Mission Bay RV Resort to resume your family RV trip the next day.

Los Angeles
You can spend weeks exploring Los Angeles County—there's always something new to see. With so many things to do, where will you start your road trip? Visiting Descanso Gardens in La Cañada Flintridge is a great way to kickstart your L.A. adventures. The 150-acre botanical garden is home to roses, lilies, and trees. Let your children roam free and explore the natural wonders of SoCal.
Next up on your itinerary is Echo Park Lake. As one of the best places to take pictures in L.A., Echo Park Lake boasts plenty of activities for families to enjoy. Traverse the lake in a swan boat and then enjoy a leisurely walk through the winding paths by the lake. Later, rent a bike from Bikes and Hikes L.A. and cycle through the many paths Los Angeles has to offer.
If you're too tired to embark on more adventures, head over to Bestia to indulge in exquisite Italian cuisine—the saffron gnocchi and buttermilk ricotta ravioli will blow your mind. After a hearty meal, you're going to want to end your road trip with a bang. Make your way to the world's shortest railway, Angels Flight Railway, to enjoy a brief but exciting train ride on your best family road trip yet.