By

California.com
November 28, 2020
As California mitigates health risks during the COVID-19 pandemic, some travel restrictions may remain in certain communities. Call the local and regional tourism offices to learn more about the restrictions in your intended destination. Thank you for reading, and stay safe.
Snowflakes, snowmen, and snow-white cookies...what does winter wonderland mean to you? If you're envisioning a world where snow covers the landscape, making it glimmer under the bright blue sky, then start planning your California Christmas getaway. There's something about a white Christmas that gets everyone in a magical mood. Whether it's taking a romantic winter vacation, enjoying a wintertime activity with the family, or simply baking Christmas cookies at home, snow is the centerpiece of this season. For an adventure this December, check out the best places to spend Christmas in California.
White
Christmas In Northern California
Northern California is home to rugged mountains, expansive forests, and wintertime activities—which makes it one of the best places to spend Christmas.

Illuminate SF Festival of Light
Christmas is all about the lights, so head over to S.F. While San Francisco is home to so many Christmas tree lighting events, there's one you just can't miss. Illuminate SF Festival of Light is made up of 44 eco-friendly light installations designed by internationally renowned artists. The light fixtures are featured in indoor and outdoor settings; make sure to visit before the festival ends in early January.
Christmas In Mendocino
If you're looking for an escape from the Christmas rush, then spending a weekend in the town of Mendocino will do the trick. You can shop and view local art around town, then visit the Mendocino Coast Botanical Gardens during the weekends for a festival filled with music and lights. You can also hop on the Skunk Train in Fort Bragg for a unique holiday adventure where you can enjoy a ride through the redwoods. Reserve your room at MacCallum House Inn and enjoy a mug of hot cocoa by the fireplace.
White
Lake Tahoe Christmas
Lake Tahoe resonates with visitors year-round, and Christmas is an extra special time beckoning to even more guests. You can feel the Christmas spirit oozing at every turn, from ice-carving demonstrations to fireworks shows. North Lake Tahoe's scenic display during the winter is something straight out of a storybook—with the snow-capped mountains and the twinkling lights in the background, curling up by the fireplace just got a whole lot better.

Slide Down The Slopes
What's better than skiing down white slopes during the wondrous week of Christmas? Skiing alongside Santa. Grab your sled, skis, and snowboards, and join Santa Claus as he slides down the slopes at Squaw Valley Ski Resort. After you've left the slopes, explore the resort, which is transformed into a winter wonderland and features holiday decorations on every corner.
Sunset Sleigh Ride
Make it a romantic date for two and enjoy a sleigh ride and dinner at a nice restaurant. Borges Sleigh and Carriage Rides boasts awesome carriage rides through the wilderness, making for a breathtaking Christmas adventure. This experience is sure to impress every visitor and give new meaning to a Lake Tahoe Christmas.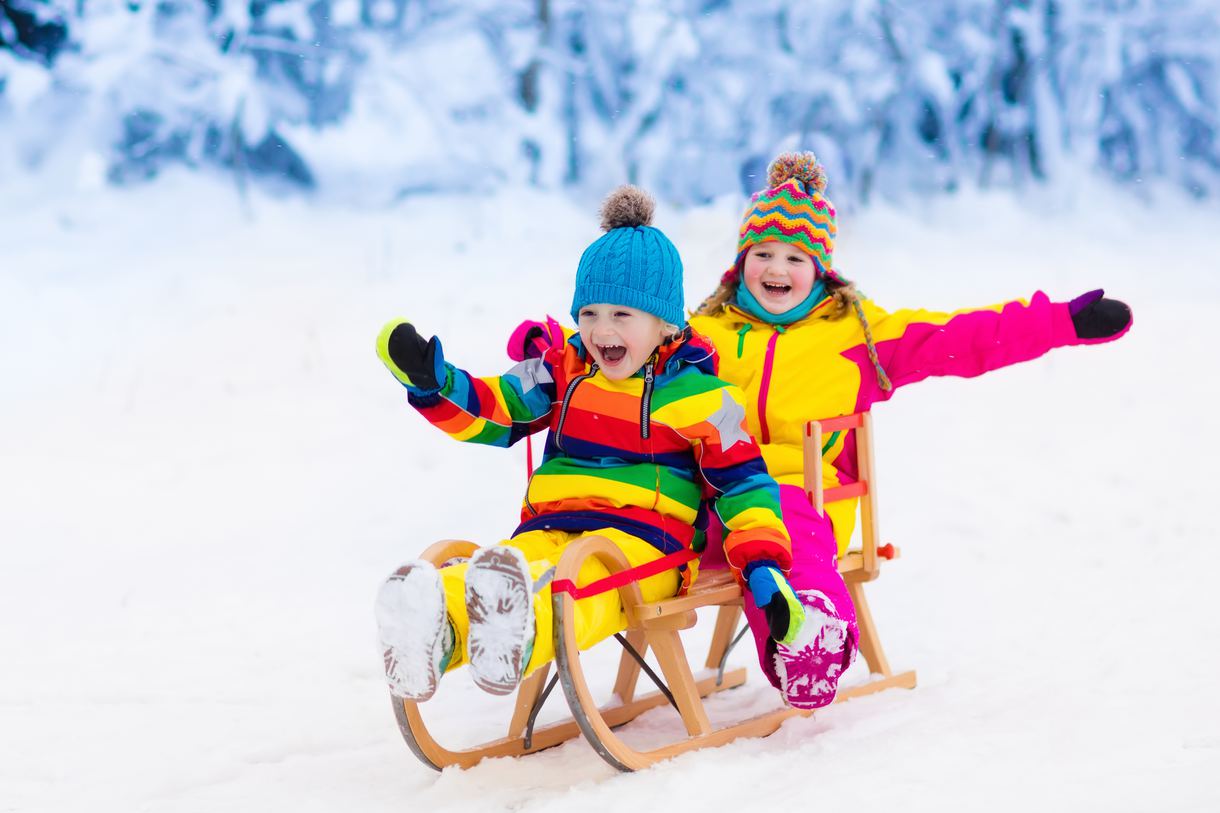 Take A Tour Around Lake Tahoe
Sit back and relax in a luxury shuttle bus as you journey around Lake Tahoe. This holiday season just becomes more special with scenic gems—such as the Emerald Bay, Squaw Valley, Rubicon Valley, and Truckee River Bridge—surrounded by snow outside the window. The tour is an awesome way to observe the best of Lake Tahoe, so be sure to snap photos along the ride.
White
Christmas In Southern California
While Southern California doesn't typically scream snow and cold, there are plenty of awesome outdoor events to attend and some snow-dusted places to explore.

The Mission Inn Festival Of Lights
The Mission Inn Festival of Lights is one of the best shows featuring Christmas lights in Southern California. Each year, the hotel gets fully decked out for Christmas, inviting guests to celebrate with a light show. Take a step inside the hotel to admire splendid decorations before heading outside for photos with Santa. Enjoy all of the festive foods you can eat—it's a whole family affair and may soon become an annual family tradition.
Ice Skating In Los Angeles
Pershing Square's Holiday Ice Rink invites all skaters to take to the ice. The massive ice rink is situated right in the center of Los Angeles, bringing a little bit of that ever-so-wanted cold to Southern California. It's a wonderful way to bond with the kids. Better yet, Pershing Square also holds Christmas concerts throughout the month of December.

Griffith Park
Nothing says merry quite like riding around this iconic L.A. park on a train. For a small fee, you and your kids can enjoy a 10-minute train ride on the one-mile track in Griffith Park. The path is completely adorned with Christmas lights and decorations, making it extra special. A fun activity for the whole family, your kids will be asking for more each year.
Solvang During Christmas
Discover the best of the Santa Ynez Valley in the charming Danish village of Solvang. Indulge in authentic Danish desserts from famous bakeries such as Olsen's Danish Village Bakery. Take a ride on the Solvang Trolley, a historic wooden horse-drawn carriage that depicts the classic appeal of Solvang. Visit the boutiques and local shops in Solvang, too (such as A Piece Of The Past Antiques) heading to Birkholm's Bakery and Cafe for traditional Danish pastries and fantastic sandwiches.

Big Bear Lake Snowy Christmas
The holiday season at Big Bear Lake is one of the top SoCal skiing locations, making it a wonderful destination for a quintessential winter experience. Whether you're staying at one of the area's fabulous ski resorts such as Big Bear Frontier, shopping at local stores, or simply enjoying a delectable meal at Tropicali, Big Bear is a place the whole family will love. Let your kids navigate their own individually controlled sled at the Alpine Slide and enjoy a fun day of snow tubing. The snow fun is never-ending at the lakeside town; Big Bear Snow Play is all about snow tubing and glow tubing. After a day in the snow, take the fun indoors at Bowling Barn, where you can engage in a friendly competitive match followed by an ice skating session and an exciting laser tag tournament.