By

California.com
June 09, 2020
As communities across the world and in California mitigate health risks during the COVID-19 pandemic, we are shifting our content focus and not encouraging any travel or social activities during this time. We will, however, continue to shine a light on and celebrate the many beautiful aspects of our State with the intention of being a source of inspiration and joy during this difficult period. Thank you for reading, and stay safe.
Los Angeles is an incredible destination brimming with cultural attractions, natural wonders, and entertainment venues that appeal to tourists and locals alike. While this world-famous city provides something for every interest, it can be a little pricey. Luckily, L.A. offers plenty of free and fun activities—you simply need to discover them. Whether you want to explore off-the-beaten-track destinations or check the most popular sites off your bucket list, here are the best things to do in L.A. for free.

enjoy the views at the Griffith Observatory
Visiting the Griffith Observatory has always been among the top free things to do in L.A. Perched upon a hillside in Griffith Park, this beloved landmark is one of California's most iconic architectural structures, serving as a prime example of the Art Deco style. So, make sure to admire the building itself before moving on to the activities inside. You can explore the space and science exhibits and (for a small fee) experience a live cosmic show in the one-of-a-kind Samuel Oschin Planetarium—a famous film location for the Oscar-winning movie La La Land.
Consider visiting in the evening, too. Griffith Observatory offers some of the best free things to do in L.A. at night. After the sun sets, you can use the various telescopes to get a close-up look at the twinkling Southern California sky and gain a whole new perspective of Los Angeles, where the city lights are just as dazzling as the stars.
Admire Contemporary Art
While you are in the mood for seeing some of the best free museums in L.A., don't forget to visit MOCA, also known as the Museum of Contemporary Art. This is the only museum in L.A. that was founded by an artist; it presents pieces of contemporary art that reflect various walks of life. You can now view the reinstalled wall art by Barbara Kruger on the north end of the building. As the name implies, Untitled (Questions) is covered with nine questions—including "Who is beyond the law?" and "Who is bought and sold?"—that bring awareness to critical, life-changing issues.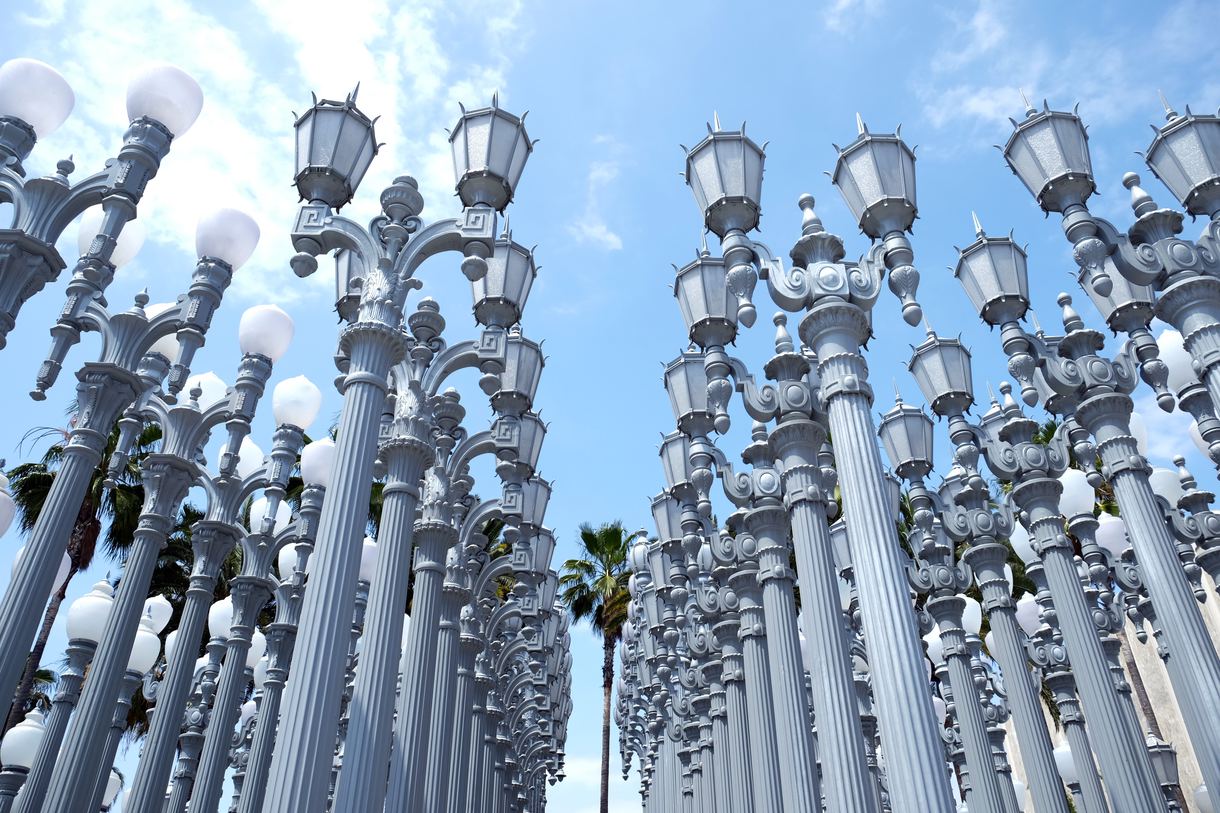 visit a famous local landmark at LACMA
An acronym for the Los Angeles County Museum of Art, LACMA is the largest art museum in the western United States and is home to one of the most iconic public art installations: Urban Light, which consists of restored street lamps from the 1920s and 1930s. If you're a Los Angeles County resident and age 17 or younger, you can also see the diverse art exhibits inside the museum for free.
View Masterpieces at The Getty Center
The Getty Center is considered one of the top art museums in Los Angeles, thanks to its collection of outstanding pieces of European art such as those presented in Michelangelo: Mind of the Master. Best of all, it's always free to visit. When you're done exploring the exhibits, admire spectacular abstract architecture alongside panoramic views of the undulating hills and the coastline to the west. You'll find yourself hard-pressed to leave such a heavenly, relaxing environment.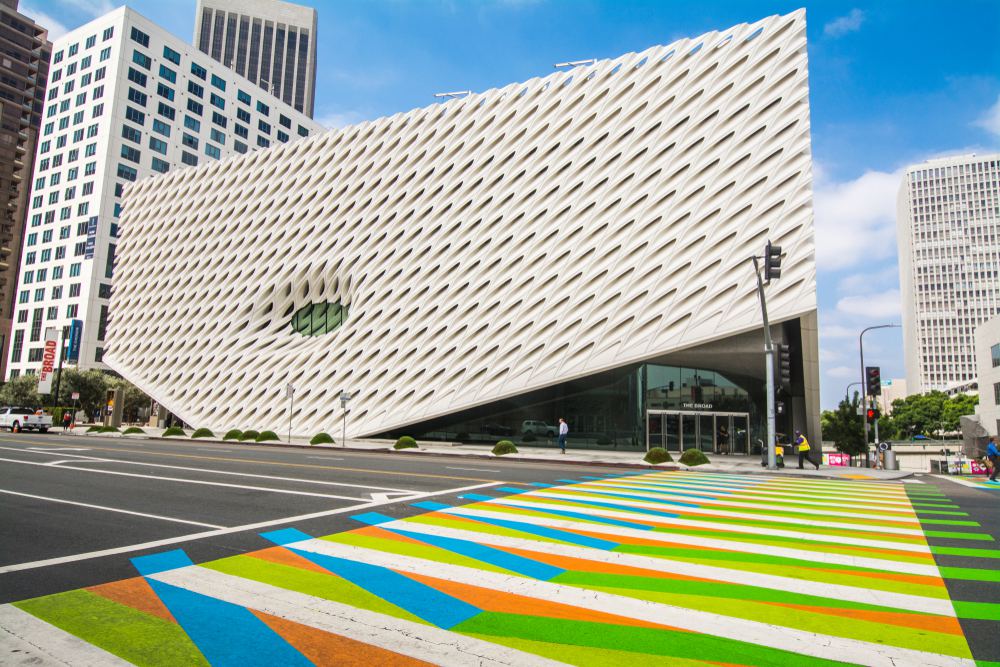 Marvel at the broad's Infinity Mirrored Rooms
Among the free museums in L.A. is The Broad. To celebrate its fifth anniversary this year, the museum is showcasing nearly 2,000 pieces of art that have influenced art history since the mid-20th century—and you can view it all for free. In addition to observing the works of renowned artists, you can experience the immersive Infinity Mirrored Rooms, a special installation featuring a mirror-lined chamber and a dazzling LED light display. Created by artist Yayoi Kusama, this exhibit makes you feel as though you're standing among the stars.
Need another reason to visit? The Broad's unique exterior makes it one of the must-see sites in L.A., especially for architecture aficionados.
Attend a live TV taping
If you have a favorite TV show or simply want to enjoy a one-of-a-kind experience in L.A, attend a live taping. Visit the websites of your top shows to find information on how to get free tickets to the tapings, and see if you can get lucky and be a part of the studio audience.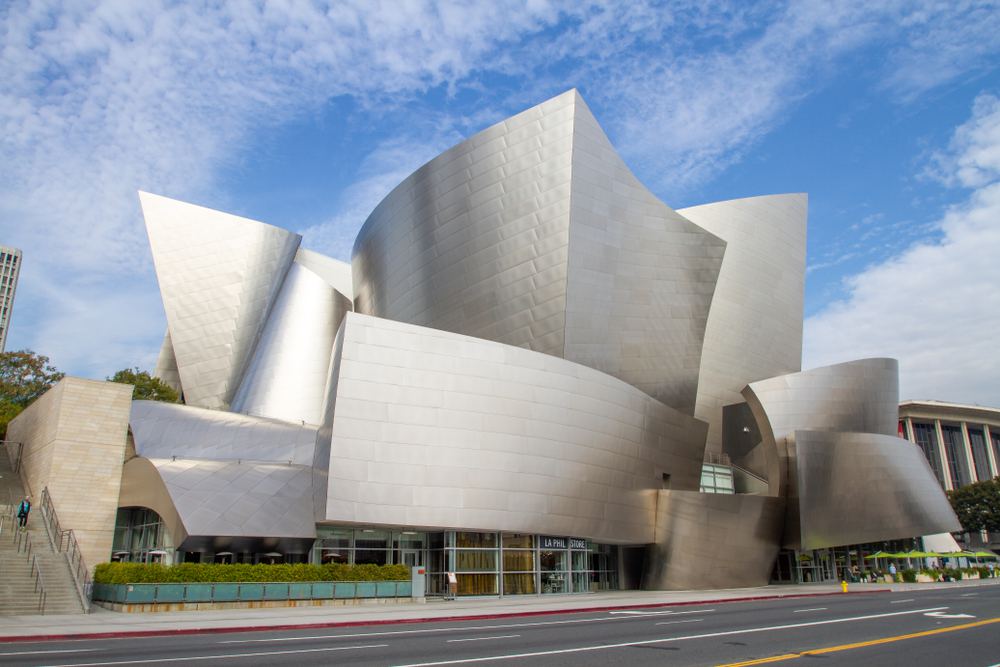 Witness Wildflowers at the Walt Disney Concert Hall
Designed by Frank Gehry, the Walt Disney Concert Hall is another architectural gem in Los Angeles, boasting perfect angles on all sides. Everyone who sees the building can appreciate the top-notch, innovative design—but don't solely admire the outside of the building.
If you take the time to go inside, you can see how the architect tried to express his views on social hierarchy through the design: To keep equality in the auditorium, Gehry eliminated balconies and other elements that were originally meant for wealthier patrons. You'll also find rows of colorful seats with floral patterns, creating the effect of wildflowers growing in a field.
Listen to Free Music
Angelenos love music, so the city hosts seasonal free concerts every year, showcasing an array of musical artists and genres. Enjoy a free jazz performance at LACMA on Friday nights from April to November, participate in Santa Monica's Twilight on the Pier, and check out the KCRW Summer Nights concert series. You can also watch movies under the stars and enjoy Shakespeare's plays by the sea.

Enjoy Italian Vibes in Venice
You're going to enjoy the lighthearted, easygoing ambience of Venice Beach. This vibrant locale has a way of reinvigorating your spirits, featuring everything from musical street performers and face painters to popular workout areas and a bustling boardwalk.
In addition, you can enjoy a slice of Italy in L.A. by exploring the Venice Canals. Built by developer Abbot Kinney, this network of canals is a popular destination, drawing locals and visitors alike with annual celebrations such as the Venice Canals Holiday Boat Parade, which occurs every first Saturday of December.
Architecture lovers can also visit the Norton House. Also designed by Gehry, this daring landmark is known for its eccentric structure and eclectic decor (you're going to love the chandelier).
Explore West Hollywood's Sunset Strip
Continue your L.A. adventures by walking down the Sunset Strip. You can experience the hustle and bustle of the city at night and watch the massive, colorful billboards. A nightlife hot spot, the Sunset Strip is lined with top-rated hotels, comedy clubs, music venues, trendy restaurants, and rooftop lounges that draw a hip, young crowd.

Take a Stroll Through the Dynamic Downtown
Walking along the thoroughfares of downtown L.A. is akin to meandering down the Champs-Élysées of Paris, making it a must-do activity on any visit to Los Angeles. As soon as you arrive, you'll see why DTLA is a top California destination.
Among the free things to do in downtown L.A. is exploring museums, acclaimed restaurants, famous historical attractions, exclusive entertainment venues, nightlife destinations, boutiques, and impressive bookstores. Plus, the views of skyscrapers and towering structures will energize you as you discover the real L.A.
See an Improv Show
Los Angeles is home to some of California's best comedy clubs, so improv-show enthusiasts are in luck: There's no lack of free improv and open mic nights. The Clubhouse offers free shows occasionally, so check the calendar to see if you can catch one while you're in town.

Hike the Hollywood Hills
Hiking enthusiasts are bound to love a trek through the Hollywood Hills. Make your way to the prominent Hollywood Sign to snap photos and take in the sweeping views, preferably around sunset.
Have a Picnic in Lake Hollywood Park
Situated in Griffith Park, Lake Hollywood Park is a paradise for dogs and their owners. The scenic expanse is a popular picnic spot and boasts views of the Hollywood Sign, making it the perfect alternative to hiking up the hill. So grab your pup, a classic California book, and a few friends to soak up the sun and while away the afternoon.
Peruse the upscale shops and cafés lining Melrose Avenue.

Window-shop in NoHo and gain inspiration from the street murals and public art galleries.
Visit the historical Korean Friendship Bell and enjoy breathtaking views of the Pacific Ocean.

Stop by the Original Farmers Market to see local food purveyors. If you're lucky, you'll catch a celebrity chef filming a cooking show.