By

Mackenzie Hutson
August 29, 2020
From sparkling ocean waters and rugged forests to job opportunities and colleges, the Golden State has it all. While California as a whole is a coveted destination, choosing exactly where to call home can prove challenging—especially for incoming college students who have to take the college experience and the local vibes into account. With more than 200 colleges and universities to choose from in California, just about every region is on the table, but only a few can be considered the best college towns.
The
Best College Towns to Live In
for Every Preference
All educational institutions come with their own unique specialties—whether it's biology, nursing, theater, or business—and so do the towns they're located in. Whether you're searching for a big city to explore on the weekends or a rural farm town with a slower-paced lifestyle (or somewhere with a mixture of the two), California has the ideal university town for you.
California's
Best Small College Towns To Live In
Though there are plenty of places one could consider to be top college towns, there are only a few small university towns that instantly feel like home. According to the United States Census Bureau's 2019 estimates, these tiny cities all have populations of less than 50,000 people, offering the perfect small-town vibes without compromising the quick commute to campus.

Arcata
Population: 18,431
College(s): Humboldt State University (HSU)
Nestled far to the north in California, Arcata is a comfortable town for free spirits, bohemian souls, and nature enthusiasts. It's an incredibly walkable town, so there's no immediate need for a car if you don't already have one. Spend time on campus (and get a good workout, as HSU is affectionately referred to as "Hills and Stairs University"), live in the dorms or in the plentiful housing nearby, wander over to Arcata Scoop for the most delicious ice cream, and spend Sundays at the Plaza for the full experience. Fill the rest of your weekends by hiking in the redwood forests, visiting the many local beaches, or trying slacklining with your classmates. When it comes to remote small towns, it doesn't get much better than Arcata.
Learn more about the region: Getaway Guide: Eureka
Claremont
Population: 36,266
College(s): Claremont McKenna College, Harvey Mudd College, Pomona College, Pitzer College, Scripps College, Claremont Graduate University, Keck Graduate Institute (collectively known as The Claremont Colleges)
Located in the eastern outskirts of Los Angeles, Claremont offers a surprisingly quaint lifestyle. Though the town is in close proximity to some of Southern California's hottest attractions, you'd never know it. This spot offers the ideal blend of city and suburban life and is close to Mount Baldy, so it's incredibly easy to head out on a trail run during the weekend. If Claremont's location wasn't enough to convince you to check it out, this unique city is home to seven colleges that individually offer a small-college experience but collectively present the amenities of a large institution.
Learn more about the region: Small-Town Spotlight: Claremont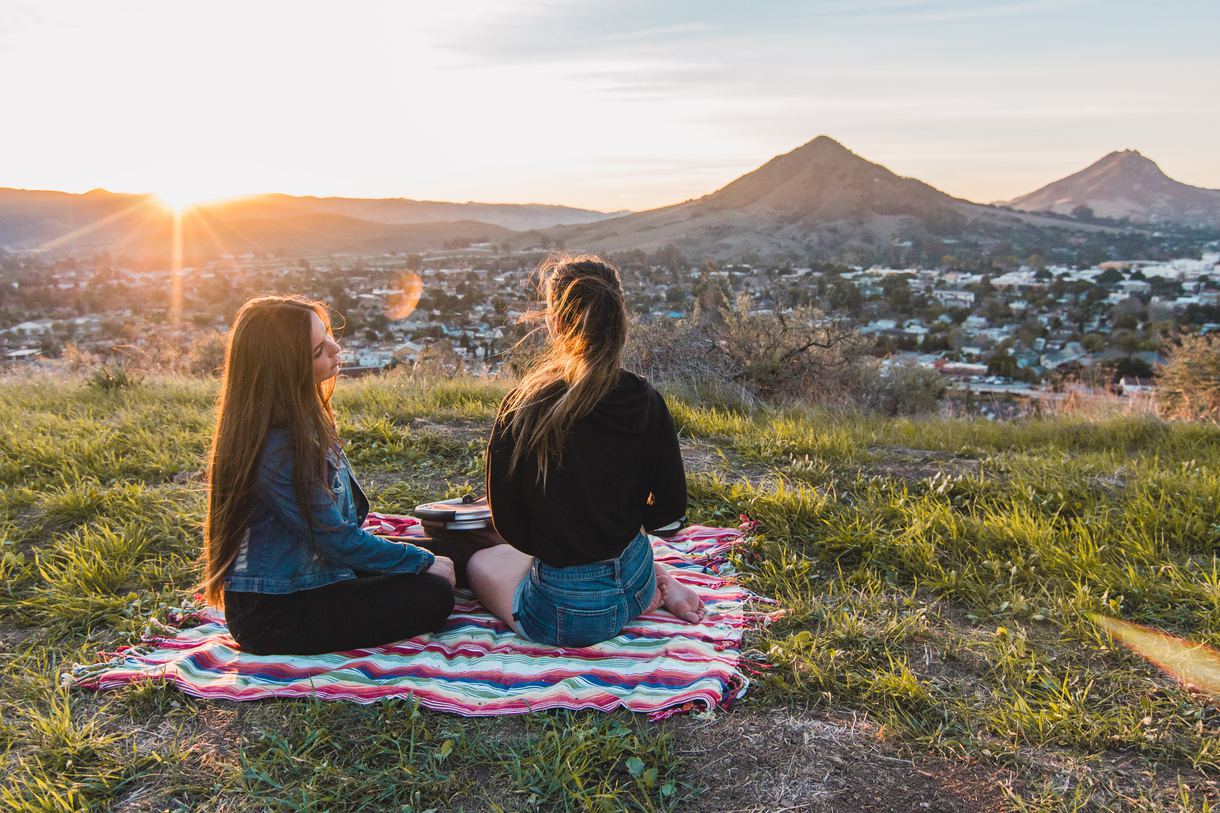 San Luis Obispo
Population: 47,459
College(s): California Polytechnic State University (aka Cal Poly), Cuesta College, Laurus College San Luis Obispo
San Luis Obispo (SLO) is one of the gems of the Golden State's Central Coast. Tucked inland from the unincorporated coastline of Avila Beach, near Moñtana de Oro State Park, SLO evokes a quintessential California beach vibe. SLO is a coveted tourist destination complete with the iconic Bubblegum Alley as well as tons of museums and outdoor recreation opportunities, giving your friends and family plenty of reasons to visit.
Learn more about the region: Getaway Guide: San Luis Obispo
Rohnert Park
Population: 43,291
College(s): Sonoma State University
To the north of the San Francisco Bay Area lies a verdant wonderland of farms, trees, and beaches that make up a nature lover's paradise. Known for its distinct beauty—and its phenomenal cheese—this Sonoma County locale is a great place to escape the bustle of the city without being too far removed. (San Francisco lies just an hour away from Rohnert Park, so there's always something to do on the weekends and during school breaks.)
Learn more about the region: Getaway Guide: Petaluma
The
Best College Cities To Live In
When you initially think about California, chances are you picture one of the state's major cities. Whether you imagine yourself meandering through Balboa Park in San Diego, exploring the various neighborhoods in San Francisco, or staring up at skyscrapers in Los Angeles, there are dozens of colleges that can make these dreams come true.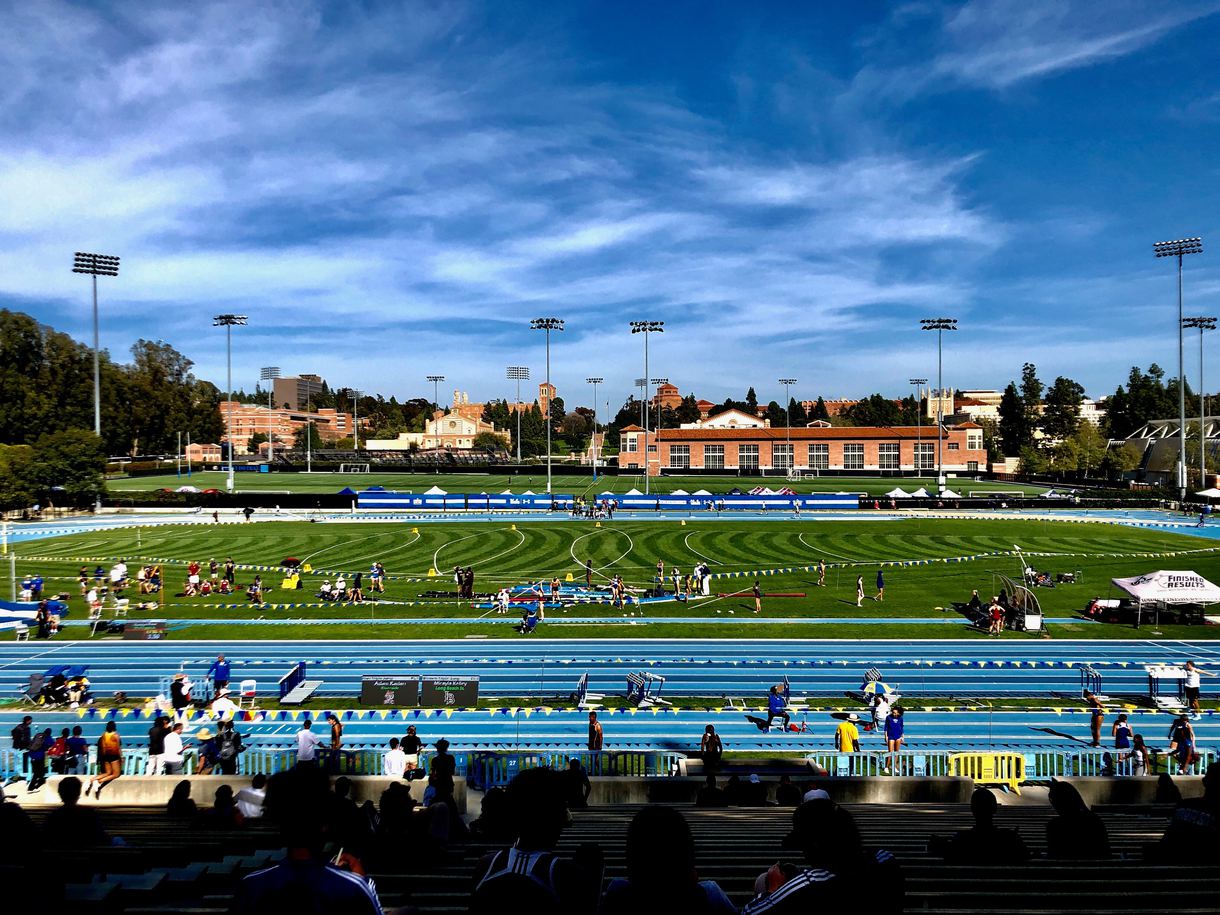 Los Angeles
Population: 3,979,576
College(s): University of Southern California (USC); University of California, Los Angeles (UCLA); Loyola Marymount University; California State University, Los Angeles; Occidental College; Mount Saint Mary's University, Los Angeles; Los Angeles City College; and many more
Home to dozens of colleges and universities, Los Angeles has a field of study for every interest. With close proximity to all of Southern California's greatest features, filling four years with adventures and memories is incredibly easy. Learn how to surf at the best spots in L.A., find incredible food from diverse cuisines, and visit the top art galleries and museums to soak in the SoCal culture.
Learn more about the region: California Spotlight: Downtown L.A.
Long Beach
Population: 462,628
College(s): California State University Long Beach, DeVry University, Long Beach Community College
Complete with golf courses, one of the state's best aquariums, and the famous Queen Mary, Long Beach offers an enviable college experience. Close to many of SoCal's hotspots—including Disneyland, downtown Los Angeles, and countless beaches—it's hard to get bored here. Since there's an airport in town, too, you can easily jet-set in your off time or welcome visitors with ease.
Learn more about the region: Getaway Guide: Long Beach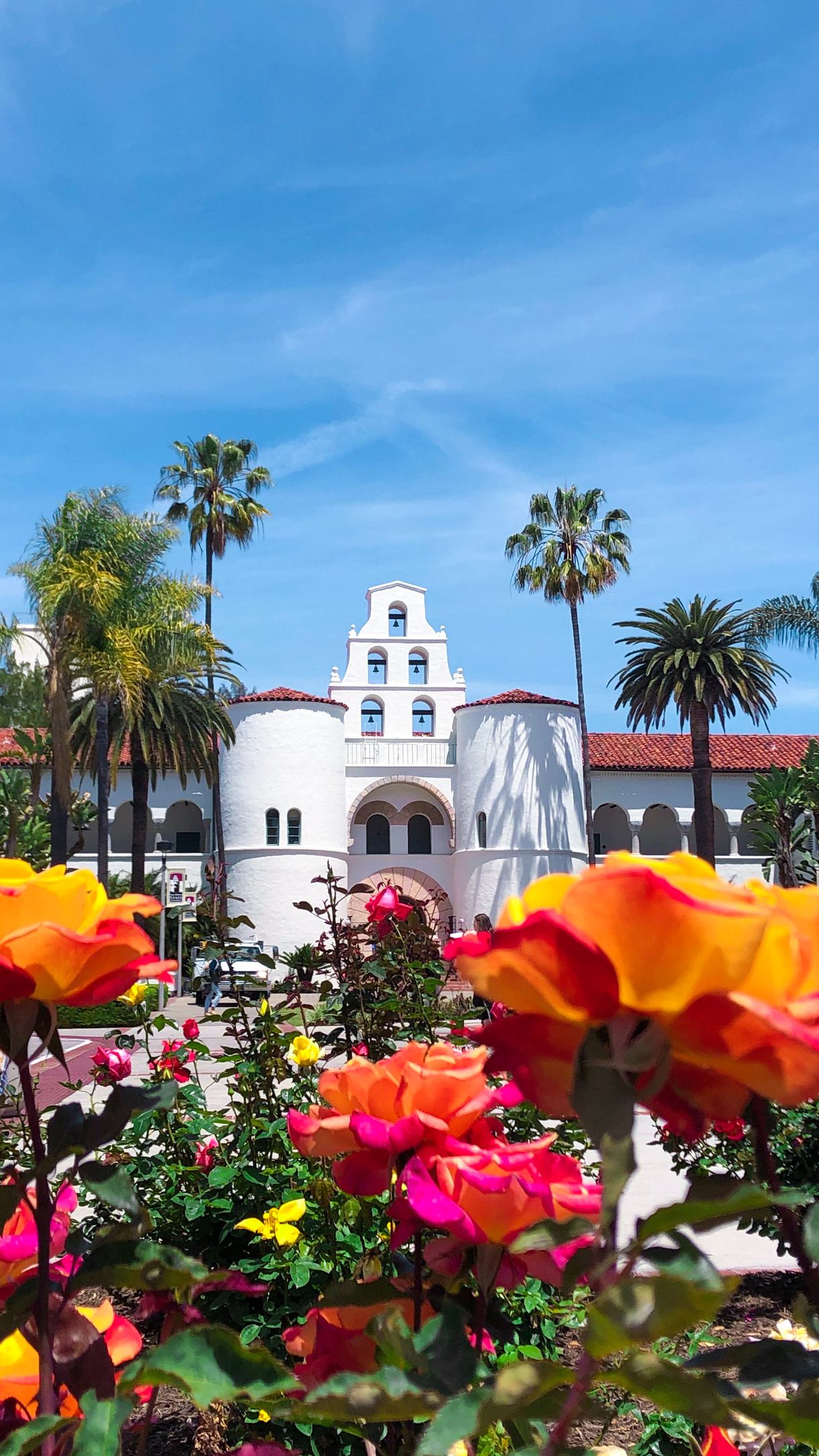 San Diego
Population: 1,423,851
College(s): University of California, San Diego (UCSD); University of San Diego; San Diego State University (SDSU); San Diego City College; San Diego Mesa College; Point Loma Nazarene University; and many more
If you're a fan of year-round sunshine, watersports, and being around other people who love where they live, San Diego just might be the perfect place for you. With a lot of things to do—including everything from sailing lessons and trips to the zoo, to visits to museums and amazing coffee shops—this spread-out city is full of possibilities. Travel across the bridge to Coronado, check out all of the city's different districts, and get ready to wear flip-flops on a daily basis in this coastal spot.
Learn more about the region: Getaway Guide: Downtown San Diego
San Francisco
Population: 881,549
College(s): San Francisco State University, University of San Francisco (USF), City College of San Francisco, Academy of Art University, San Francisco Art Institute, and many more
San Francisco offers a unique experience you won't get anywhere else. With so many neighborhoods to explore and so many things to do, there's always something going on. The City is well-suited for extroverts and minimalists who aren't looking for a lot of personal space; with generally high housing costs and a very urban setting, San Francisco is all about getting out and about. Remember to always bring a jacket with you, as Karl the Fog is notorious for changing the weather at the drop of a dime. But with so much to explore in the Bay Area—from Sausalito, to Benicia, to Half Moon Bay and beyond—there's no better place to try something new.
Learn more about the region: Getaway Guide: San Francisco
The
Best College Towns To Live In Forever
For those who hate the thought of moving and having to plant new roots in a different city, the idea of settling in a college town for good can be a great comfort. These locales are nestled next to other incredible places in the Golden State, so making these places home means endless adventures, day trips, and staycations are at your fingertips.

Malibu
Population: 11,820
College(s): Pepperdine University
In Malibu, every day feels like a vacation. With stunning vistas and endless beach vibes, this town is an oasis. Though it feels like you're far from city life, Malibu is incredibly close to Santa Monica, Thousand Oaks, and Los Angeles, making everything within reach. Go surfing and rock climbing, explore the nearby sand dunes, take a hike, discover something new in L.A., and visit the Santa Monica Pier without ever going too far from Malibu. This town is also popular with celebrities, so keep an eye out for your faves while you study at the local coffee shops and eateries or kick back on the beach.
Learn more about the region: California Coastal Spotlight: Malibu
Chico
Population: 103,301
College(s): California State University, Chico
Planted in Northern California (near the Mendocino, Lassen, and Tahoe National Forests), Chico presents a new Golden State experience—but it's these quirks that make it one of the top college towns to live in. While the outdoor activities, tasty eats, and unbeatable National Yo-Yo Museum all make Chico a wonderful place to visit, it's the town's warm and welcoming spirit that makes you feel at home. If you're going to plant your roots in NorCal, this locale definitely ought to make your list of places to consider.
Learn more about the region: Californian In The Know: An Insider's Guide to Chico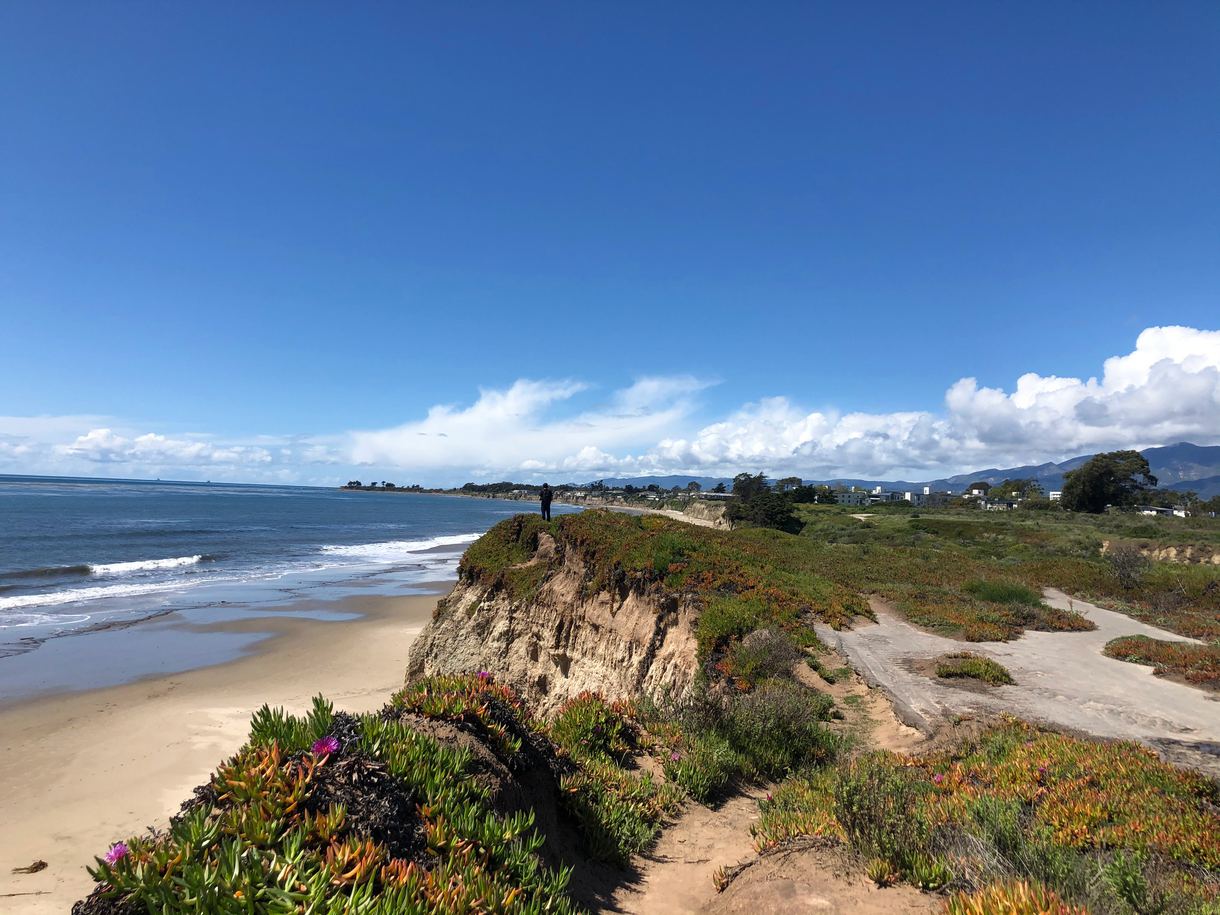 Santa Barbara
Population: 91,364
College(s): University of California, Santa Barbara (UCSB); Antioch University Santa Barbara; Westmont College; Santa Barbara City College
Situated on the coastline between San Luis Obispo and Los Angeles, Santa Barbara is a beautifully scenic place to live and learn. Nestled against the lush Los Padres National Forest and the rugged coastline, there's always a new outdoor adventure to experience. While there are plenty of ways to enjoy the college experience here, there's an equally great number of things to do after graduation. With local museums, parks, gardens, and boutiques to visit as well as delectable eateries to sample, life's good on the Central Coast.
Learn more about the region: Getaway Guide: Santa Barbara
Santa Cruz
Population: 64,608
College(s): University of California, Santa Cruz (UCSC)
If you like to spend your time in nature but don't want to be too far removed from the Golden State's more populated regions, Santa Cruz is the perfect place to settle down. With a mixture of beaches and forests, as well as easy access to Monterey and the Bay Area, Santa Cruz has no shortage of entertainment. Have a blast at the boardwalk, venture out to the Mystery Spot, or take a relaxing cruise along Highway 1—no matter how you choose to spend your time, you're sure to have a unique California experience in Santa Cruz.
Learn more about the region: Beach Day Itinerary: Santa Cruz